Exports expected to continue expanding in 2021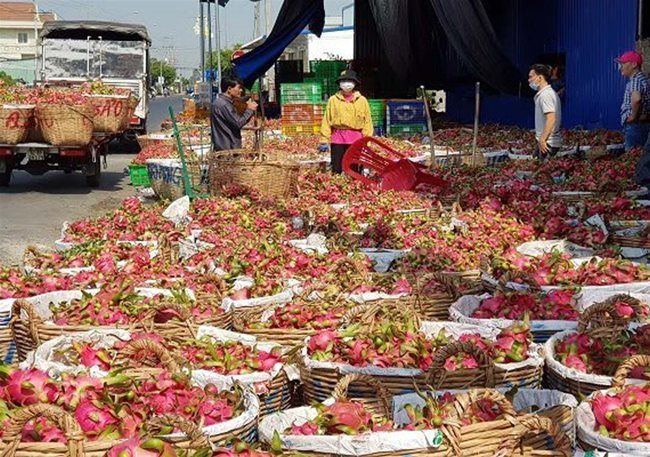 EC allows Vietnamese exporters to extend deadline of REX applications
In particular, the first month of 2021 reported export revenue of US$27.7 billion, up 0.2% compared to December 2020 and up 50.5% compared to the same month in 2020. Important markets such as the US, China, the EU, and Japan all maintained growth in their demand of between 15 to 111%, compared to the same period in 2020.
Deputy Director of the Import and Export Agency under the Ministry of Industry and Trade Tran Thanh Hai said that the lessons learnt from dealing with adverse situations in 2020 will continue to be applied this year. The disruption of the global supply chain due to the COVID-19 pandemic has motivated Vietnamese enterprises to develop solutions to help them survive including enhancing online trading or shifting to the production of goods designed for pandemic prevention and control.
The business community has also made efforts to maintain competitiveness, improve product quality, and seek export orders, particularly for key commodities such as phones and components, electronics, computers, footwear, textiles, mechanics, and rice.
Rice export, which was a bright spot in agricultural exports in 2020, is facing an opportunity to increase export turnover thanks to high demand around the world and improvements to the quality of Vietnamese rice.
Economist Pham Tat Thang commented that enterprises are taking advantage of traditional markets combined with rapid penetration into new markets through free trade agreements ​​in order to take advantage of the new tax incentives therein.
With the efforts of authorities and enterprises, total export turnover in 2021 is expected to increase by 4-5% compared to 2020.
PV Power to divest subsidiaries and streamline operations
PetroVietnam Power (PV Power) has confirmed plans to divest from some of its subsidiaries.
PetroVietnam Power Corporation JSC (PV Power, HSX: POW) has just announced its plans for the period of 2021-2025 with several large sell-offs of its interest in subsidiaries.
Specifically, PVPower would reduce its majority ownership in four subsidiaries, including Hua Na Hydropower JSC (UPCoM: HNA), PetroVietnam Power Nhon Trach 2 JSC (HSX: NT2), PetroVietnam Power Technical Services Center (PV Power Services), and PetroVietnam Power Renewable Energy JSC (PV Power REC).
Besides, a number of new subsidiaries might be established to serve future activities.
PV Power will also take a different approach on Luang Prabang Co., Ltd., an associate, following the directions of the government and relevant authorities.
PVPower also plans to continue the full divestment of several other firms which it had plans to cut loose in 2016-2020. These include Nam Chien Hydropower JSC, Song Hong Energy JSC, PetroVietnam Urban Development JSC, Song Tranh 3 Hydropower JSC, EVN International JSC, PetroVietnam Mechanical and Electrical JSC, Viet Lao Power JSC, and PetroVietNam Machinery-Technology JSC.
At the same time, PetroVietnam will reduce its interest in DakDrinh Hydropower (PV Power DHC) below 65 per cent of the charter capital or the entire contributed capital. In case the corporation successfully equitises the company, it has to comply with regulations of the Vietnamese government, the Ministry of Finance, and credit contract with Crédit Agricole Corporate and Investment Bank – its foreign lender.
In addition, the firm is also implementing relevant procedures for the termination of the operation of Son Tra-Song Da Hydropower and Asia-Pacific Energy in accordance with the law.
As of September 2020, the company recorded a revenue of VND21.795 trillion ($947.6 million), down 17 per cent on-year. Its after-tax profit reached VND1.487 trillion ($64.65 million), down 40 per cent on-year.
VAMC bad debts exchange platform to soon receive approval
The Vietnam Asset Management Company (VAMC) bad debts exchange platform will be approved by the central bank at the beginning of 2021.
VAMC also handled and cooperated with credit institutions to handle the collection of non-performing loans (NPLs) with VND47.515 trillion ($2 billion) of principal balance (temporarily calculated), reaching 95.03 per cent of its plan for 2020.
As of December 31, 2020, VAMC bought bad debts with special bonds of around VND374.622 trillion ($16.3 billion). Moreover, the company's debt recovery activities reached VND167.019 trillion ($7.26 billion). VAMC's debt collection results accounted for 63 per cent of its total accumulated debt collection.
Furthermore, VAMC also coordinates with local authorities to assist customers in purchasing and completing relevant legal procedures to speed up debt collection. At the same time, VAMC also implements proper provisioning for better risk management.
Thang also revealed that the NPL exchange platform will soon be approved by the SBV soon in 2021. However, it will not be until early 2022 for the platform to be officially established.
Previously, the SBV issued the VAMC Development Strategy for 2021-2025 with a vision to 2030. The strategy clearly states that one of the major tasks for VAMC is to complete the establishment and put into operation the debt exchanging platform.
Nguyen Kim Anh, Deputy Governor of the SBV, suggested VAMC to continue to settle NPLs, according to the National Assembly's Resolution No.42/2017/QH14 on the pilot settlement of bad debts of credit institutions dated June 21, 2017.
The Deputy Governor also requested VAMC to make great efforts to implement debt settlement and recovery plans, speed up the progress of handling bad debts, strengthen NPL trading activities as per the market mechanism, and soon put VAMC Debt Exchange into operation.
At the same time, VAMC needs to coordinate effectively with credit institutions in dealing with bad debts, actively implementing measures to control and limit arising bad debts in order to bring the NPL ratio on the balance sheet to a safe ratio (below 3 per cent), according to the SBV's Directive on organising the implementation of key tasks of banking sector in 2021.
Authorities give long-awaited nod to huge property projects
Two long-delayed property ventures in the south and south-central regions of Vietnam have finally been given the go-ahead by authorities.
Meanwhile, ITC Spectrum last week also received the green light from Binh Dinh People's Committee to continue its $250 million Vinh Hoi Hotel and Resort Complex, which initially received approval to be built back in 2006.
The 3-year delay in the Lotte venture was mainly due to overlapping of legal regulations. Lotte proposed to build the eco-smart city on a 5-hectare land plot in Thu Thiem New Urban Area in 2009.
"We have made a turnaround. Regarding how we proceed from now is up to discussion with the city people's committee," an official from Lotte Properties Ho Chi Minh City last week told VIR.
Resolution No.195/NQ-CP dated December 31 cited that the government approved the proposal from Ho Chi Minh City People's Committee, the Government Inspectorate, and the Ministry of Planning and Investment to assign Lotte Properties Ho Chi Minh City to continue to be the investor of the eco-smart city project.
"The People's Committee is permitted to follow all of the procedures the investor had given previously, and Lotte has to finish all tax obligations as regulated by the law," the resolution stated.
Ho Chi Minh City People's Committee was also assigned to instruct and inspect the investor to implement this project according to commitments on investment scale, timelines, planning, and other legal issues with an aim to ensure the highest efficiency for the project, it added.
In 2013, a consortium of four of the group's South Korean affiliates and three other partners from Japan was set up to implement the project.
In 2015, Ho Chi Minh City People's Committee suggested selecting this consortium to implement the project by granting it the investment appointment without an auction. This selection, according to the committee, was based on Article 4 of the Law on Bidding 2013, citing that a certain investor can be chosen if it is the only one registered for this project.
The following year, the Lotte consortium advanced VND120 billion ($5.2 million) to implement the project. Later in 2016, the three Japanese investors withdrew. From then, the group was managed by Lotte Properties Ho Chi Minh City and investment capital dropped to $900 million.
The project, however, was halted by the city authorities to review the process of choosing investment and resetting all procedures in accordance with the current laws on bidding and investment.
According to Conclusion No.1041/TB-TTCP dated June 2019 by the Government Inspectorate, Lotte's appointment by Ho Chi Minh City People's Committee did not comply with the relevant provisions of the Law on Bidding and the Law on Land. In addition, no land lease fees and taxes had been collected from the investor, despite it already occupying the area.
At the end of 2019, the committee also released two official documents to report the obstacles which have been halting the project. According to the documents, two solutions were proposed. The city could either nullify and reorganise the auction to choose new investors or retain Lotte as the investor to implement the venture.
In 2020, the Ministry of Planning and Investment (MPI) issued a document that analysed the advantages and disadvantages of both options. According to its assessment and opinions collected from related authorities, the latter option had more advantages.
In order to keep Lotte involved, the MPI suggested that the prime minister assign the Government Inspectorate to review all outstanding issues in order to establish a solid foundation for the final decision.
The inspectorate, meanwhile, cited that the permission for Lotte must be based on legal documents and suggested the MPI applies Article 26 of the Law on Bidding which regulates the "selection of investors in special cases".
The government's approval of this selection opens up the road for Lotte to go full steam ahead with the project, removing a gaping hole from the vista of Thu Thiem New Urban Area.
Meanwhile, the Vinh Hoi Hotel and Resort Complex may finally be able to lift off in Binh Dinh province.
After being licensed over a decade ago, the province last week ordered the prolonged preparatory work to be finished by April.
ICT Spectrum embarked on the project with great ambitions, signing with Marriott International to manage the project under two luxury hotel brands, Ritz-Carlton and JW Marriott, with the expectation that the project would be operational in 2014.
The project would have included an oceanfront, fully-integrated, mixed-use development including three resorts, an 18-hole championship golf course designed by Robert Trent Jones II, the residential villas, a retail village, an arboretum, and other recreational amenities.
However, after handing over the first 130ha of the 325ha project in 2011 for a total consideration of VND37 billion ($1.6 million) in land lease fees by the developer, construction has been stalling ever since.
The main reason for the huge delay, according to the committee, was the vast expense of land clearance and compensation.
"In many other projects, developers mostly advance a sum for the local authorities to do the land clearance and compensation. This advancement will be deducted from the developers' land tax. This is the most feasible way to process the project," said an official from the local committee, adding that such an arrangement was not reached for the project as neither sides could gather the funds required for the scope of the work.
In 2012 the government agreed to extend the lifetime of the project from 50 to 55 years to partly compensate for the delay. Some main facilities such as the road system around the project were built, but actual construction was never started.
The deadlock lasted until 2015 when the committee decided to revoke the project but the developer threatened to take the case to court. The chairman therefore directed local authorities to collect opinions from the related authorities and draft a plan to solve the impasse.
The committee chairman also requested the developer to submit the detailed design of the project to the competent body for approval, which was followed by further immobility.
This was broken last week, when in a document Binh Dinh People's Committee Chairman Nguyen Phi Long urged local authorities to accelerate land clearance to allow the developer to begin the project before April.
Binh Dinh is one of the second-tier provinces attracting renewed interest from domestic and foreign developers.
In 2020, despite the impact of the ongoing coronavirus pandemic, the province has approved the choice of investors for 13 projects with a total investment capital of around VND28.5 trillion ($1.23 billion).
According to Nguyen Thanh Hai, director of Binh Dinh Department of Planning and Investment, in 2020 the province has attracted proposals for 155 investment projects with a total capital of VND51.6 trillion ($2.2 billion), up 28.63 per cent in the number of projects and up 4.03 per cent in total capital compared to 2019.
Foreign investors looking to develop wind farms in Lang Son
Foreign investors from the US and Singapore are interested in either surveying or implementing wind farms in Lang Son province.
"We realise that Vietnam is a country with abundant wind potential and Lang Son is one of the provinces with good potential for building wind farms in Vietnam. Research, survey, and development of wind power projects in Lang Son province," stated the document.
The second one is the 253MW Ai Quoc project. Covering an area of 3,817ha in Loc Binh and Dinh Lap districts, the project would have a total investment capital of VND12.9 trillion ($560.86 million), expected to generate power in the period of 2024-2025.
Previously, the province approved Singapore-based BayWa r.e Wind Pte., Ltd. to study and survey three wind farms in Chi Lang, Loc Binh, Cao Long, and Van Quan since the third quarter of 2020.
In December, the company submitted a document to propose the province to approve its member company to handle the study and survey on these three projects once its member company is established in Vietnam.
According to BayWa r.e Wind Pte., Ltd., the company completed the procedure to establish BayWa r.e Wind Projects Vietnam Co., Ltd. in August 2020, which has chartered capital of VND232.9 million ($10,126), however, this member company has yet to be established due to the COVID-19 pandemic.
BayWa r.e Wind commits that when the member company is established, it will take over the work relating to these three projects.
EU supports Vietnam in adopting better management of packaging waste
The European Union cooperates with the Vietnamese Ministry of Natural Resources and Environment (MoNRE) and other stakeholders to take steps towards efficient plastic waste management in Vietnam to reduce marine plastic litter.
The information was stressed at a consultation workshop on Extended Producer Responsibility (EPR) for Plastic Packaging co-hosted by the Ministry of Natural Resources and Environment (MoNRE), the EU and Expertise France on January 20 in Ho Chi Minh City. The principle of EPR mechanism is outlined in the revised Law on Environmental Protection (LEP) in Vietnam.
It requires companies to be responsible for recycling used packaging in accordance with the recycling rate and recycling standard set by MoNRE, in equivalent targeted amounts of what they put on the market.
Rui Ludovino, first counsellor of the Delegation of the EU to Vietnam told VIR that, "Plastic pollution is a global issue and affects all countries in the world. The EU is highly committed to sound waste management in our member states. We have been working on this topic for many years. In 2015, the first circular economy action plan was in place. Now, we have the second action plan on the circular economy, which is linked to a comprehensive European Strategy on Plastics in the Circular Economy."
The plastic pollution around the world is dramatic. It affects the economy, the environment, and people's health. If the rivers and the ocean are polluted in one country, this has also an impact on other countries. Therefore, this global issue needs international cooperation.
"The EU Plastics Strategy includes actions along different axes. The first one is to make recycling profitable for business. New rules on packaging aim to improve the recyclability of plastics used on the market and increase the demand for recycled plastic content. This will lead us to the second and third axes that is that plastic waste and pollution, particularly in the sea, should be substantially reduced. We need to manage packaging from products in a sustainable way by reducing, reusing, and recycling packaging. We have made efforts to improve waste management, sorting and recycling to create a market for secondary materials. For plastics being recycled and reused, there are a lot of economic gains in terms of materials, environment, and people's health. With expertise in this field, the EU will work with Vietnam to support the implementation of the EPR policy," he added.
In particular, this is provided in the framework of the project "Rethinking Plastics – Circular Economy Solutions to Marine Litter", which supports the transition towards a circular economy for plastics in Vietnam and six other countries in East and Southeast Asia to contribute to a significant reduction of marine litter. It is co-funded by the EU and the German Federal Ministry for Economic Cooperation and Development (BMZ) and implemented by the Deutsche Gesellschaft für Internationale Zusammenarbeit (GIZ) and Expertise France.
Besides other activities, "Rethinking Plastics" is supporting a pilot project in Ho Chi Minh City, which was launched in November 2020 to increase the collection, sorting, and recycling of plastic packaging to reduce its environmental leakage. It is implemented jointly by the French National Research Institute for Sustainable Development (IRD) and the Hanoi Architectural University (HAU), who amongst others, work on a guideline to classify and measure plastic packaging collection and recycling in rural and urban areas, improve waste sorting at source, and define best practices.
According to Phan Tuan Hung, director of the Legal Affairs Department of the MoNRE, Vietnam is exploring international practices with existing EPR systems in Europe and around the world, as well as practical tools and guidelines to implement such EPR mechanisms. Most EPR systems in the world have the obligatory ratio and process of recycling. This is the first time Vietnam sets the specific ratio and process for recycling, which will be applied to six sectors including batteries and accumulators, tires, lubricants, vehicles, and packaging.
"EPR schemes help enhance financial flows and multi-stakeholder partnerships that are important to boost the collection and recycling rates of plastics. We are working closely with key stakeholders, especially the business sectors to identify practical and feasible regulations in drafting the EPR Chapter in the Decree guiding the LEP to achieve the better management of packaging waste in Vietnam," he said.
Better management of Vietnam's packaging waste is also in line with a chapter on trade and sustainable development under the EU-Vietnam Free Trade Agreement (EVFTA). In this chapter, the EU and Vietnam commit on both sides to cooperate on environmental issues like climate change response. If Vietnam can improve the management of plastic, it will improve the use of resources and reduce emissions.
Ludovino said that the EU is also enabling research and innovation for new plastics that can be better recycled and reused, as part of the Plastics Strategy. For Vietnam, it is important to identify the current practices to find solutions focusing on Vietnam reality with the involvement of different stakeholders. There is no one-solution fits all countries approach, even in the EU.
"I see a huge potential for a good economic model in Vietnam. Better management of plastic waste provides a lot of gains in terms of economic and environmental aspects, as well as resource efficiency. There is a lot of goodwill and commitment from the Vietnamese authorities, the government, MoNRE, and other ministries and provincial authorities and a lot of interests from the different producers and recyclers," he said, noting that by adopting sound, efficient, and clean technology and practices, Vietnam can become more attractive to EU investors.
Representatives of the EPR National Platform – a national multi-stakeholder mechanism established by the MoNRE for exchange, dialogue, and synergy to facilitate the EPR implementation in Vietnam – and other academic associations and international organisations joined the workshop to lay the ground for the next steps for Vietnam's packaging waste management.
For example, a dedicated handbook will be elaborated by the Rethinking Plastics project together with the EPR National Platform to provide a guiding reference to Vietnamese companies and other stakeholders on packaging waste management aspects.
HCMC collects VND40 trillion in tax revenue in January
In the first month of 2021, HCMC's tax revenue reached VND40 trillion (US$1.7 billion), meeting 11% of the target for the whole year, said municipal vice chairman Vo Van Hoan.
At an online meeting of the Government with localities on the socioeconomic development in the month, Hoan said the revenue from local production and business activities was more than VND29.8 trillion and the earnings from import-export activities reached VND10 trillion, the local media reported.
On average, the city collected some VND2 trillion per working day, or 135% of the target. If the momentum is maintained, the city can meet the revenue collection target of nearly VND365 trillion in 2021.
Hoan said the city's socioeconomic development indicators last month increased over the same period last year. Specifically, the total retail sales of goods and services picked up over 12%; export revenue, 16.4%; the export revenue from hi-tech products, 28.3% and the index of industrial production, 34.5%.
However, the tourism sector posted a plunge of 70% and catering services, 6.4%.
Enterprises in the city have increased the volume of goods to ensure sufficient supplies and prevent a price hike during the Lunar New Year holiday.
As for the fight against Covid-19, Hoan said since the first cases were detected in the northern provinces of Hai Duong and Quang Ninh, HCMC has detected the 1,660th patient. Those in direct contact with the patient have tested negative for the disease. Nearly 2,900 people are being quarantined in centralized quarantine centers and some 1,900 others at home and lodging facilities.
The city has yet to report locally-transmitted Covid-19 cases but faces a high risk of infection, so it has employed multiple measures to prevent the spread of the virus from outside, such as calling on residents to make health declarations, wear face masks and use hand sanitizers regularly, reducing the scale of events and festivals and allowing 1.7 million students to study online.
HCMC tourism association proposes solutions to support tour operators
The HCMC Tourism Association has proposed some solutions related to taxes and fees to support tourism firms that are facing a wave of tour cancellations due to the new coronavirus outbreaks.
Many tour operators are under stress as they have to refund their customers who have canceled tours, Tuoi Tre Online reported.
Meanwhile, they still have to make payments to service providers or negotiate with them to jointly share the risks since the new coronavirus wave emerged on January 28.
As such, the association proposed the competent agencies come up with suitable and flexible solutions to help tourism firms, lodging service providers and restaurants overcome the hardship, including reducing value-added tax by 50%.
Aside from the proposal to exempt them from land rent for the 2021-2022 period, the association proposed creating favorable conditions for tour operators to access preferential loans with a zero interest rate to help the firms retain workers and speed up recovery.
Also, the association proposed extending their debt payment deadline and re-issuing business licenses for free to tour operators and reducing electricity bills for restaurants and hotels this year.
Further, the association's proposals include allowing tourism firms and employees active in the tourism sector to delay social insurance payments from 2021 to June 2022.
Nguyen Thi Khanh, chairwoman of the HCMC Tourism Association, said that the proposals were aimed at helping tourism firms overcome the hardships caused by the coronavirus.
Vietnam's internet economy expected to hit US$43 billion by 2025
Vietnam's internet economy is projected to reach US$43 billion in 2025 and new tech unicorns, which are technology startup companies with a valuation of US$1 billion or more, could appear in the country, according to a report of Do Ventures, a venture fund targeting startups in Vietnam and Southeast Asia.
Do Ventures said that Vietnam was highly valued thanks to the rise of the middle class and the surging number of internet users. Due to the impact of the Covid-19 pandemic, more Vietnamese are opting for online platforms and services, including cashless payment methods.
In 2019, Vietnamese tech startups earned up to US$861 million in capital from 123 investment deals. In the first quarter of 2020, the amount of capital poured into the field totaled US$284 million.
In 2019, the country recorded 109 investors in the technology sector. In the first half of 2020, only a limited number of new investors joined the market, with investments mostly from domestic firms and foreign investors who had worked in Vietnam.
Do Ventures added that the Vietnamese market still remains highly attractive to tech investors. In the next 12 months, 50 investment funds operating in the six strongest economies in Southeast Asia will likely focus their attention on Vietnam and then on Indonesia, targeting the fields of education, healthcare and finance.
Tech investors have chosen Vietnam as their investment destination as they see better opportunities here than in other markets. In addition, they recognize the other favorable conditions such as macro factors, demographics and great growth potential owning to the rapid increase in consumption and undervaluation during the pandemic.
Among the Southeast Asian countries, Vietnam now ranks third in terms of the number of internet users, third in the mobile penetration rate and second by the average speed of mobile internet.
The Do Ventures report also praised Vietnam's telecom industry as its three major telecom carriers—Viettel, VNPT and MobiFone—have piloted 5G services. The popularity of the internet helped raise the value of the local internet economy to US$12 billion in 2019.
Further, Do Ventures forecast that the online payment market in Vietnam would obtain further growth as the Mobile Money service will be launched in the upcoming time with the participation of various telecom carriers.
Quang Tri to start work on airport project this year
After receiving approval from the Ministry of Transport over its detailed plan for an airport project, Quang Tri Province is set to begin work on the airport in 2021.
Le Duc Tien, vice chairman of the provincial government, confirmed to the local media on January 26 that the Ministry of Transport had made a decision passing its detailed plan to build the Quang Tri airport.
Accordingly, the Quang Tri government asked the T &T Group to draw up a prefeasibility study report for the project.
The province will wait until many investors join in the construction in June and hold an auction, Tien said, asserting that the province will break ground on the airport, which is set to cost some VND8 trillion, this year.
The airport project is expected to contribute to the province's socio-economic growth, Tien said.
The projected Quang Tri airport will be built on an area of over 316 hectares in Gio Linh District under the public private partnership format.
The Quang Tri airport will be constructed under the 4C standards of the International Civil Aviation Organization and handle one million passengers and 3,100 tons of cargo per year.
Vietnam cuts corporate income tax for science, tech firms
Companies active in the science and technology sectors in Vietnam will enjoy the exemption and reduction of corporate income tax for up to 13 years, beginning from March 1, 2021, according to Circular 03 issued by the Ministry of Finance.
Corporate income tax will be completely exempted in the first four years and reduced by half for the next nine years for new science and technology companies in accordance with Clause 12 of the Government's Decree 13/2019/ND-CP and the Law on Science and Technology.
To be eligible for the tax reduction, the companies are required to have a Certificate of Science and Technology Enterprise issued by the relevant authorities.
Their annual revenue from producing and selling tech-based products must account for no less than 30% of their total revenue. Moreover, revenue from tech-based applications must come from new services, not services that already exist in the market.
Besides this, science and technology companies must comply with accounting and bookkeeping regulations and fulfill their tax liability in line with the law.
The corporate income tax reduction is expected to help boost the development of science and technology in Vietnam, the Ministry of Finance said.
HCMC to review property projects to prevent risks
The HCMC government has assigned the municipal Department of Natural Resources and Environment to work with other relevant agencies and departments to check and review realty projects, mainly high-end buildings, which have been approved for investment, to prevent potential risks.
If such property projects are delayed, their land will possibly be revoked in line with the law.
Besides, the municipal government told the HCMC Department of Planning and Investment to collaborate with the central bank's HCMC branch to tighten control over foreign investment in the real estate sector and the transfer of proceeds from property projects to foreign countries to prevent money laundering and tax evasion.
In addition, the city will review mortgaged projects and long-delayed ones facing obstacles over regulations on land or delays in land use fee payments or the slow handover of house use right certificates.
Moreover, the municipal Department of Construction was tasked with keeping a close watch on the property market to promptly stabilize it to avoid a price hike and real estate bubbles.
The municipal government's directives were made following an imbalance in the housing market in the city with high-end apartments increasingly abundant and homes for low-income people falling short.
The shortage of social homes and mid- and low-end houses has caused many difficulties in ensuring social welfare for medium- and low-income residents, according to a recent report of the HCMC Real Estate Association.
As such, the association proposed realty firms increase their investment in the mid- and low-end segments to contribute to addressing the imbalance in the housing market.
Furthermore, the association also expected the firms to closely collaborate with each other to control the prices of houses to avoid a housing price surge in 2021.
Commercial banks warn against fraudulent messages, websites
Scammers during the Tet holiday shopping craze are finding new ways to launch spoofing attacks through social media messages, even posing as commercial banks' representatives to extract consumers' info.
Multiple clients of Saigon Thuong Tin Commercial Joint Stock Bank (Sacombank) allegedly received phone messages from the bank's SMS system, requesting password verification or offering transaction discounts. After filling out online forms as instructed, the clients found large sums of money had disappeared from their bank account.
According to Sacombank's representatives, their SMS service provider had confirmed the messages were not sent from the bank's phone system, and they are working with competent authorities to look into the matter.
Meanwhile, people have been baited into depositing money for low interest loans due to shopping demands in the Tet season. The Orient Commercial Joint Stock Bank (OCB) warns people against an elaborate scheme involving scammers impersonating loan agents of the bank using forged paperworks.
According to their representative, the bank does not require deposits, pre-payments or fees of any kind during loan review and analysis.
All commercial banks in face of the situation have advised against clicking on SMS links before verifying the domain, giving away their card security code and one-time password (OTP), or logging in to their bank accounts on public devices and networks. They also recommend clients to contact the official telephone hotline or the nearest branch for transactional support.
A number of found fraudulent websites include http://agribanks3.asia; http://agribanks.space, http://agribanks.edu.vn; http://agribanking.com.vn, http://agri2021.co, sacombank.net.vn, iisacombank.com; e-sacombank.com, among others.
The State Bank of Vietnam (SBV) has requested credit institutions and related units to ensure network safety and security during important events and holidays in 2021 by closely monitoring activities and logs on their core transaction systems like ATM and Internet Banking, and strengthening defense against malware and targeted attacks.
Dong Nai considers extending completion time of road BOT project
The People's Committee of Dong Nai Province is considering the suggestion to extend the time to complete the prolonged Road 319 BOT project by six months.
The project connecting with Ho Chi Minh City- Long Thanh- Dau Giay expressway was designed with its length of 1.9 kilometer and four lanes for vehicles. Construction started in July 2017 and its completion time was expected on December 31, 2020.
However, the project currently reaches only 73 percent of total volume so BOT 319 Cuong Thuan CTI Corporation, the project investor, asks permission of extending the implementation period until June 30, 2021.
Liquidity soars to record high in Vietnam stock market in January
Compared to the same period of last year, liquidity surged a whooping of 291.04% in transaction volume and 334% in value.
In January, Vietnam stock market continued to remain an attractive investment channel with investors pouring in VND335.9 trillion (US$14.6 billion) and 14.78 billion shares changed hands, up 17.37% and 8.71% month-on-month, respectively.
This average transaction value of VND16.8 trillion (US$730 million) for 739 million shares per trading session, representing increases of 34.97% month-on-month in value and 25.01% in volume.
Compared to the same period of last year, liquidity surged a whooping of 291.04% in transaction volume and 334% in value.
In January, foreign investors were involved with transaction value of VND64.2 trillion (US$2.78 billion) accounting for 9.57% of the total in the stock market. While they remained net sellers with VND3.4 trillion (US$147.7 million), the figure was down 16.93% against last month.
This came as foreign investors went for bottom-fishing strategy during a strong volatile period of the market that witnessed the benchmark Vn-Index to suffer a historic slump of 73.23 points late January, or a decline of 6.67% from the previous session, to 1,023.94.
However, since then, the market has been on a strong recovery trend and ended at 1,111.29 at the close yesterday [February 3], up 35.76 points or 3.32% from a day earlier.
As the Vn-Index's free-fall occurred on the same day of the Covid-19 resurgence in Vietnam, Lan Anh, a broker expert at SSI Securities Corporation, told Hanoitimes that the government's drastic measures to keep the situation under control would help further boost the market.
"Stable economic outlook and positive business performance of public firms in 2020 would gradually stabilize the market and even help it rebound strongly after the Tet holiday," said Mrs. Lan Anh.
As of late January, total number of shares listed on the stock market amounted to 101 billion with the market capitalization of over VND3,900 trillion (US$169.3 billion), up 3.32% month-on-month and equivalent to 62.69% of the GDP in 2020.
Recruitment demand of foreign manufacturers surges in 2021
Foreign investors will likely expand their scales in new industrial zones in the south this year.
The recruitment demand of foreign manufacturers at industrial zones in the southern provinces of Binh Duong, Dong Nai and Long An and Can Tho City will increase in 2021, according to the latest report conducted by Navigos Search.
A report on middle and senior recruitment demands in Vietnam market in Quarter 4, 2020 and outlook in 2021 recently showed that many manufacturing enterprises from Europe, the US, China and Japan are exploring the market to invest in building their factories and developing production and business activities in Vietnam. Due to the land shortage in Ho Chi Minh City, the investors will likely expand their scales in new industrial zones further south.
According to Navigos Search's analysis, Japanese manufacturing enterprises in the electronic and automotive spare parts plan to expand in 2021. Despite being heavily affected by Covid-19, Japanese manufacturing companies in Vietnam have officially returned to production and recruitment since the fourth quarter of 2020. A number of electrical/electronic enterprises have increased their production capacity to meet the market demand, and some in the furniture industry have doubled their yield compared to the pre-pandemic time.
There are also significant changes in recruitment demands in Japanese companies. For candidates who can speak Japanese only, both job opportunities and salaries considerably drop, meanwhile those fluently both English and Japanese are almost a decisive factor in recruitment.
Huge recruitment demand in IT this year
Navigos Search observed a quick recovery of recruitment in the information technology (IT) industry in the fourth quarter of 2020. The enterprises continue to recruit, focusing on high-quality people who master the most up-to-date technologies to increase their products and services' competitiveness. New entrants are quickly building their recruitment brands and having good salary and bonus policies to attract qualified personnel.
Although the pandemic delayed recruitment in the IT industry, businesses in the sector are studying and making plans to recruit 1,000 engineers in 2021.
The report also found that local banks are planning to recruit a large number of employees for credit sales (customer relations). In addition, hiring in the technology and data sectors will be boosted due to strong demand for digital transformation at commercial banks.
Regarding the insurance industry, as a number of life insurance companies have signed exclusive contracts with commercial banks in bancassurance, they are in need of hiring consultants to work full time.
Vietnam tourism develops unique, unusual tours to lure visitors in 2021
The tourism industry identifies domestic travelers as the key segment for its development this year.
Local enterprises have offered many new unique and unusual products to lure domestic visitors in 2021, along with traditional tours to adapt to the new normal context, according to Chairman of the Hanoi UNESCO Travel Club Truong Quoc Hung.
Mr. Hung told Ha Noi Moi Newspaper that in addition to traditional tours such as eco-tourism and hospitality, adventure tourism and wildlife discovery are forecast to be a new trend this year.
In 2021, many localities plan to organize running events, as well as other major sports tournaments to attract athletes and tourists, such as Tien Phong Gia Lai (in March), the Vietnam Jungle Marathon (slated for March), the VnExpress Marathon Amazing Halong (August), the Hanoi International Heritage Marathon (September).
International paragliding tournaments in the northern provinces of Lai Chau and Lao Cai are expected to take place this year.
Many adventure tours are expected to be held in 2021 such as mountain climbing and trekking for young people who love to explore nature. On January 14, the Hanoi UNESCO Travel Club organized a new caravan and trekking farmtrip to conquer the Puxailaileng Mount (the central province of Nghe An) with the aim of developing adventure and community tourism products for the province.
In 2020, a number of sport tournaments was suspended due to the impact of Covid-19, while some others still went on attracting thousands of athletes and visitors.
Quang Ngai, the central province of Vietnam, witnessed the participation of about 2,000 local and international runners at the 61st Tien Phong Marathon held last July in Ly Son Island. The event was successfully and safely organised thanks to good preparation of local authorities and relevant branches.
Director of the Department of Culture, Sports and Tourism of Quang Ngai province Nguyen Minh Tri said that the marathon held in Ly Son Island opened up great potential for local tourism, allowing Ly Son to organize other large-scale activities with the participation of thousands of people.
Other successful events included the Mekong Delta Marathon 2020 held last November in the Mekong Delta province of Hau Giang with more than 7,000 athletes; the 2020 Open Putaleng Paragliding Tournament held last December in the northern province of Lai Chau; and another paragliding event was open in Mu Cong Chai district in the northwestern province of Yen Bai in June.
Forum looks to reduce energy consumption in transport
Experts gathered at a forum in Hanoi on February 5 to discuss measures to reduce energy consumption in the transport system towards effective use of energy for economic development in the sector.
Attributing traffic congestion and exhaust emissions from old and ragged vehicles to bad air quality that threatens local health, Associate Professor Nguyen Hong Thai, vice chairman of the Vietnam union of railway transport, suggested the transport sector integrate reduction of greenhouse gas emission into transport planning and investment projects.
It is necessary to raise public awareness of measures to cut greenhouse gas emissions such as using biofuels, and limiting personal vehicles with a view to building a green public transport system, he said.
According to deputy head of the Environment Department under the Ministry of Transport Nguyen Huu Tien, development of energy-saving transportation has been integrated in the sector's development policies.
"In the past time, the sector has paid due heed to branching out energy-saving means of transportation, while issuing regulations on stamping fuel efficiency labels to nine-seat cars and motorbikes ", he said, adding the ministry also worked with the Ministry of Science and Technology to set up and issue Vietnamese standards on fuel consumption limit for cars and motorbikes.
Tien said in the coming time, priority should be given to developing bulk carriers which are energy saving such as railway and waterway towards establishing multi-mode freight transport firms.
The transport sector should continue to outline standards on fuel consumption or several vehicles, and pen policies and a roadmap to switch the use of fossil-fuelled vehicles to those that use renewable energy, contributing to ensuring energy security and protecting the environment, he stressed./.
Source: VNA/VNN/VNS/SGGP/VOV/NDO/Dtinews/SGT/VIR
VIETNAM BUSINESS NEWS FEBRUARY 6 have 6887 words, post on vietnamnet.vn at February 6, 2021. This is cached page on VietNam Breaking News. If you want remove this page, please contact us.