As many as 1,132 wild animals were successfully rescued in Vietnam last year, according to the Education for Nature Vietnam (ENV).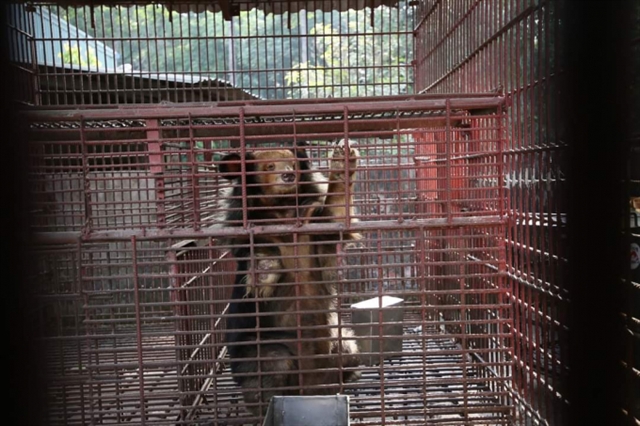 One of seven bears which were rescued from two bear bile farms in the southern province of Binh Duong. Photo phapluatplus.vn
These animals include 436 birds, 362 turtles, 120 monkeys and others.
In particular, in October last year, seven bears held captive in the southern province of Bình Dương were transferred to a sanctuary in Ninh Bình Province, bringing the total number of rescued bears in 2020 to 32.
ENV recorded 2,907 violation cases last year, nearly doubling that of the previous year. Of these, 1,956 cases involved advertising wildlife illegally and 863 of illegal captivity.
It showed that the wildlife trade and consumption continue in Việt Nam, despite the development of the COVID-19 pandemic most likely originating from wildlife along with drastic measures from the government, ENV said.
It also said that 57.1 per cent of 2,216 violation cases reported by residents had been handled.
Each day the ENV's Wildlife Protection Department received an average of nine reports, compared with 4-5 cases recorded in 2019.
The number of violations reported to ENV per day in 2020 nearly doubled 2019's figure, proving that the community was increasingly concerned with wildlife protection issues, said Nguyễn Phương Dung, Deputy Director of ENV.
"ENV has succeeded in encouraging the community support authorities in monitoring wildlife violations," she said.
Dung urged relevant agencies to exert more efforts in raising the success rate of handling violations in 2021.
Since 2005, ENV has operated a hotline to receive reports of unlawful activities relating to wildlife violations through 1800-1522 which is free of charge and email [email protected] After receiving information, ENV staff will transfer it to the relevant authorities to handle the violation and closely follow the process of handling violations until the final results are available. — VNS
Over 1,130 wild animals rescued in VN in 2020 have 387 words, post on vietnamnet.vn at February 15, 2021. This is cached page on VietNam Breaking News. If you want remove this page, please contact us.