Lovers of tasty food have a cool new place to visit every night at District 10's Ky Dai Quang Trung pedestrian street, where around 30 stalls sell a wide variety of tasty dishes.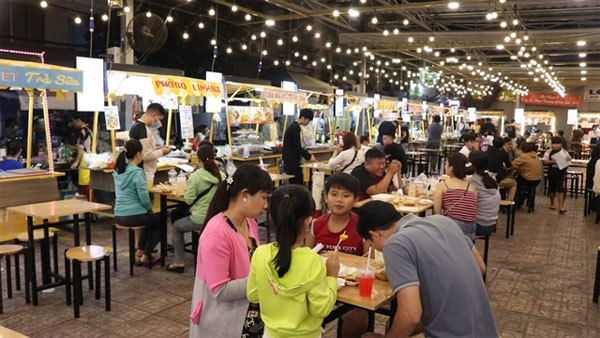 Visitors at District 10's Ky Dai Quang Trung Pedestrian Street can enjoy a wide variety of tasty snacks from around 30 stalls.
The area opened last December, and since then has been a beloved place for people of all ages to hang out while snacking.
From 6pm to 10 pm every day except Monday, around 30 stalls sell tasty, affordable meals that are loved by young people, including animal-shaped pancakes, Thai dishes, fruit juice, and even Com Tam (broken rice with grilled ribs).
Mai Quoc Tan, who works at a stall that sells Korean dishes such as fish paste and gimbab rice rolls, said there were many young customers here, and that the street was always bustling and fun.
Nguyen Tuan Kiet told Việt Nam News that his stall sold avocado ice cream, a Da Lat specialty, as well as peach tea and lemon tea.
"We have been selling here for two months. Prior to this we had to close down one of our branches in the city due to COVID-19. We are doing very well here on this food street because there are a lot of customers."
A food court area was built to provide visitors with dining chairs and tables, but several stalls have also been set up on the street with red plastic chairs for anyone wanting a more cozy, streetside feeling.
Locals entering the street will have their temperature checked, and the selling of alcoholic beverages is prohibited.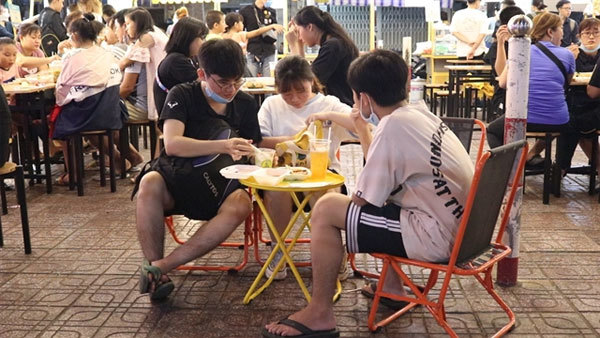 Many young locals enjoy the bustling atmosphere of the street. – VNS Photos Viet Dung
Hot new hangout
Every night the street is brimming with groups of young friends hanging out, couples sharing a dish, and parents taking their young kids for a walk.
Luong Thanh Kiet told Việt Nam News that he enjoyed a wide variety of dishes sold here, and compared to District 1's Nguyen Hue Pedestrian Street, "there are many food stalls close together and the nearby sitting areas makes it more convenient".
"This is a great place to go to during the Tet holiday, especially for us foodies."
Nguyen Tran Thao Nguyen, who visited the street for the first time, told Việt Nam News that she was impressed with the number and variety of food stalls, as well as the lively atmosphere, even during weekdays.
Truong Nguyen Thien Tan, a visitor who has been to the street three times, said the area was lively and people of all age groups congregated there.
"This place is really fun, and there are many spots to take photos and areas for a nice walk and chat. You can stay away from your smartphones to spend time with your friends. This is a great spot for families, friends and lovers to hang out on the weekend."
Ky Dai Quang Trung Street also has around 20 stalls selling clothing items and accessories. Visitors can buy rice toy figurines, play fun games at booths to win prizes, and even watch musical performances on Saturdays.
The Ky Dai Quang Trung area was built in 1975 near the Nguyen Tri Phuong Market. The area surrounding it used to be occupied by vendors.
District 10 received permission to renovate and change the area into a night pedestrian street in 2019 as part of its urban improvement efforts.
The street is the city's third walking street, after Nguyen Hue Pedestrian Street and Bui Vien Street in District 1. District 10 People's Committee plans to expand this street to improve the lives of locals and the night economy.
For a nice night out with loved ones, Ky Dai Quang Trung Pedestrian Street will charm you with its tasty food and lively atmosphere.  VNS
Ky Dai Quang Trung Street – a new hotspot for foodies have 732 words, post on vietnamnet.vn at February 19, 2021. This is cached page on VietNam Breaking News. If you want remove this page, please contact us.