The HCM City digital transformation programme has contributed to developing the city and bringing many benefits to its people and businesses.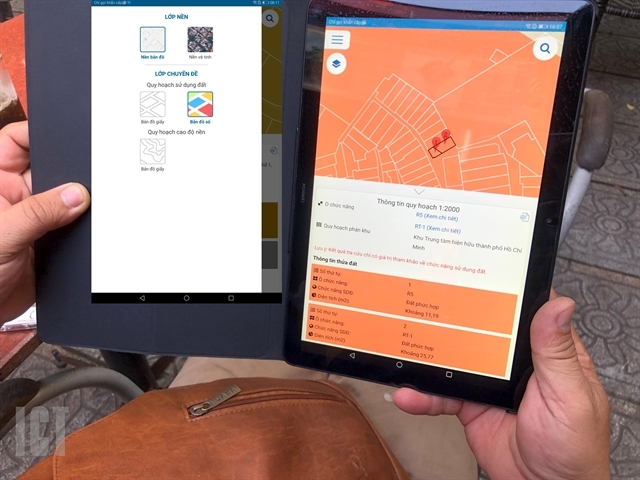 Under the programme, a shared database of all sectors, ranging from housing, transport and environment to healthcare, has been created to connect and share data from the city's administrative departments.
Speaking at a conference about the database last month, Vo Thi Trung Trinh, deputy director of the Department of Information and Communications, said: "Data is shared and used mostly by district authorities, administrative departments, people and businesses. So utility applications become a necessary tool to serve people better."
Dozens of applications in the transport, housing, and health sectors have appeared in recent years to offer benefits to users. They are easy to use and available on both Android OS and iOS operating systems.
Among the most downloaded apps are "TTGT TPHCM" developed by the Department of Transport to help people avoid traffic jams, and "UDI Maps" that warns about flooded areas from the HCM City Urban Drainage Limited Company.
The Department of Planning and Development has released the app "Thong Tin Quy Hoach TPHCM", providing information on the city's housing development plan, while "SXD247" has been developed by the Department to offer information on real estate projects and administrative procedures.
Another is "SYT.TPHCM" which helps medical practitioners and businesses register for licences or receive eligibility certificates for pharmaceuticals online.
In addition, the city has introduced apps that help people notify authorities about infrastructure incidents like broken water pipes, downed power lines and fallen trees.
The city is accelerating digitalisation transformation to fulfill its target of completing its shared database and open data ecosystem by 2025.
Trinh pointed out that the city has digitised about 60 per cent of civil status books, and the work is expected to be put into operation in June 2021.
The Department of Education and Training will be able to forecast the school-age population to meet the needs of new students, while the Department of Health will set up a shared medical record system among hospitals in the city and the country.
Trinh said the building of a shared database was an important step to offer more digital applications to users.
When the city's shared database and open data ecosystem are completed, they will be connected to national databases to serve the city's e-government.
The e-economy is expected to account for 40 per cent of the city's gross regional domestic product, while annual labour productivity will increase at least 9 per cent by 2030.
The rate of residents and enterprises having electronic accounts for payments is expected to be more than 85 per cent by 2030.
Speaking at a conference to announce the programme in July, 2020, Duong Anh Duc, vice chairman of the city People's Committee, said: "HCM City will become a smart city with e-government, e-enterprises and an electronic society by 2030."
To obtain these goals, the city would strengthen communications and improve awareness of its staff, residents and enterprises, Duc said.
VNS
Digital transformation provides multiple benefits to citizens have 630 words, post on vietnamnet.vn at February 13, 2021. This is cached page on VietNam Breaking News. If you want remove this page, please contact us.