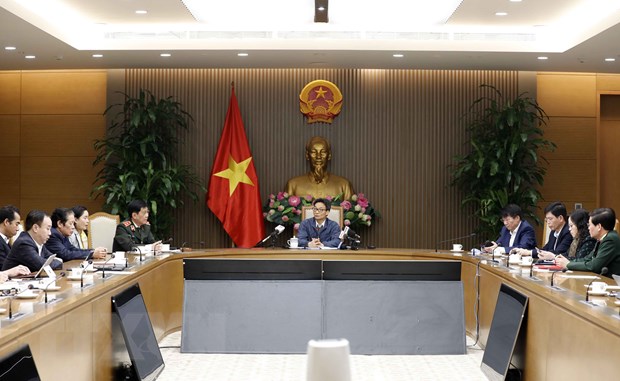 HÀ NỘI – Việt Nam will tighten border controls to prevent illegal entry as the COVID-19 pandemic is still complex across the world and in Asia.
Chairing a meeting of National Steering Committee for COVID-19 Prevention and Control on Thursday, Deputy Prime Minister Vũ Đức Đam asked localities to strengthen disease prevention and control measures and strictly inspect said measures ahead of and during the Tết (Lunar New Year) celebrations.
Localities nationwide were asked to communicate with families whose members have returned from abroad so the returnees can properly report their health conditions and be quarantined.
The Ministry of National Defence has assigned more staff to and supported COVID-19 checkpoints along the country's borders. 
Police and local authorities have regularly visited families whose members are living or working aboard and told them about health monitoring and quarantine policies in case their family members return to Việt Nam.
People have been told to report to authorities immediately if they come across anyone suspected of having returned from abroad without quarantining.
Hoàng Minh Đức, deputy head of the General Department of Preventive Medicine under the health ministry, said many countries have maintained strong measures to curb the spread of SARS-CoV-2 and its variants. 
Southeast Asian countries faced high risks of the pandemic's resurgence, for example, Indonesia with more than 927,000 cases and about 27,000 deaths, the Philippines with about 506,000 cases and more than 10,000 deaths or Malaysia with some 165,000 cases and 619 deaths, he said. 
According to the World Health Organization, a new coronavirus variant detected in the UK in mid-December last year has spread to more than 50 countries and territories. Another variant of the virus in South Africa also spread to 23 countries.
Although 46 countries around the world are implementing COVID-19 vaccination campaigns, it would take time to create community immunity, according to experts at the meeting.
Meanwhile, new variants of SARS-CoV-2 were detected in various countries, increasing the infection numbers and fatalities, with 14,000-16,000 deaths reported daily in the last few days, experts noted, warning about the disease resurgence even in countries that have launched vaccination campaigns.
Đức said that in Việt Nam, some quarantine areas which host foreign experts and Vietnamese people returning from abroad had violated quarantine violations, posing risks of spreading the virus.
At the meeting, the committee members agreed they would report to the Government about the desire of overseas Vietnamese people to return to Việt Nam.
Meanwhile, the Ministry of Health reported that it was working with other ministries and agencies to complete mechanisms relating to the study, production and access to COVID-19 vaccines.
Like other countries, Việt Nam will identify priority groups to get COVID-19 vaccines.
The health ministry is working with the ministries of defence and science and technology to speed up domestic vaccine trials.
The ministries of health and finance will develop mechanisms for vaccine production and supply if the vaccine trials are successful.
The committee also asked ministries and agencies to update their COVID-19 prevention and control activities, particularly at antoancovid.vn which provides real-time situations of thousands of public places across the country including schools and hospitals. VNS
Việt Nam to tighten border controls to prevent spread of COVID-19 have 673 words, post on vietnamnews.vn at January 22, 2021. This is cached page on VietNam Breaking News. If you want remove this page, please contact us.