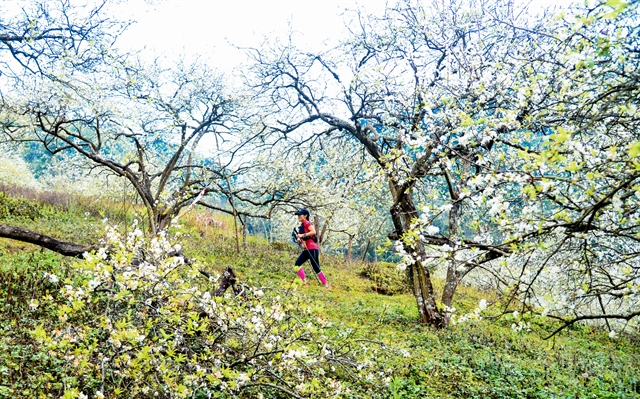 Marathon
HÀ NỘI — Almost 4,300 Việt Nam-based runners from 41 nations will race from 5km to 70km on trails through the orchards and tea fields of Mộc Châu District, Sơn La Province at the Việt Nam Trail Marathon (VTM) on Saturday. 
During the event, Việt Nam's top homegrown talent will compete with expat runners and celebrities.
The VTM was founded in 2019 and in its first edition, the race welcomed nearly 2,000 runners from 39 nations. This year, despite the challenges presented by the COVID-19 pandemic, the number of runners at the event is up by almost 40 per cent compared to 2020.
The race is well-known for the natural beauty of the course and friendly and hospitable locals. The route will take runners through blossom orchards, stunning trails, past remote villages and will eventually finish at the Đồi Chè Trái Tim (Heart Tea Hill), offering an opportunity to discover the majestic trails of Mộc Châu.
Like other races by the organiser Topas, each long-distance (21km-70km) entry includes a donation to charity. Almost US$30,134 will be divided between local projects around Mộc Châu, the work of Blue Dragon Children's Foundation, life-changing surgery for children through Operation Smile, and saving lives through Newborns Việt Nam.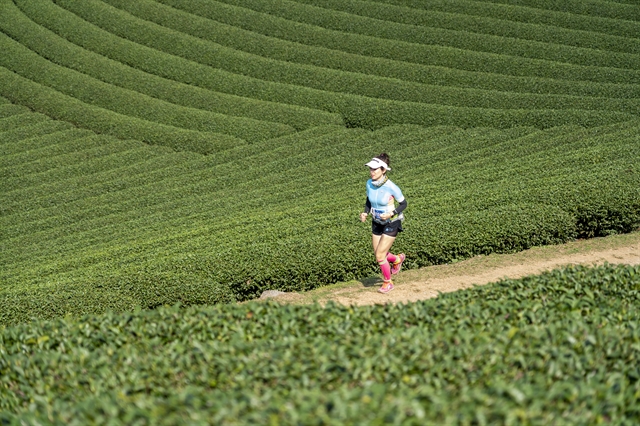 France versus Việt Nam
In the men's 70km distance race, last year's second-place runner, Đỗ Trọng Nhơn, will return. He will compete with his compatriot Quang Nguyễn who finished third in the Việt Nam Mountain Marathon (VMM) 100km and Việt Nam Jungle Marathon (VJM) 70km event.
They will face two strong runners from France, namely Gaetan Morizur and Valentin Orange, who were both on the VMM podium last year.
In the women's ultra field, the first, second and fourth place of the VTM 2020 Nguyễn Thị Đường, Nguyễn and Hiền Trần will be back to compete again.
While Đường beat Dung into second place at the VTM last year, Dung won the VJM 2020. This will be the first time since then the two have gone head to head, so it promises to be an interesting race. 
They will both have to compete with a strong contender of France, Axelle de Feraudy, who won the VMM 42km two months ago. Two other Vietnamese contenders are Hà Thị Hậu, VMM 21km champion, and Lê Thẩm Thúy Hằng, third place at the VJM 55km.
This will be Hậu's first ultra race and it will be interesting to see if her fierce shorter distance speed can translate to a much longer test.
In the 42km category, last year's champion Markus Gnirck of Germany will return and so will the overall Việt Nam Trail Series marathon champ Trịnh Nam Hải of Việt Nam. They both have to compete with double VMM 100km champion Nguyễn Tiến Hùng who also took second place at the VTM 21km last year.
In the female battle, two strong French contenders Nathalie Cochet and Constance Louasse will compete with an elite runner of Việt Nam, Lèo Thị Tình, who took third place at the VTM 42km last year, and Elizabeth Charles, second place at the VJM 25km.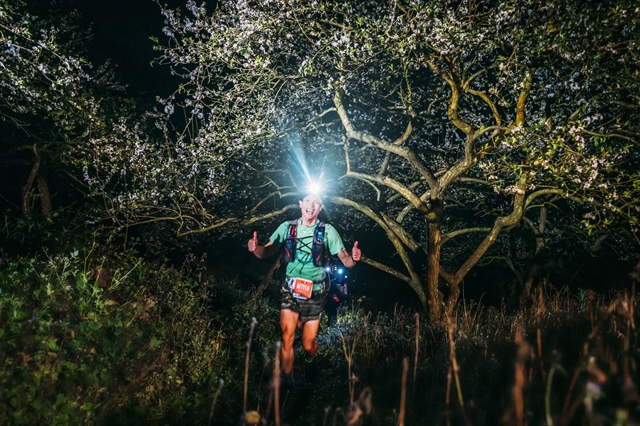 Vietnamese celebrity runners
On the 42km start line this year will be two Operation Smile ambassadors including singer Đức Tuấn and traveller Trần Đặng Đăng Khoa who travelled around the world on his motorbike. They both ran the VMM in Sapa in November last year and will run at the Việt Nam Trail Marathon for the first time. 
Also running for Operation Smile Việt Nam will be Miss Việt Nam 2006 Mai Phương Thúy. She will run the 10km race.
In the 70km division this year, Trang Hạ, the 'running writer' will run for the first time. She has also signed up for the 70km distance at the Việt Nam Mountain Marathon 2021 on August 27-29 in Sa Pa and Việt Nam Jungle Marathon 2021 to be held at the stunning Pù Luông Nature Reserve in the central province of Thanh Hóa on October 16.
"I will spend this whole year to run all the races of Việt Nam Trail Series. Topas's organisation is really great, so though this is the first time I run the VTM, I believe I will enjoy every moment along the VTM course," said Trang Hạ.
"My goal is to finish the race before 11pm and become an ultramarathoner before I am 50 years old." — VNS
More than 4,000 runners to race in Việt Nam Trail Marathon have 945 words, post on vietnamnews.vn at January 27, 2021. This is cached page on VietNam Breaking News. If you want remove this page, please contact us.