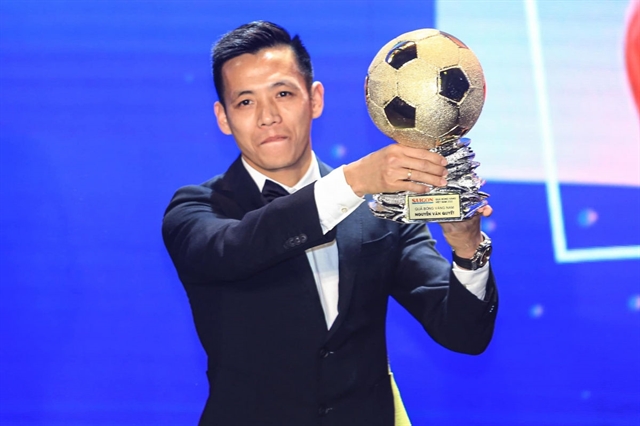 Thanh Hà
Nearly 10 years ago, Nguyễn Văn Quyết's name was called at the night of Golden Ball Awards ceremony as the youngster took the best young player of the year award.
On the stage, the 19-year-old said the silverware would motivate him to seek success in his career and the Golden Ball.
Ten years later, Quyết has become the nation's top player of 2020 and won the Golden Ball after a couple of near-misses.
"It is a special day today for me. Ten years ago I was the best young player. Today marks my 10th year playing professional football and also 10th year since my first time playing for the national team," said Quyết.
"I have been waiting for years to have the chance to take this honour for the first time. It is amazing. And this will be my career's turning point."
The captain of Hà Nội FC has shone in a year that football was greatly impacted by the COVID-19 pandemic.
When most football leagues had to be suspended, Việt Nam's national competitions came to an end successfully. Players had opportunities to strut their stuff while supporters were allowed to cheer them on in person.
In that setting, Quyết helped his club defend their National Cup title, finish second in the V.League 1 and grab their fourth Super Cup trophy.
"I played in all competitions with the club and scored as many as I could. Besides my own efforts, I also received strong support from my teammates who also worked really hard to contribute to our team's result. They are part of my success," said Quyết.
Great loser
Over the last 10 years, hard-working Quyết has become a key part of Hà Nội's success and has also starred in the national team.
Under his belt are five V.League 1 titles, two National Cups, four Super Cups and an AFF Cup triumph with the national team.
However, the Golden Ball eluded him despite his best efforts.
Previously, his best result was twice placing second with Silver Balls in 2014 and 2015.
In other years, he couldn't even make the shortlist despite performing well.
In 2016 and 2017, his outstanding performances made it seem like it was his time, but pushing referee Hoàng Phạm Công Khanh and elbowing Nghiêm Xuân Tú of Quảng Ninh meant he didn't even make the top three.
The year 2019 was amazing for Quyết as he scored 21 goals and assisted 10. Under his captaincy, Hà Nội made history as the first Vietnamese club to advance to the AFC Cup's Inter-zone final. He was a top candidate for title. But a tackle against Sông Lam Nghệ An's defender Nguyễn Đình Đồng late in the season resulted in a red card and destroyed his chances.
He was also absent from national team coach Park Hang-seo's team after the AFF Cup victory as the South Korean said he didn't suit his tactics.
The opportunity to represent his country seemed lost.
However, Quyết has never stopped doing his best and responds to each setback with more hard work on and off the field.
While 2020 was tough for most people around the world, Quyết shone in a year when the Golden Ball selectors had no national team matches to base their decisions on, only local tournaments.
He played all 20 matches for Hà Nội and scored five goals but perhaps more impressively, was involved in 20 out of the team's 37 goals.
He was voted the best player of Hà Nội, named the best player of the V.League 1 season and in the best XI by the national football organising board.
With the Golden Ball now in his collection, he has won every local individual title available.
"It is a great mark in my career because I have been recognised in all levels – man of a match, the best player of the club, the best player of the V.League and now the best player of the season," said Quyết
"To me, the Golden Ball is not also a dream but a responsibility. It will remind me to be responsible in football and the belief that many people have in me. I will prove that I am worthy of the votes they gave me.
"I will have to work harder and harder for better results for Hà Nội in 2021 and the national team if I have a chance to play," said Quyết, who seems to have won Park's trust again.
He was called up to the national team last month and scored a goal against the U22s in their friendly match.
"I hope that COVID-19 will be over and we can play football normally. I hope to see stadiums full of supporters. I also want to contribute better for Hà Nội and grab our top position back this season. And I hope to play for the national team too." VNS
Golden Ball winner Quyết revels in success have 971 words, post on vietnamnews.vn at January 21, 2021. This is cached page on VietNam Breaking News. If you want remove this page, please contact us.