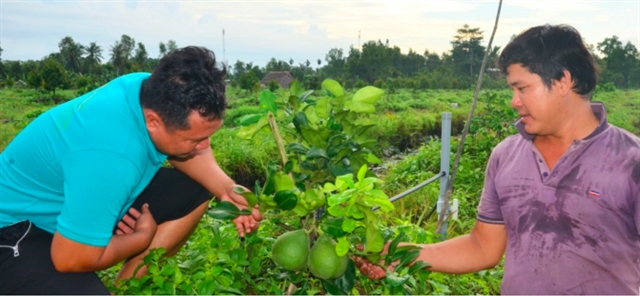 KIÊN GIANG — A farmer has managed to improve saline intruded soil to grow high-quality grapefruits for export in Kiên Giang Province of the Mekong Delta region.
Lâm Cần Nguyên from Vị Thanh City of Hậu Giang Province worked with Hải Sơn Seedling Company in Bến Tre Province to set up a grapefruit farm called Ruby in Vĩnh Hoà Hưng Nam Commune, Gò Quao District of Kiên Giang Province.
For a long time, the saline soil in Vĩnh Hoà Hưng Nam Commune was only suitable for planting pineapples.
However, with a creative and bold mindset, Nguyên converted 5ha of pineapple area with low efficiency to grow other fruits.
He also rented another 5ha of a neighbouring pineapple growing area to set up his fruit farm.
After more than six months of improving the soil, Nguyên planted two kinds of high-priced speciality fruits, namely ruby grapefruit and Musang King durian.
Now, his farm has more than 900 durian trees of 15-months-old and 1,200 grapefruit trees of one-year-old.
The cost to set up this farm reached billions of đồng.
"I have spent about VNĐ7 billion (US$306,000) on the farm. I expect that in the next three years, my farm will be one of the biggest fruit farms of the region," Nguyên told online newspaper nongnghiep.vn.
"Previously, I tried Thai ruby grapefruit and Musang King durian and I found them so delicious that I decided to set up my own farm growing the fruits," he said.
"I knew the fruits brought higher income than pineapples," he added.
When the saline soil was successfully recovered it contained more nutrients so the fruits have a different and tastier flavour than those planted in other regions, he said.
He also planted trees in this area thanks to the help of the Hải Sơn Seedling Company.
He spent a sizable sum improving the soil with 2 tonnes of lime powder and organic fertiliser.
"Initially, the local people said I was crazy. And they insisted that I could not improve this acid soil," the farmer recalled.
"But thanks to the technical consultation from the Hải Sơn Company, I felt braver," he said.
Improving the saline soil was tough.
He had to make high planting beds and dig deep canals around the beds and put lime powder under the planting beds to draw the salt out of the soil.
When the saline treatment was finished, he spread a lot of organic fertiliser to improve the soil.
He also placed lime deep into the canals to wash the salt from the lower layer to avoid cases when the tree reaches the age of 4-5 years, the roots will penetrate deeply into this saline layer.
"I did that because I saw the fruit trees planted by the local people here turned yellow after 3-4 years. And the farmers had spent a lot of money but could not save the trees," Nguyên said.
"If I could deal with the lower saline layer, the trees would be more durable than elsewhere. Because I planned to make a big business so I needed to act carefully," Nguyên said.
First fruit
The farm uses an organic production process and Nguyên and Hải Sơn Company aim for their products to meet export standards with the brand of Hải Sơn Ruby Grapefruit.
The grapefruit garden is now one year old. When the trees are about three years old, the first fruits will be harvested. From 4-5 years onwards, the trees will bring stable yield and quality.
Up to now, more than a year has passed, his garden has grown very well.
Interestingly, only nearly a year after sowing, with good techniques of tree cultivation and diligence, Nguyên has raised pomelos from two seedlings.
"Although the pomelos were raised from underage seedlings, the fruit quality was also very good," said Nguyên.
In Việt Nam, Hải Sơn Ruby Grapefruit has been registered for trademark protection by Hải Sơn Company. — VNS
Farmer fixes salty soil to plant fruit for export have 803 words, post on vietnamnews.vn at January 16, 2021. This is cached page on VietNam Breaking News. If you want remove this page, please contact us.