Linh Chi Nguyễn, Bảo Hoa & Paul Kennedy
HÀ NỘI Vietnamese food is famous the world over. Don't take our word for it, here's what those in the know said.
American novelist, editor, and travel writer Hanya Yanagihara once said: "I love how Vietnamese cuisine always tastes like flowers, and how they had the ingenious idea of pairing that floral flavour with seafood: such a combination shouldn't work as well as it does."
TV chef Gordon Ramsey added: "In the UK, we also have dishes made from rice, but in Viet Nam, you successfully bring it up to the new level."
And the late Anthony Bourdain, a regular visitor to Viet Nam before his passing and a lover of Vietnamese cuisine, once said: "Viet Nam. It grabs you and doesn't let you go. Once you love it, you love it forever. All the senses are engaged here."
So with all this acclaim, it will come as a surprise to discover one of Việt Nam's most popular dishes is as simple as it sounds – cheese on a stick.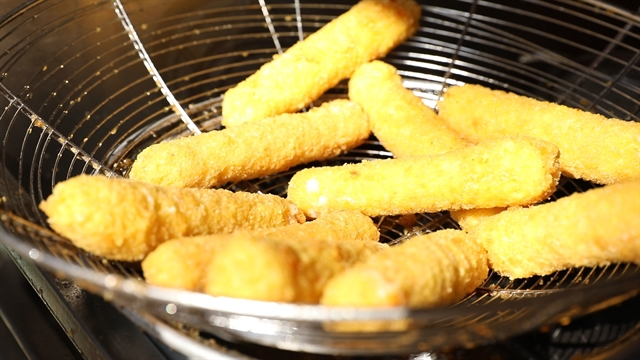 Now, this may well be a snack far more common in the western world, but there's something about this particular delicacy that keeps the Vietnamese coming back for more, and more, and more!
Vũ Tú Anh – the owner of Bánh Gà Hua store has been frying up these cheesy treats for two years. She thinks the key to a good cheese snack is to do the frying step well.
"I normally sell about 150 cheese sticks a day. I don't know why, but children love it," she said.
"First, it was a block of mozzarella, then I divided it into small pieces, each weighing 12 grams.
"I rolled them in batter and again in breadcrumbs, then I fry them."
Sounds simple? Well maybe not because when it comes to cooking up this snack, nothing but perfection with suffice. 
"Deep frying is the most difficult step because the cheese can easily melt and ooze out of the coating," Tú Anh added.
"The temperature needs to be very high for one minute of frying."  
So if you are thinking about giving her recipe a try at home, make sure you keep a close eye on the cooking process at all times.
And you'll know exactly when the dish is ready to devour.
"When the cheese starts leaking out, it's done."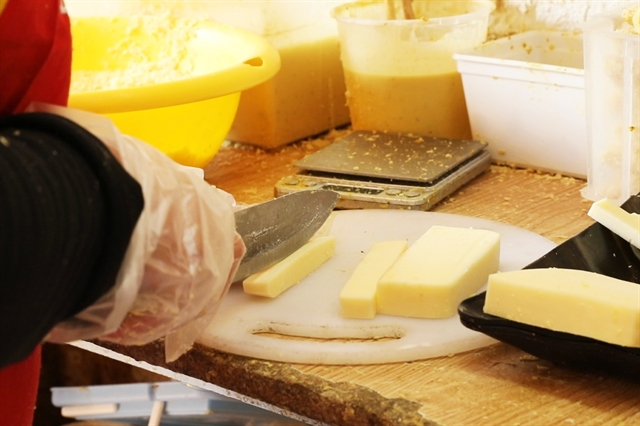 Elsewhere in the world, this is a very popular dish for children. But here in Việt Nam its also enjoyed by young adults, particularly students sneaking a snack before class.
Phạm Thị Quyên – the owner of Quán Tít Bách Khoa brought this dish the attention of students by opening up shop a stone's throw from Hanoi University of Science and Technology.
"International students that stay at this dormitory eat cheese sticks a lot," she said.
"They either have it here or takeaway. Vietnamese students also love it.
"Because it's a popular snack, and students love to find out about things that have gotten popular."
Could this be exactly what Anthony Bourdain meant when he said "All the senses are engaged here"? Highly unlikely really as he was probably talking about something a little more complex than cheese on a stick!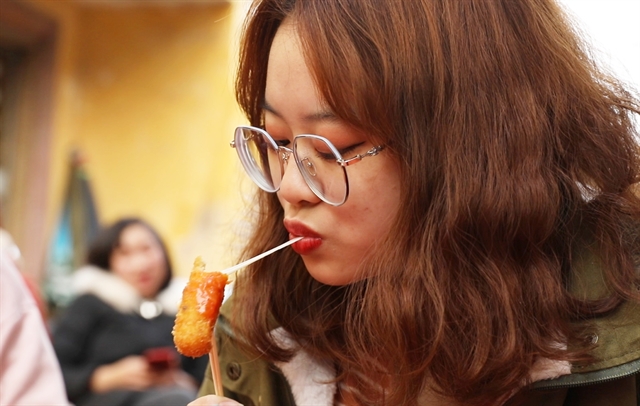 Student Phạm Minh Hằng, 21, said: "I love the cheese filling because I love pulling it out of the coating." 
Fellow student Lê Thị Linh Chi, 21, added: "I love fried foods, so fried cheese sticks are definitely not to be missed out from my snack list.
"We have cheese sticks at snack shops in my hometown, but I think depending on the ingredients each shop uses that they might taste different.
"I think they taste better here because I can pull the melted cheese out, and the taste is also richer."
And how about you, have you tried these fried cheese sticks? It is a great opportunity to enjoy this specialty with your homie, don't miss it! VNS
A cheesy treat for all ages have 949 words, post on vietnamnews.vn at January 25, 2021. This is cached page on VietNam Breaking News. If you want remove this page, please contact us.