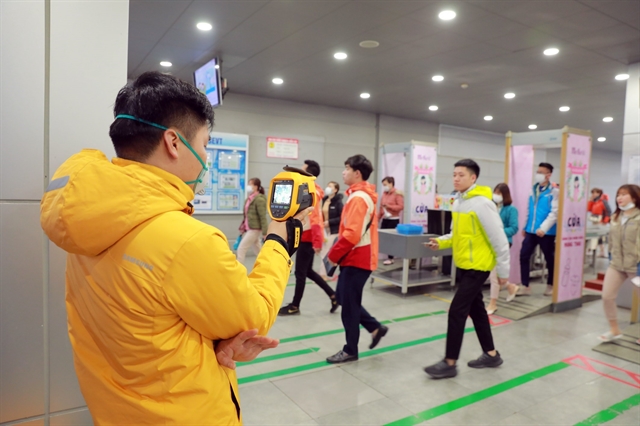 HÀ NỘI — Despite mounting cases and deaths from the new strain of acute respiratory disease COVID-19, Vietnamese localities said the situation in Việt Nam was under control.
The National Steering Committee set up to prevent and combat the acute respiratory disease caused by COVID-19 made the statement during a teleconference held Friday morning.
Border provinces including Quảng Ninh, Lạng Sơn, Lào Cai, Tây Ninh and Quảng Nam had been working with neighbouring countries to resume customs clearance after a temporary disruption due to the fear of the virus spreading. They had also asked the Government to provide human resources and medical equipment to deal with the disease as well as clearer policies to manage foreign experts and workers returning from outbreak-hit regions.
Leaders in the northern province of Vĩnh Phúc – which accounts for 11 of the 16 cases confirmed in the country, all originating from a group of eight Vietnamese workers returning from China's Wuhan – also said they could control the outbreak.
Lê Duy Thành, vice chairman of Vĩnh Phúc's People's Committee, said that at-risk people who had close contact with confirmed patients and those returning from Wuhan had been placed in quarantine.
87,000 workers from industrial parks in the province who had close contact with people returning from China were also being closely monitored with the use of thermal scanners, even though they had not been quarantined, Thành said.
Two groups of medical staff, – including 96 technicians and nurses and 65 doctors from central and provincial level hospitals, had been deployed to the province's Bình Xuyên District, the centre of the outbreak, to beef up medical response at local medical stations.
During the teleconference, Deputy Prime Minister Vũ Đức Đam, chair of the committee, and representatives agreed the outbreak would continue to progress with "complicated developments", and asked for more commitment from the whole system in line with the Government's directives and awareness raising efforts to increase public engagement.
Prevention efforts were needed to contain the outbreak but could not interfere too much with social and economic activities, the steering committee agreed.
He also ordered higher levels of surveillance in border areas – both in the north and in the south-west – to thwart the risks of illegal entry.
The number of positive cases in Việt Nam currently stands at 16 – with the latest patient being a three-month-old child in Vĩnh Phúc, who is the grandchild of the 10th positive case who, in turn, was infected after visiting her neighbour who worked in Wuhan.
Seven patients have been given the all-clear, including a Chinese father and son who were confirmed as the first positive cases in Việt Nam in late January.
82 suspected cases are being closely observed, while 602 other people are also under quarantine after having close contact with confirmed patients. — VNS
COVID-19 outbreak in Việt Nam remains under control: Steering committee have 619 words, post on vietnamnews.vn at February 14, 2020. This is cached page on VietNam Breaking News. If you want remove this page, please contact us.