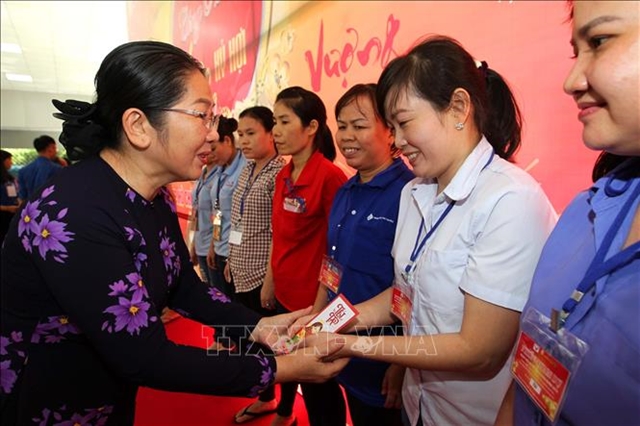 HCM CITY — With the aim of bringing a happy Tết to everyone, many cities and provinces in the southern region are making efforts to take better care of residents, especially the disadvantaged, during the Tết (Lunar New Year) holiday.
HCM City plans to spend about VNĐ818 billion (US$35.3 million) to give Tết gifts to those in need, a year-on-year increase of 60 billion ($2.6 million).
Trần Ngọc Sơn, vice director of the city's Department of Labour, Invalid and Social Affairs, said this year there has been an increase in the number of recipients compared to last year.
Gifts valued at VNĐ3.1 million ($134) each will be presented to 537 Vietnamese heroic mothers, war invalids and revolutionary activists in resistance wars who were affected by chemical toxins.
More than 1,230 wounded or ill soldiers, and individuals who have been awarded "Hero of the People's Armed Forces" and "Labour Hero" titles will receive Tết gifts worth VNĐ1.7 million ($73) each.
State employees in the administrative sector from the municipal level to ward and town levels will receive gifts worth VNĐ1.4 million ($60) each.
About 306,000 gifts worth VNĐ1.3 million ($56) each will be presented to other beneficiaries of State policies.
Gifts worth VNĐ1.25 million ($54) each will be given to 24,800 local households that have recently escaped from poverty.
A gift valued at VNĐ1.15 million ($50) will be presented to 142,000 people with disabilities, as well as to people who receive social protection, and people over 80 years old.
Thirty-two local households living in difficult circumstances who are tasked to protect forests in Cần Giờ District will receive gifts worth VNĐ1 million ($43) each.
The Federation of Labour in Đồng Nai Province will offer 2,500 gifts and 1,500 free bus tickets for workers to return to their hometowns for Tết.
Each Tết gift worth VNĐ500,000 ($21) will be presented to disadvantaged workers.
Many trade fairs and celebrations will be organised at industrial parks and residential areas to serve residents.
Local companies have been asked to announce their Tết bonuses for their employees.
Meanwhile, the Cửu Long (Mekong) Delta province of Kiên Giang has planned to spend about VNĐ6.1 billion ($263,000) from its budget and other sources this year for Tết gifts.
Gifts worth VNĐ500,000 each will be given to 12,300 poor households in the province. Other Tết support will be offered to other families living in difficult circumstances.
The provincial authorities have called on enterprises, organisations and individuals to help the needy have a warm Tết.
Cà Mau Province will spend more than VNĐ23.6 billion ($1 million) for Tết gifts this year.
The gifts will be given to poor and near-poor households, families who are beneficiaries of State policies, retired government officials and military officers, people with disabilities, and orphans.
The Labour Ferderation in An Giang Province will offer gifts worth VNĐ600,000 ($26) each to 750 disadvantaged workers.
Gifts valued at VNĐ1 million each will be given to workers with serious diseases and their children.
Labour and trade unions at all levels are also encouraging companies to provide better care for their employees, especially those who will not return to their hometown during the Tết holiday. — VNS
HCM City, provinces provide gifts for residents on Tết have 642 words, post on vietnamnews.vn at January 3, 2020. This is cached page on VietNam Breaking News. If you want remove this page, please contact us.