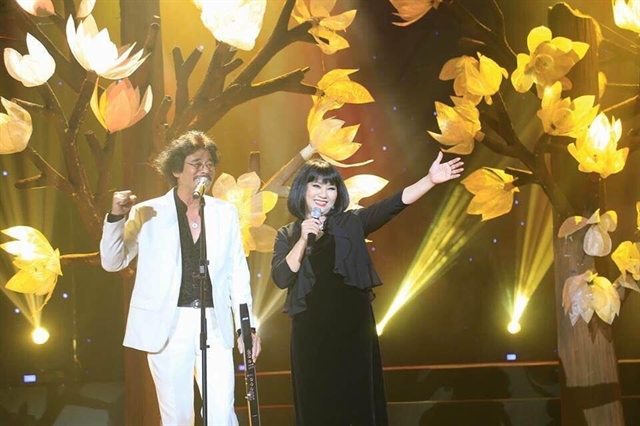 HCM CITY —  A series of drama, music and dance shows featuring hundreds of singers, dancers and theatre artists offering something for everyone in HCM City will begin this weekend.   
Trống Đồng Entertainment Centre will cheer the Christmas and New Year and celebrate its 30 years of working with a great open-air music programme on Saturday.
The event, 30 Năm Ký Ức Trống Đồng (30 Years – the Best Moments of Trồng Đồng Centre), will feature about 100 veteran and young singers and dance groups.
Pop stars Ngọc Sơn and Cẩm Vân, who began their career in the 1980s, will be featured.
The concert will also highlight Vietnamese-American veteran singers Giao Linh and Thái Châu.  
The artists will perform Vietnamese songs in praise of love and life written by famous composers in different periods.    
"Our centre has offered many concerts and theatre shows to entertain HCM City residents and people from neighbouring provinces for three decades," Nguyễn Thị Thu Hồng, a member of Trống Đồng Entertainment Centre's managing board, said.
"We invited well-known comedians Bảo Chung and Duy Phương, both of whom have worked with our centre for the last 30 years, to perform in the concert."
"We hope to bring cheer and a happy Christmas and New Year to more than 6,000 guests at the concert and to others in HCM City," she said.  
The event will be staged for two nights on December 7 and 8 at 12B Cách Mạng Tháng Tám Street in District 1. Tickets are available at the box office. 
A music gala will be staged at 8pm on December 24 at the Youth Cultural House in District 1's Phạm Ngọc Thạch Street.
Thirty young singers, puppet artists and magicians will be featured. More than 5,000 people are expected to attend.
District 11's Đầm Sen Park and District 9's Suối Tiên Park, two of the city's biggest parks, are promoting the holiday spirit through entertainment programmes.
Đầm Sen Park's visitors will enjoy free programmes of music, dance, comedy, circus and puppet shows, which begin this weekend and will run through January 1.
Suối Tiên Park will offer free tickets, candy and toys to disadvantaged children from shelters and open houses around the city.
Tiên Nga (Fairy Tale), a musical drama staged by talented young actors from the private drama theatre IDECAF, will be restaged on Sunday.   
The work is about Lục Vân Tiên, a poor student who travels to the capital to take part in a civil service examination for mandarins. He rescues Kiều Nguyệt Nga, a beautiful woman from a wealthy family, from a robbery. They fall in love but face challenges living together.
Tiên Nga, which was first staged in 2017, left a very strong impression on audiences after 40 shows.
"A drama staged during the Christmas and New Year holiday should be a party of sounds, lights and images," said the play's director and Meritorious Artist Thành Lộc.
The musical Tiên Nga and other comedies aimed at children by IDECAF actors will be staged every Sunday this month at 8pm at 28 Lê Thánh Tôn Street in District 1. — VNS
Music shows bring Christmas cheer to HCM City have 663 words, post on vietnamnews.vn at December 7, 2019. This is cached page on VietNam Breaking News. If you want remove this page, please contact us.