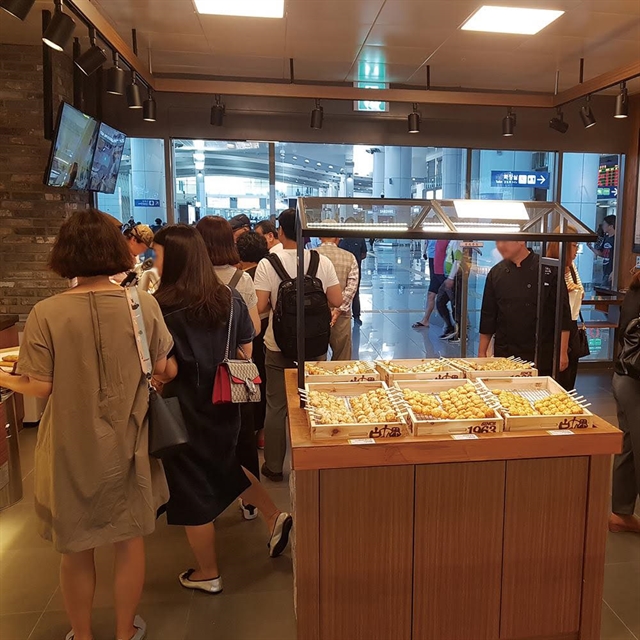 Thu Giang
BUSAN — Busan, a beautiful port city in South Korea, has many reasons for you to visit – stunning beaches with sightseeing cruises, hidden pagodas, the colourful Gamcheon Cultural Village, and, of course, the delicious seafood.
With plenty of local specialties, Busan is the place for seafood lovers to discover a glimpse of daily life through lively markets and street food.
My colleagues and I were lucky enough to be invited on a special media tour of Busan during which we discovered the local culture and lifestyle.
With winter temperatures dropping to 1-4 degrees Celsius, the warm atmosphere at Jagalchi Market was the perfect place to spend our first day in city. On the first floor we found a veritable sea world with octopus, oysters, cockles, Korean rockfish, crabs and prawns on display.
We were welcomed by the warm smiles of the vendors who despite having limited English, enticed us in and explained the prices using calculators. The idea is to buy the fresh seafood on the first floor and then take it upstairs to be cooked at a restaurant.
One woman told Việt Nam News with help from an interpreter that the market started to get busy at 5am when the fishermen arrived back from their trips, loaded with that night's catch. After that the loud voice of an auctioneer welcomes the morning as the market and vendors open up with signs displaying what's on offer that day.
"Lunch and dinner are the most exciting times of the day when visitors come to the market to enjoy local seafood. We invite them to buy our fresh seafood and guide them to the restaurant on the second floor to enjoy," she said.
"The market quietens down after 10pm when the last visitors leave the restaurants. Some people finish for the day while others are just starting. Jagalchi is busy and full of life all day long," she added.
Jagalchi is seen as a symbol of Busan because it still operates in a traditional manner and people use the local language to make transactions. With seafood bought from this market, local people make famous traditional dishes for their families, such as soups, sausages and fishcakes.
As a port city, Busan is famous for its eomuk, or fishcakes, a popular street food. They are made from ground white fish and other ingredients such as potato starch, vegetables and sugar. Eomuk is also used for soup, side dishes and kimbap. Eomuk-tang is served on a skewer in broth, making it a very popular form of street food in Busan.
Another fun thing to do in Busan is take a tour combined with a cooking class. During the tour, we learned more about the origins of eomuk and the different varieties, before getting down to action in the kitchen.
The traditional Korean eomuk is thin and rectangular, but visitors can visit several restaurants to learn how to make eomuk with rice, rolls and skewers.
Chef Eom Jaehyeon at Goraesa Eomuk restaurant teaches visitors how to make eomuk dishes, and told Việt Nam News that freshly ground fish is mixed with a small volume of wheat flour and other ingredients before being made into fishcakes of various shapes and fried.
Visitors are welcome to sample the fruits of their labour there and then or take it home with them.
"We welcome both Korean and foreign visitors, especially children, and teach them about the origins of eomuk as well as how to make various dishes," Jajhyeon said.
From farm to table
A 'From farm to table' tour in Tongyong was an exciting day for us as it was reserved for the media only.
Taking about 15 minutes by cable car to reach Tongyong, a southern coastal city in Gyeongsang Nam Province, it gave us the chance to enjoy great views across the southern coast with its many islands.
From the cable car, we could see oyster farms in Tongyong that produce about 80 per cent of South Korea's oyster catch. 
In Korea, oysters are known as the "milk of the sea" as Koreans believe they contain twice as much protein as milk. The best season for oysters is mid-winter to early spring.  
We started the tour at an oyster processing line at Dai One Food Company. The line has about 150 workers who focus solely on shelling the oysters using shucks.
Most of the workers are female, and many are Vietnamese.
Nguyễn Thị Uyên, 32, whose hands were constantly at work, said she had married a Korean man ten years ago, and they have two children.
"I have worked here for six years. I am one of the most skillful workers at shelling oysters here. The most important thing is to locate where to open the shell before scraping the flesh out," Uyên said.
"The company welcomes 'Vietnamese brides' to work here. This job helps me earn about US$2,000-3,000 per month," she added.
The shucked oyster are then taken to another processing line where they are cleaned in seawater to remove any impurities. The workers then select them by size and pack them in ice and clean water before they're taken to trucks waiting outside the factory.
The leftover shells are taken to a big grinder outside the factory where they are pulverised to be used with other materials to make fertiliser for cultivation.
South Korea's southern waters are home to small coastal bays with shallow water, making them ideal to farm oysters. The prized shellfish are rich in nutrients and characterised by their size. Local farmers can harvest oysters when they are one year old, but oldest ones at five years old are about the size of a human hand.
This oyster grounds are clean and certified by the US Food and Drug Administration.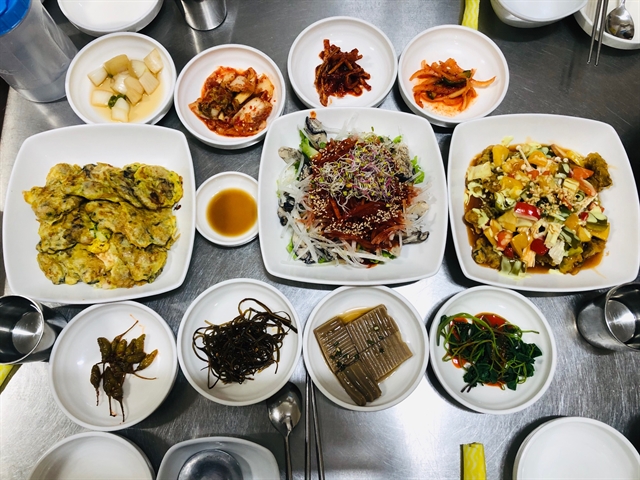 Oysters are among the best of all Tongyeong's specialties. My day came to the perfect end enjoying a series of dishes at a restaurant in the city.
It's the first time in my life I've enjoyed a meal based solely on oysters, from dipping raw oysters in Korean chili paste with vinegar to pan-fried oysters, oyster salad, and rice soup with oysters.
The chef showed us different ways to enjoy the dishes while explaining that oysters are low in fat and calories, making them great for people on a diet.
Delicious seafood dishes, stunning beaches and a yellow autumn all make me believe I will return to Busan with my family in the future. — VNS