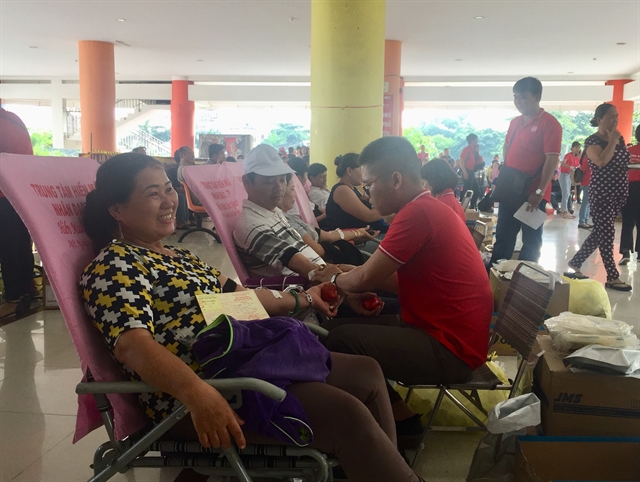 HCM CITY — HCM City expects to collect about 56,000 units of blood through the Vietnamese Red Cross Society's annual blood donation campaign to meet demand at hospitals during the holiday season.
The HCM City chapter of the Vietnamese Red Cross Society in collaboration with the Hồ Chí Minh Communist Youth Union and the HCM City Labour Federation launched the blood donation campaign on Tuesday (Dec 17) at the HCM City Youth Cultural House in District 1.
The annual campaign, called Lễ hội Xuân hồng (Red Spring Festival), will end on March 1.
Trần Trường Sơn, chairman of the city's Vietnamese Red Cross Society chapter, said that a shortage of blood often occurred at hospitals during New Year and Tết (Lunar New Year) holidays.
"The campaign aims to ensure blood supply for patients before and after Tết," he said.
It targets storing about 15,000 units of blood at blood banks from January 1-20.
At the campaign launch, about 1,000 units of blood were collected from volunteers.
Nguyễn Lê Hương Thủy, 54, a resident from Thủ Đức District, said she had donated blood up to 60 times and had encouraged her family to do so as well.
"My health is still good, so I am willing to give blood," she said.
Over the years, the campaign has attracted thousands of people, mostly students and workers, who have donated blood.
As of the end of November, more than 338,000 units of blood had been collected from nearly 270,000 donors. — VNS
Annual blood donation campaign kicks off have 347 words, post on vietnamnews.vn at December 25, 2019. This is cached page on VietNam Breaking News. If you want remove this page, please contact us.