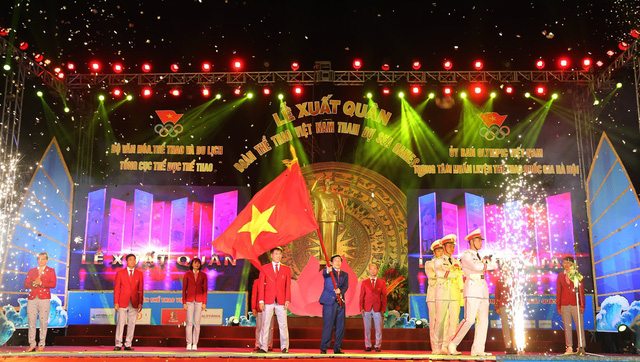 HÀ NỘI – Việt Nam set a goal to finish in the top three of the Southeast Asian Games' medal table at the send-off ceremony on Saturday in Hà Nội.
The 856-strong contingent including 568 athletes will take part in 43 out of 56 sports in the Philippines.
Speaking at the event, Trần Đức Phấn, head of the delegation and deputy head of the Việt Nam Sports Administration, said all athletes were ready and determined to do their best at the regional biennial event.
"After months of preparation, we – athletes, coaches and supporting staff – are ready, confident and can't wait to compete at the 30th SEA Games in the Philippines," he said.
"We know that challenges and difficulties are waiting ahead but we will try our best to win at least 65 gold to be one of top three teams.
"Vietnamese athletes will work hard to keep our No 1 ranking as well as good results in track-and-field, swimming, gymnastics, fencing and wrestling, which are also Olympic events.
"We also set a target of winning two gold medals in men's and women's football for the first time," said Phấn
Swimmer Nguyễn Huy Hoàng, the first Vietnamese athlete to win a berth at the Tokyo Olympics, vowed to compete with honour.
"We promise to compete at the SEA Games with fair play spirit. We will strictly follow the discipline of the competitions and aim for the best result in competition. We will also strengthen unity, friendship and co-operation with all other athletes while showing beautiful images of the people and country of Việt Nam," said Hoàng.
The track-and-field have been set a tough goal of 15 golds. Swimmer Nguyễn Thị Ánh Viên alone is expected to bring home eight titles.
Fencer Nguyễn Thành An will carry the national flag at the Games' opening ceremony on November 30.
Football kicks off earlier than the opening day as matches begin on November 26, so footballers will leave for the tournament on Friday.
The Vietnamese delegation will depart four days later and take part in the flag-raising ceremony on November 29.
The Games will wrap-up on December 11.
Since 2003, Việt Nam have always finished in the top three of the medal tally of the tournament. They finished first in 2003 when Hà Nội hosted the event.
Việt Nam will host the SEA Games for the second time in 2021 following a decision signed by Prime Minister Nguyễn Văn Phúc last week. The country will hold the 31st SEA Games and the 11th Para Games in Hà Nội and some neighbouring cities and provinces in November and December 2021.
The Games will have 36 sports while there are 14 to be held in Para Games for the athletes with disabilities. VNS