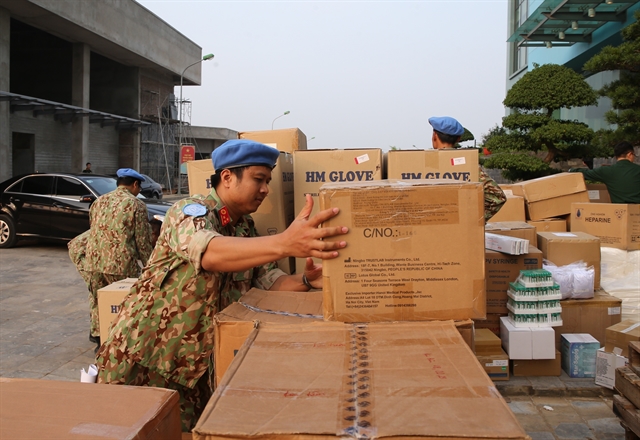 HÀ NỘI — Staff of Việt Nam's Level-2 field Hospital No 2 are ready for the United Nations peacekeeping mission in South Sudan, said Director of the Việt Nam Department of Peacekeeping Operations Colonel Hoàng Kim Phụng.
They have been trained in terms of political education, English language, military capabilities, survival skills, and ensuring security and safety in the missions, Phụng said at a press briefing in Ha Nội on Wednesday to review preparations for the officer's participation in the UN peacekeeping force in South Sudan late this month.
The department has also worked with international and domestic agencies to provide additional training for the officers, he said.
The department has also prepared legal procedures and related logistics services.  
Deputy Defence Minister Sen. Lieut. Gen. Nguyễn Chí Vịnh, also head of the steering committee for Việt Nam's UN peacekeeping operations, hailed the department and agencies for their preparations.
He noted the officers should pay special attention to ensuring safety while carrying out their duties in South Sudan.
A heavy engineering equipment operator course opened within the framework of the UN Triangular Partnership Project (TPP) at the Vietnam Peacekeeping Department in Hà Nội's outskirts district of Thạch Thất the same day.
This is a training session for Vietnamese officers who will participate in the UN peacekeeping force.
It aims to increase capacity for rapid deployment of support forces for UN peacekeeping missions, while enhancing understanding, friendship and co-operation in such operations between Việt Nam and the UN, Japan and TPP members.
This is the second of its kind and the 12th international training course hosted by the Vietnam Peacekeeping Department in co-ordination with international partners.
With help from Japanese specialists, 20 Vietnamese officers will be equipped with knowledge on the operation, maintenance and repair of heavy engineering equipment.
The course will close on December 13.
Việt Nam dispatched its first hospital to the UN mission in South Sudan in October 2018.
Officers and soldiers of the hospital have finished their mission to ensure health care for UN peacekeepers in South Sudan. They also joined defence foreign affairs and served as medical care-givers to locals. — VNS