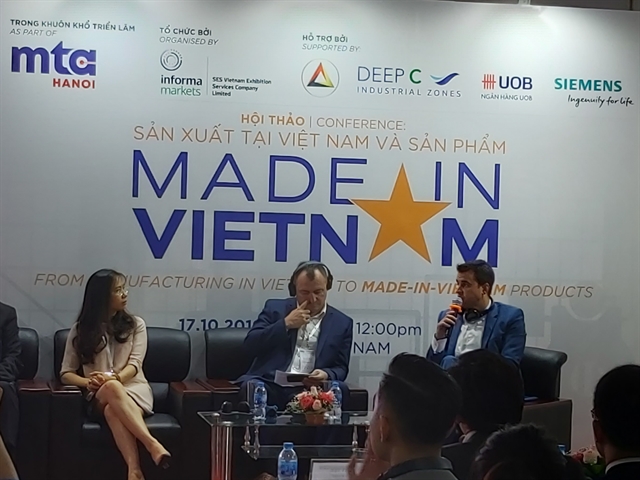 HÀ NỘI — Since its emergence early last year, the US-China trade conflict has not shown signs of easing. Companies are increasingly concerned about the impact of trade tariffs and other trade protection measures, with many actively planning to divert their production from China.These issues were discussed at a conference titled "From manufacturing in Việt Nam to Made-in-Việt Nam products" on Thursday.
Meanwhile, Việt Nam has emerged as a prime manufacturing location in Asia.
Việt Nam's economy expanded 7.1 per cent last year, the fastest growth in the past decade. All major sectors recorded notable growth, buoyed by manufacturing, construction, wholesale and retail, and tourism.
Việt Nam's strong economic growth would continue this year, driven by increasing FDI and robust domestic demand, said Suan Teck Kin, executive director of global economic and markets research of the United Overseas Bank (UOB), at the conference.
In the first half of this year, the economy grew 6.8 per cent year-on-year, driven by agriculture, forestry and fishery, industry and construction, and services.
Exports and industrial production remained significant growth drivers. Due to solid growth in the export of technological products and various free trade agreements, exports increased 7.3 per cent year-on-year, while imports jumped 10.5 per cent during the first half of this year.
Industrial production was boosted by continued opening of new multinational enterprises in labour-intensive, export-oriented manufacturing and processing industries.
"As a result, we are projecting Việt Nam's gross domestic product (GDP) growth at 6.7 per cent and inflation of around 3.4 per cent for 2019. This will rank Việt Nam as one of the fastest growing economies in the world," said Suan Teck Kin.
In terms of monetary policy, the State Bank of Việt Nam (SBV) is expected to maintain the refinancing rate at 6.25 per cent throughout this year.
With the current policy rate, the monetary policy stance remains conducive to the continuation of GDP growth, while preserving price stability.
The preservation of policy space was important given external uncertainties especially the ongoing US-China trade dispute, he said.
The strong economic growth also eases pressure on the central bank to introduce more stimuli to achieve the official growth target of 6.8 per cent.
"For land transport, Việt Nam benefits from bordering Laos, Cambodia and especially China, the region's key supplier of products and raw materials," said Suan Teck Kin.
As for sea transport, eastern Việt Nam is a coastal area stretching from the north all the way to the south, with three major port cities in its northern, central and southern regions.
Sea transport from Việt Nam requires a shorter distance of travel and less time, hence greater cost savings and faster speed to market, compared with island countries such as the Philippines and Indonesia.
Apart from its geographic proximity to China, one of Việt Nam's comparative advantages in attracting FDI is its relatively low labour cost, especially compared with China and Thailand.
In addition, Việt Nam's demography was in a good position. According to United Nations, the population in Việt Nam was estimated to be around 96 million, with about 70 per cent of its population between 15 and 64 years old in 2019, he said.
However, one constraining factor for Việt Nam is the relatively large proportion of the labour force engaged in the agriculture sector.
This could inhibit the speed of development of its manufacturing sector in the near-to-medium term, due to the limited supply of skilled workers. The direct impact of a shortage of skilled workers with the influx of investment and relocation is upward pressure on wages.
Another strength of Việt Nam as an export production base is its excellent network of trade agreements. A total of 13 Free Trade Agreements (FTAs) have been signed and another three are under negotiation.
This means that Vietnamese exports to many major markets of the world are free from tariffs, offering opportunities for manufacturers relocating to Việt Nam to sell to more at minimised cost.
Giving advice on building factories in Việt Nam, Hans Kerstens, head of sales and marketing of Deep C industrial zone, mentioned some factors to consider.
The first one is utilities including power, waste water treatment, water and drainage.
The others are customer services such as business licensing support, recruitment support, security, office space, cleaning and facilities management, and park maintenance.
Speaking at the conference, Nguyễn Thị Xuân Thúy, deputy director of the industrial development centre under the Ministry of Industry and Trade, said to participate in the global value chain, enterprises should join domestic and foreign trade fairs; connecting programmes with the presence of potential customers; associations of occupation, and set up unofficial groups to share and update information.
She also advised enterprises to create attractive capacity profiles; improve productivity, reduce production cost, compete in price and quality; enhance management capacity on quality, production and human resources.
The conference was organised as part of MTA Hanoi 2019.— VNS
Việt Nam, Asia's new manufacturing hub have 948 words, post on vietnamnews.vn at October 17, 2019. This is cached page on VietNam Breaking News. If you want remove this page, please contact us.