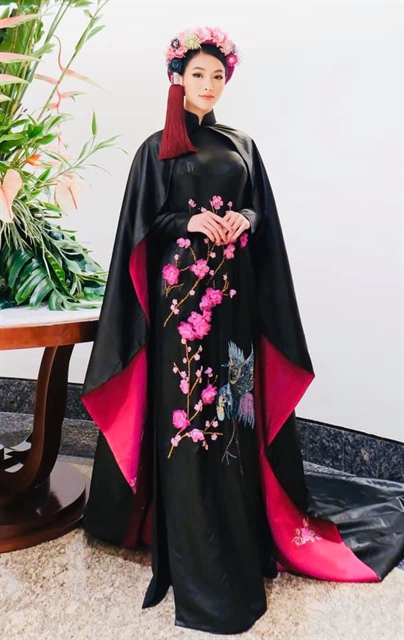 HCM CITY— Talented fashion designer Võ Việt Chung's latest collections will be presented at the Chloe Gallery in HCM City's District 7 on Friday.
The event celebrates the designer's 25-year career.  It features 25 designs of áo dài (Vietnamese dress) designs from the collection called Nàng (Her), which are made with Lãnh Mỹ A (traditional satin of the South) and Chirimen, a kind of Japanese silk.  
The hand-made clothes highlight Vietnamese and Japanese cultures.
Chung will also present a ready-to-wear collection for women. Highlighted clothes from 25 collections during his career will also be introduced.
The catwalk will include more than 20 fashion models, including top faces like Minh Tú and Trà My.  
An auction of áo dài will be organised to raise funds for the Sponsoring Association for Poor Patients in HCM City after catwalk.  
Chung began his career in HCM City in 1995. He took part in a two-year training course in Italy and Denmark, funded by the Europe Fashion Federation in 2005.
He displayed his designs on the stage of the Noa Noa Fashion Company and received an enthusiastic response from experts and audiences in Italy.
After training, Noa Noa offered him a job, but he turned it down to return to Việt Nam.
"I hope to add my city (HCM City) to the list of fashion meccas like Paris, Rome and Japan," Chung said of his ambitions.
In 2007, he was invited to show his collection on the Mega-F Diamond Cruise Ship chartered by the Fashion TV (FTV) channel when the five-star cruise arrived at HCM City's Nhà Rồng Wharf.  FTV's top models wore his designs on the catwalk.
Chung later signed an exclusive contract with FTV to introduce his products on the channel.     
In 2008, Chung signed an official contract with the Miss Universe Organisation to design áo dài  for 85 contestants in the 2008 Miss Universe contest, which was first organised in Việt Nam's Nha Trang City.
Chung was responsible for introducing Lãnh Mỹ A, a famous satin made for more than 100 years in Đồng Tháp Province's Hoàng Ngự District, through his collections shown around the world.
His designs have been seen on the catwalk at fashion shows throughout the country and in Hong Kong, Shanghai and Paris. He has designed clothes for local films and pop stars. VNS