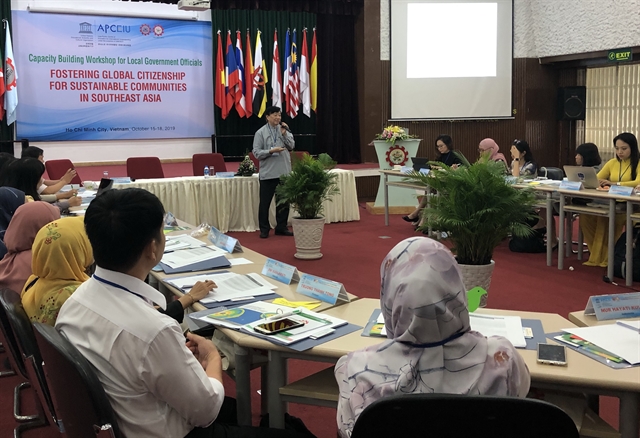 HCM CITY — Thirty-two educators and government officials from seven countries in Southeast Asia are participating in a capacity-building workshop on fostering global citizenship for sustainable communities in Southeast Asia that opened on Tuesday in HCM City.
The four-day workshop is jointly organised by the Southeast Asian Ministers of Education Organisation (SEAMEO) Regional Training Centre in Việt Nam and the Asia-Pacific Centre of Education for International Understanding (APCEIU).
Toh Swee-Hin, Professor Emeritus in Education at the University of Alberta in Canada, said that global citizenship education aims to empower learners to assume active roles to resolve global challenges and to become proactive contributors to a more peaceful, tolerant, inclusive and secure world.
Global citizenship education toward a culture of peace seeks to develop citizens who have the values, attitudes, knowledge, capacities and skills to actively and responsibly participate in all dimensions of societal development at local, national and global levels, he said.
It promotes a critical consciousness and understanding by citizens of the root causes of multiple conflicts in local, national and global levels of life, including the interconnection of global relationships and structures with local and national realities.
It also empowers active citizens to engage in personal and social action to build a peaceful, compassionate, loving, respectful and sustainable world, he said.
Global citizenship education applies a lifelong learning perspective and requires both formal and informal approaches, he added.
Jihong Lee, head of APCEIU's Office of Education and Training, said that educators and government officials play crucial roles in bringing changes to our education and society through policies, curriculum, teaching and learning practices as well as pedagogies.
Community support and participation is important to make the efforts sustainable and attainable, and the collaboration between educators and government officials at central and local levels is also very crucial.
The workshop aims to spark passion for transformative education, and enhance capacities to carry out innovative initiatives on global citizenship education at the local, provincial, national and regional levels, she said.
APCEIU was established in 2000 under an agreement between UNESCO and the Government of the Republic of Korea in order to promote education for international understanding and global citizenship education with UNESCO member states. — VNS