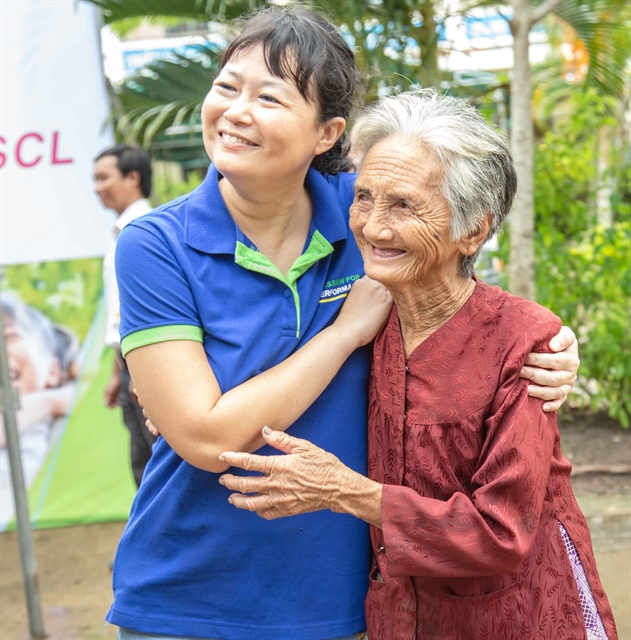 HẬU GIANG — Nearly 680 households in the Cửu Long (Mekong) Delta province of Hậu Giang have benefited from a three-year project called "Better life for rural communities in the Mekong Delta", which has helped them increase their annual income by 25 per cent.

Instituted in 2016, the project, jointly run by Bayer Vietnam and the Ánh Dương Community Development and Support Centre, seeks to provide people in Hậu Giang with practical support to improve their livelihoods and healthcare.
The project has wrapped up with fruitful results as 680 households that joined the programme increased their income by almost 25 per cent annually thanks to advanced agricultural models at home such as cultivation, livestock, aquaculture, etc and other individual business households.
Apart from that, more than 100 workshops were conducted for more than 2,260 participants to provide them with advanced knowledge on environmental hygiene and farming techniques.
In addition to financial support for individual business households, the project offered free healthcare and installation of biogas, water purification and sanitary system to ensure a healthy living environment.
"Thanks to the co-operation with Bayer, the project could benefit more people," Hồ Thị Kim Chúc, director of the Ánh Dương Community Development and Support Centre, said. 
"It is our pleasure to see that together we can provide them with pratical support that really aims to provide a better life."
At the closing ceremony, Ánh Dương and Bayer also presented donated daily necessities to 28 underprivileged households.
 
Volunteers in hands-on activities
After the closing ceremony, volunteers from Bayer and Ánh Dương joined together for three hands-on activities including harvesting vegetables in net houses, growing okra and collecting materials for composting into organic fertilisers. 
Bayer sponsored free health checks by doctors from Thiện Tâm Charitable Organisation in HCM City for more than 500 needy locals. 
Medicines that were prescribed and daily necessities were also gifted to the patients.  
"Our Bayer volunteers team comes from various divisions but we share a common passion and voluntary spirit," Nguyễn Thế Thiện, a volunteer from the company's consumer health division, said. 
"This day is meaningful to each of us since, thanks to this opportunity, we have seen that there are still needy people in rural areas. It motivates us to keep doing voluntary work to contribute to providing them with a better life."
Talking about the programme, Võ Trung Định of Lương Tâm Ward, Long Mỹ District, Hậu Giang Province, whose family benefited from the project, said: "I would like to thank you Ánh Dương and Bayer for teaching me the technique of growing vegetables in net houses. The success of this model has really helped our family earn a better income and we now can afford many things."
Lynette Moey, managing director of Bayer Vietnam, said: "I am very happy to see our project has stayed true to its name and objectives by providing local disadvantaged households with a better life. 
"Today is an especially meaningful day since we can engage all volunteers in hands-on activities to provide practical support to local people such as providing free heath checks and medicine, building agriculture models at home, etc.
"All of this means a lot to us at Bayer as this year we are celebrating our 25th anniversary in Việt Nam. It has been a journey of dedication and commitment to providing high-quality healthcare and a better life to the Vietnamese people."
The Ánh Dương Community Development and Support Centre is an NGO based in Long Mỹ District, Hau Giang Province. 
It was set up in 2008 with the main aim of building a fair and equitable society where poor people in rural and remote areas of Long Mỹ Ward, Phụng Hiệp District and Long Mỹ District can overcome their difficulties in life and have reasonable living conditions. 
The main aims of Ánh Dương are priority for the very poor and an integrated approach to development since health, education, income, and others cannot be separated. — VNS