Vietnam has jumped three ranks on the 2019 Global Innovation Index (GII) to place 42nd out of 129 economies around the world.
WIPO helps Vietnamese firms in IP protection Stepping forward with high-tech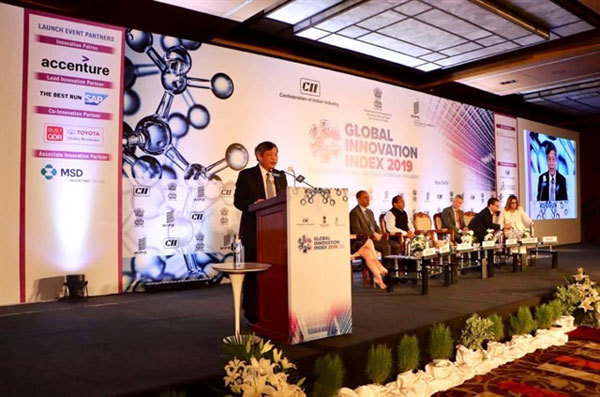 Deputy Minister of Science and Technology Pham Cong Tac speaks at the ceremony. — VNA/VNS Photo Huy Le
The latest ranking was announced by the World Intellectual Property Organisation (WIPO) in New Delhi, India on Wednesday.
With this jump, Vietnam has leapt 17 spots since 2016. This year's result is also the highest ranking Vietnam has ever achieved.
Switzerland, Sweden, the US, the Netherlands and the UK remain at the top.
The GII 2019 ranks economies based on 80 indicators, from traditional measurements like research and development investments and international patent and trademark applications to newer indicators including mobile-phone app creation and high-tech exports.
This year's theme was "Creating Healthy Lives – The Future of Medical Innovation."
Through the theme, GII 2019 focuses on how medical innovation, including the use of artificial intelligence, genomics and mobile health applications, will transform the delivery of healthcare.
Speaking at the ceremony, Deputy Minister of Science and Technology Pham Cong Tac said Vietnam's science-technology and innovation sector has made important contributions to national economic growth over recent years, especially in the fields of health care, agriculture and industry.
Growth based on capital and cheap labour is gradually slowing. In order to maintain momentum, Vietnam is shifting to a growth model based on technology and innovation, he said.
The new GII report also stated that Vietnam and the Philippines made significant progress this year. "Both economies improved in most of the GII areas and gained top ranks in high-technology imports and exports," it said.
Sacha Wunsch Vincent, head of the WIPO's Composite Indicator Research Section, Economics and Statistics Division and Co-Editor of the GII, hailed Vietnam as a model country among those surveyed by the WIPO over the past three years.
GII's 80 indicators provide a comprehensive overview of innovation, including political environment, education, infrastructure and business sophistication.
Last year, Vietnam ranked 45th out of 126 countries and economies, up two places from 2017.
Published annually since 2007, the GII is now a leading benchmarking tool for businesses, policy makers and others seeking insight into the state of innovation around the world.
VNS
VN jumps three places in global innovation index have 495 words, post on vietnamnet.vn at July 26, 2019. This is cached page on VietNam Breaking News. If you want remove this page, please contact us.