HCMC needs to accelerate the development of its telecom infrastructure to make sure all city residents own smartphones by 2021, said Minister of Information and Communications Nguyen Manh Hung.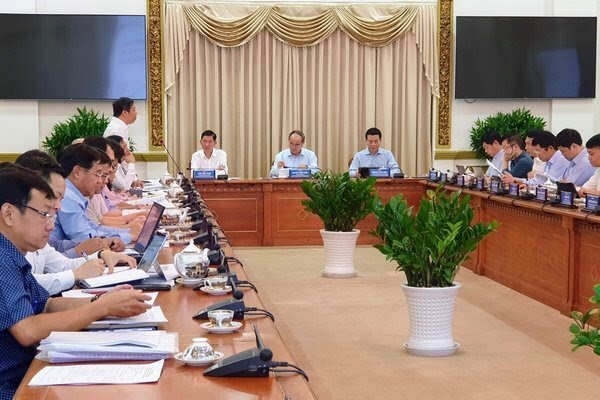 Nguyen Thien Nhan (C), Secretary of the HCMC Party Committee, and Minister of Information and Communications Nguyen Manh Hung (R) chair a meeting in HCMC on July 16
Minister Hung voiced his support for the city's stance on technology adoption to bolster its economic growth and resolve its problems. He said the Ministry of Information and Communications regards the city as the driving force behind information and communications technology development in the country.
He also called on the city to set a target to provide fifth-generation network coverage to all local industrial parks, research zones and universities.
"The year 2022 is the deadline for providing coverage across HCMC, equivalent to New York, with adequate telecom infrastructure," he said, adding that local telecom firms should build telecom infrastructure platforms for the sake of the sector's development rather than for profit.
He pointed out that 60% of city dwellers using smartphones is a very low figure, so the city should ensure that everyone has their own devices and all households can gain access to the internet.
"Without these two things, it is impossible to call HCMC a smart city because an e-government should be able to provide information and public services to everyone, anytime and anywhere," he said.
"The city should become a pioneer in cybersecurity. Without this safety factor, no one dares to pursue digital transformation because it is very dangerous. Data is 'the fate of the people,' and safety must come first."
Nguyen Thien Nhan, Secretary of the HCMC Party Committee, told the participants of the meeting that during the process of smart urban development and artificial intelligence application, the city, with a population of over 10 million, cannot develop all places at the same time but will have to prioritize a key region for investment.
As such, the city has identified its eastern section as highly innovative and interactive. According to the city's Party chief, the region, which accounts for 10% of the city's population and 10% of its land area, is expected to contribute up to 30% of the city's gross domestic product.
This region also has the highest density of training, research and technology applications. "The city will soon seek feedback from ministries and central agencies to set up the innovative, urban area," Nhan confirmed.
He suggested the city government ask the ministry to develop a strategy on digitalizing the city's significant resources over the next seven years.
Also, the concerned agencies should focus on the execution of the city's smart urban scheme, which has four core pillars: a socioeconomic simulation and forecast center, an operations center for smart urban areas, an information safety center and a shared database and open database ecosystem center.
The ministry urged the city government to quickly carry out pilot programs and assign tasks to those firms involved in digital transformation and smart urban development, instead of waiting for the introduction of new policies and systems. SGT
Chi Thinh
Info minister urges HCM City to speed up telecom infrastructure development have 620 words, post on vietnamnet.vn at July 18, 2019. This is cached page on VietNam Breaking News. If you want remove this page, please contact us.