'Relations between India and Japan are robust and devoid of either shadow of history or any irritant.'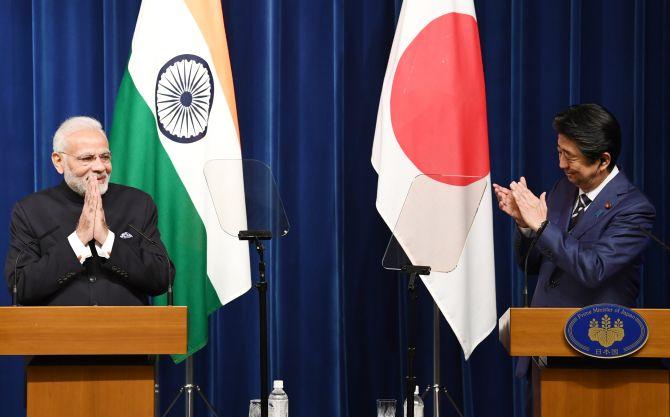 IMAGE: Prime Minister Narendra Damodardas Modi greets his Japanese counterpart Shinzo Abe in Tokyo, October 29, 2018.
Two important high-level State visits with three major nations in Asia involved and Japan as the fulcrum provides a nice setting to examine the unfolding geopolitical churning in the Asian region.
Japan's Prime Minister Abe Shinzo made a rare trip to Beijing on October 23, being the first by a Japanese prime minister to do so since 2011, for a summit meeting with Chinese President Xi Jinping and hosting Indian Prime Minister Narendra Damodardas Modi the day after his return from Beijing.
Though the expected common talking point was how to engage China constructively in the interest of regional stability, the overriding hidden factor was how to 'manage' China's increasing assertiveness in regional issues.
While the core point in Abe-Xi discussion was to share issues of mutual concern and interests, what emerged on the surface was how to get Japan involved in Xi's pet Belt and Road Initiative.
Seeking to deepen economic relations was the logical common ground as both nations have come under US pressure on trade. Since President Donald J Trump has levied tariffs on imports from both China and Japan with a view to correct trade imbalance and accusing both of unfair trade practices, finding ways to cope with this new challenge thrown up by Trump dominated the discussion.
In fact, the trade war seems to have hastened Abe's China visit. The new situation presented China to seek a special ally in Japan.
Does it mean that Japan has stopping worrying about China's brazen expansionist design and increasing assertiveness in regional issues, besides territorial disputes over Senkaku islands? From all indicators, this does not seem to be so.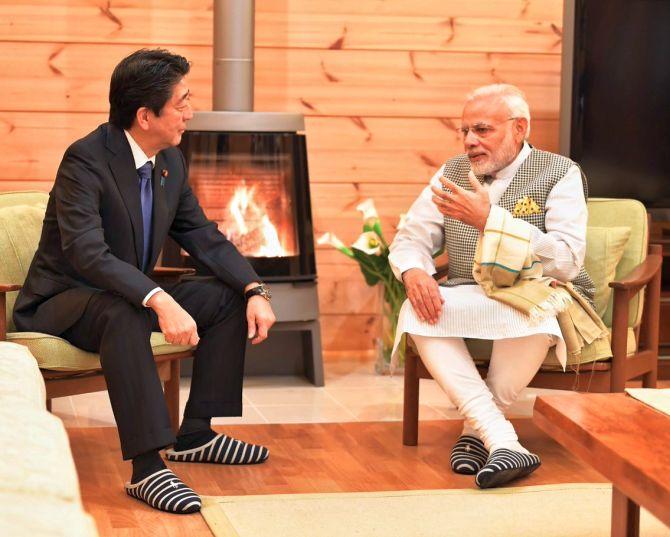 IMAGE: 'Tete-a-tete in front of a fireplace,' the ministry of external affairs tweeted as Japanese Premier Shinzo Abe in a special gesture hosted Prime Minister Modi at his personal villa near Lake Kawaguchi in Yamanashi for a private dinner, October 28, 2018.
It is the first time that Abe has invited a foreign political leader to his holiday home.
Japan is aware that the BRI project has come under severe criticism with many countries started reviewing their participation either summarily cancelling or downsizing the scale as fears of debt trap engulfs. Yet, Japan hesitatingly has agreed to participate with a view to 'manage' China.
In contrast to the adversarial relations between Japan and China, relations between India and Japan are robust and devoid of either shadow of history or any irritant. In fact, there is plenty of warmth and goodwill earned over history. There are no negatives but only opportunities.
When Modi visited Tokyo on October 28, it was the fifth annual summit between Modi and Abe and their 12th meeting since 2014. Besides bilateral issues, the two leaders deliberated on a range of regional and global issues of mutual interests including the situation in the Indo-Pacific region.
The ministry of external affairs observed: 'Under the framework of the Special Strategic and Global Partnership between India and Japan, the two leaders will have wide-ranging discussions over two days on bilateral, regional and global issues of mutual interest.'
The Modi-Abe discussions reaffirmed the traditional bonds of friendship between the two countries and strengthen their multi-faceted cooperation in diverse fields. The significance of the visit is that it would advance the vision of both countries working together to promote peace and prosperity in the Indo-Pacific region and beyond.
Prior to Modi's visit, in an interaction at the Brookings India think-tank, Kenji Hiramatsu, the Japanese ambassador to India, observed that strengthening of defence, trade ties would top the agenda. As it transpired, strengthening maritime cooperation, including the signing of the Mutual Logistical Support Agreement, was one of the main agenda.
Japan has evinced greater interest in cooperation between the navies of the two countries with regard to maritime domain awareness and security issues.
Both sides also agreed to have greater defence equipment and technology cooperation, including joint research activities with regard to unmanned vehicles and robotics.
For the first time the armies of the two counties will participate on a joint military drill in Mizoram in November, while Japan will be an observer in 'Cope India', an Indian Air Force drill between India and the US.
On the issue of defence procurement, India has expressed interest to procure the Soryu-class submarine from Japan. At present, the Japanese government is discussing this possibility with the private sector and there is no final decision on collaborating with India for the project yet.
With regard to US-2 amphibious aircraft, there was no development. India seeks to purchase this weapon system from Japan. Both sides are discussing and some progress is expected in due course.
One driver of expanding cooperation in the defence and maritime domain between India and Japan is China's increasing military footprint in the region and the perceived threat to the sovereignty of smaller neighbouring countries.
The fear of disturbing regional stability because of China's assertiveness on regional issue, including global common, is drawing those countries that respect global rules of law and freedom of navigation closer.
Both countries also inked a Maritime Pact with the objective of monitoring Chinese warships in the Asia-Pacific. This agreement will shore-up the monitoring wherewithal of the two countries against the backdrop of the increased presence of Chinese warships in their respective waters.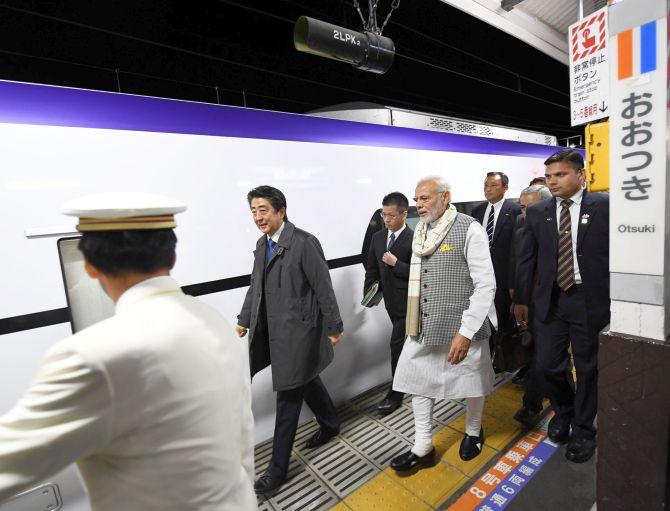 IMAGE: After spending eight hours in Yamanashi, Modi and Abe rode an express train to travel to Tokyo, October 28, 2018.
The bonhomie that Abe and Modi share has also helped lift the relationship further. It may be recalled Modi chose Japan among the first nations to visit after taking power four years ago. He has been urging countries in the Indo-Pacific region to unite against protectionism and cross-border tensions.
Interestingly, the three major Asian nations — China, Japan and India — have come under Trump's protectionist onslaught, providing an opportunity for the three to work out their own economic strategies that would be in their mutual interests.
Trump's policies have targeted mostly China with tariff. Trump has also accused Japan and other nations of unfair trade practices, indirectly pushing India and Japan to promote their economic ties.
Abe has made bolstering and opening the nation's economy central to his policies called 'Abenomics' and has encouraged trade, foreign investment and tourism.
Although the US remains Japan's main ally, especially in defence, Abe is also courting other ties. He has also been vocal about free trade, which runs counter to Trump's moves to raise tariffs.
This background provides an ideal opportunity for Japan to expand and deepen economic cooperation by increasing investment in Indian projects. Japan's assistance in building a super-fast railway system may be seen in this light too.
Two other takeaways from Modi's visit are agreeing to initiate a 2+2 dialogue involving foreign and defence ministers and entering a $75 billion bilateral currency swap agreement.
While upgrading the institutional framework from secretary to ministerial level shall help in building a robust mechanism on the Indo-Pacific strategy, the currency swap agreement is expected to bring stability in foreign exchange and capital markets in the country.
Being one of the largest swap arrangements in the world, it reflects the depth of the economic relationship between the two countries.
Conceptualised in July 2017 during Modi's official visit to the US, the only 2+2 dialogue so far has been between the foreign and defence ministers of India and the US. The agreement makes Japan only the second country with which India has agreed for such a bilateral dialogue.
This elevation was intended to engage at ministerial level to address larger issue of regional and global significance such as nuclear terrorism and North Korea's denuclearisation. The import of such understanding can be deciphered from the urgency to seek peace and prosperity in the Indo-Pacific, where China is flexing its military muscles.
The new 2+2 dialogue mechanism will be an addition to the existing mechanisms like the Annual Defence Ministerial Dialogue, Defence Policy Dialogue, the National Security Advisers Dialogue, and Staff-level Dialogue.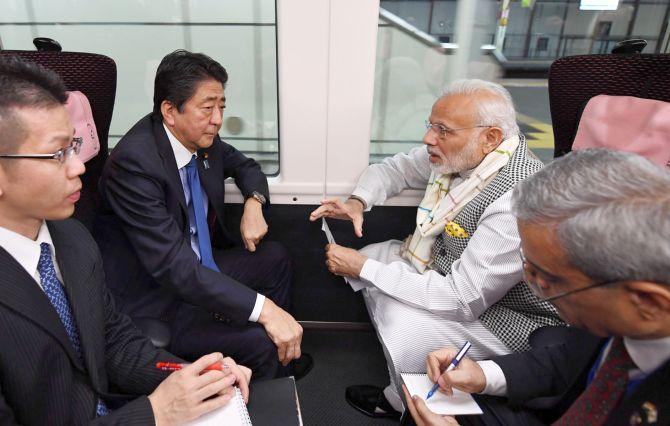 IMAGE: Modi and Abe's discussions continued on the journey aboard an express train to Tokyo.
As was expected, the two countries also initiated negotiations on the Acquisition and Cross-Servicing Agreement (ACSA) to enhance the strategic depth of bilateral security and defense cooperation.
ACSA is a mutual logistics support agreement which intended to allow the navies of the two countries to get access to each other's military bases. India has a similar logistics support agreement with the US, France, and Singapore.
China claims almost all of the South China Sea and also laid claims on the Senkaku islands under the control of Japan in the East China Sea. Chinese ships routinely patrol around the Senkaku Islands.
China has resorted to aggressive patrols in the last few years. There are also other claimants such as Vietnam, the Philippines, Malaysia, Brunei and Taiwan to parts of the South China Sea contiguous to their exclusive economic zones.
Though Abe undertook the journey to Beijing with a view to repair ties afflicted by territorial disputes, little seems to have been achieved. Abe was concerned about bigger issues such as China's military expansion in the Pacific and World War II history.
In contrast, Modi and Abe agreed to work together for a rules-based and inclusive world order that fosters trust and confidence by enhancing communication and connectivity to ensure rule of law, unimpeded trade and flow of people, technology and ideas for shared prosperity.
The India-Japan Vision Statement issued after the talks stressed this point and peaceful resolution of disputes without resorting to threat or use of force.
The menace of terrorism spreading across countries is a new bother. Keeping Pakistan in mind as a country fostering terrorists, both Modi and Abe called upon Pakistan to bring to justice the perpetrators of terrorist attacks, including those of November 2008 in Mumbai and January 2016 in Pathankot.
Both India and Japan agreed to cooperate in fighting terrorist threats from including Al Qaeda, ISIS, Jaish-e-Mohammad, Lakshar-e-Tayiba, and their affiliates.
While addressing a gathering of industry captains from Japan and India in Tokyo, Modi pitched India as an ideal investment destination for Japanese investors. In particular, Modi stressed that his government has accorded top priority to Ease of Doing Business.
While reviewing the progress on the Mumbai-Ahmedabad High Speed Rail project, which is an important symbol of India-Japan collaboration, both leaders also signed an agreement on a yen loan for the project.
Japan's Overseas Development Assistance has made significant contribution to India's socio-economic development. Acknowledging this, Modi appreciated Japan's role in promoting connectivity through quality infrastructure projects such as the Western Dedicated Freight Corridor and the Delhi-Mumbai Industrial Corridor.
The vision statement also said that both sides 'shared commitment to the total elimination of nuclear weapons and remained resolute in the task of strengthening international cooperation to address the challenges of nuclear proliferation and nuclear terrorism'.
They underlined the need for all countries to ensure that their territory is not used to launch terrorist attacks on other countries, in an apparent reference to Pakistan which is accused by its neighbours of providing safe havens to terrorists.
On a larger scale, both leaders pledged to continue working together for India's membership of the Nuclear Suppliers Group, with the aim of strengthening the global non-proliferation efforts.
The bilateral currency swap agreement is 50 per cent higher than the previous such agreement between the two countries, reflecting the depth in their economic relationship. The Modi government had taken various steps to address the issue of outward flow of foreign capital due to the gradual increase in policy interest rate in the US.
The swap decision with Japan is another such measure to boost confidence in the Indian market. This was intended to function as a safety net in case of a financial crisis.
As a new milestone in mutual cooperation, this facility will not only enable the agreed amount of capital being available to India on tap for use but would also help in bringing down the cost of capital for Indian entities while accessing foreign capital market.
With this arrangement in place, the prospects of India would further improve in tapping foreign capital for country's developmental needs.
Interacting with leaders of Japanese industry, Modi urged them to invest more in India and stressed the government's priority to Ease of Doing Business. Positioning India as a major investment destination, Modi emphasised that one of the benefits of doing business in the country is low cost manufacturing, besides competitive labour cost.
In particular, if both come together, India's strength of software and Japan's pioneering hardware industry can do wonders. Cooperation in other areas such as health and agriculture is equally promising.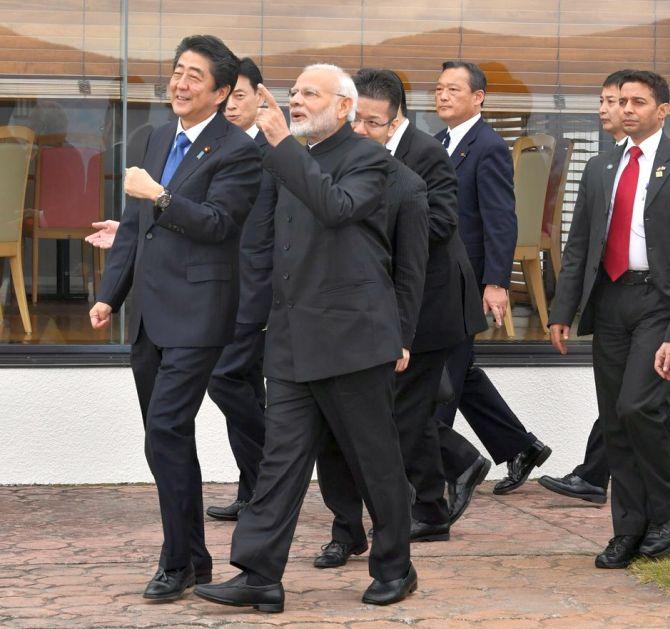 From the issues covered during the talks and the agreements reached, it transpired that unlike the uncertainties and concerns that analysts speculated in the Abe-Xi talks when Abe visited Beijing before hosting Modi on his return, the Modi-Abe discussions were full of promise carving a result-oriented direction for the relationship in the future in all dimensions between the two countries.
Dr Rajaram Panda is the Lok Sabha Research Fellow, Parliament of India, New Delhi.
India, Japan and the China threat have 2260 words, post on www.rediff.com at November 20, 2018. This is cached page on VietNam Breaking News. If you want remove this page, please contact us.