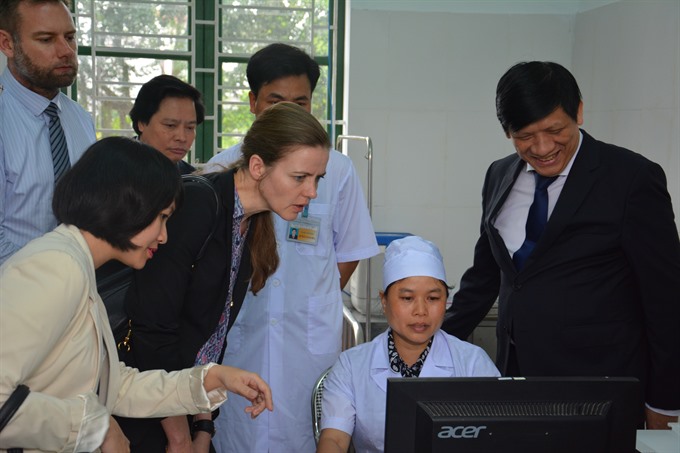 Last April, Danish Minister of Health Ms Ellen Trane Nørby visited Bách Thuận Commune Health Station, Thái Bình Province, one of the 30 stations under the Strategic Sector Cooperation on primary healthcare and non-communicable diseases between Denmark and Việt Nam. — Photo courtesy of the embassy
Viet Nam News
The first modern constitution of Denmark was signed by King Frederik VII on June 5, 1849. Its adoption ended the absolute monarchy and introduced democracy and the constitutional monarchy, as well as fundamental rights such as freedom of speech and freedom of assembly. Fast-forward to 2018, our constitution remains a pillar of our vibrant society and innovative economy. It is the foundation for our position in a globalised world. That is why today we celebrate the Danish Constitution Day.
Allow me to take a step back to 1993. Imagine a little girl born in the countryside of Việt Nam , destined to become a strong Vietnamese woman. Probably her parents are working the land, like so many other parents around the country. At the time of her birth, Việt Nam and Denmark embark on a new adventure with the governments of our two countries agreeing on an ambitious development aid programme – a programme that sets the stage for our relationship in the following quarter of a century. Focusing on important sectors such as the environment, water, sanitation, fisheries and agriculture, Danish ODA has assisted Việt Nam in its important strides towards poverty alleviation, and has brought the best of Danish knowledge and technologies to Việt Nam . Over this quarter of a century, Denmark has provided more than US$1.3 billion in grant assistance, making Denmark one of the largest bilateral providers of ODA to Việt Nam .
As our infant girl grows into a happy young schoolchild, perhaps her parents are employed at a newly established Vietnamese-Danish joint venture company in the seafood-processing sector. In 1997, DANIDA introduced its private sector development programme in Việt Nam . A programme aimed at bringing Vietnamese and Danish companies together in a joint effort to transfer knowledge and technology to Việt Nam and to support sustainable development. Denmark also becomes the primary donor to the fisheries sector, supporting it to become a major national export driver and positioning Việt Nam as the sixth-largest seafood exporter in the world.
For the little girl, her parents' new jobs mean a steady improvement in her livelihood. She leads an overall happy and healthy childhood. Her parents build a new house. Running water becomes available and water-borne diseases are reduced significantly. Since the 1990s, Denmark has supported the water sector. In 2006, it joined with other donors the successful National Target Programme for Rural Water and Sanitation to provide clean water and sanitation to millions of rural households.
As the years pass, she grows into a teenage girl. For better or worse, teenagers around the world are probably much the same, so she happily develops a taste for TV series, cinemas, mobile phones, laptops and much-too-loud music. Things that require energy – lots of it! Since 2009, Denmark has supported Việt Nam 's endeavours to improve energy efficiency as the country faces serious future challenges in meeting the demand for energy from households and industrial production.
Our co-operation in the energy sector has evolved into a long-term partnership with the aim to further support Việt Nam to attain a green and sustainable energy production. Denmark and Danish companies excel in this sector, including in energy efficient pumping of water, design of low-energy buildings and renewable energy production. Knowledge and technology we are interested in sharing with Việt Nam .
Now mature, the young Vietnamese girl is looking for education and a career path – an  important decision in every person's life and a choice which usually defines one's future. It is important to choose an education that truly prepares her for the labour market. Recently Việt Nam and Denmark have entered into a strategic sector cooperation focusing on education, trying to shape vocational education to better match the future demands of companies. This will benefit not only the individual graduates, but also the ability of Việt Nam to continue to attract quality foreign investments in the future.
Having finished her chosen education, our imaginary young Vietnamese woman has found a relevant job and starts looking to the future, including children, which brings a completely new set of concerns. Is the children's food safe? Is the environment detrimental to their health? To address these important issues, our two countries have entered into strategic sector co-operation on food safety with a particular focus on the pork value chain, and we have been exploring options for similar co-operation on environmental protection. Hopefully, this contribution along with the Government's stronger focus on sustainable growth will help ease her mind when she thinks of the future of her children.
This could be the end of our story about the little Vietnamese girl, growing up and starting a family of her own. Her life has changed drastically, reflecting the dramatic and impressive development of Việt Nam over the past quarter of a century. But her maturing into a young woman also reflects the maturing of the Vietnamese-Danish relationship, and especially the strength of the Vietnamese people and nation.
Our donor-based relationship has turned into a full-fledged partnership with a strong focus on trade and investment, supported by a stronger political dialogue and constructive cooperation in fields such as green growth, maritime domain, civil society, anti-corruption and human rights, and hopefully soon the ambitious and important free trade agreement between Việt Nam and the EU.
As in September 2018, we will be celebrating the fifth anniversary of our bilateral Comprehensive Partnership, I am proud of our past joint achievements, and pleased to say that Denmark will remain a committed and active partner in Việt Nam 's future development. — VNS
Denmark: A close partner in past and future have 1014 words, post on vietnamnews.vn at June 5, 2018. This is cached page on VietNam Breaking News. If you want remove this page, please contact us.