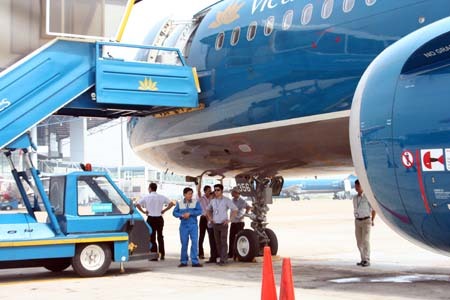 Viet Nam News
HÀ NỘI – The Civil Aviation Authority of Vietnam (CAA) will co-operate with the US Federal Aviation Authority (FAA) to conduct an assessment of CAA's capacity to oversee safety in accordance with International Civil Aviation Organisation standards in May.
The move is a preparation step for the FAA's International Aviation Safety Assessment Programme, which is an attempt to appreciate the local aviation authority's ability to adhere to standards and recommended practices for aircraft operations and maintenance.
The CAA last year set up a project on strengthening supervision capacity of aviation safety with the financial aid of US$0.56 million, funded by the US Trade and Development Agency.
The project, which is aimed at helping Việt Nam reach FAA's Category 1 rating (CAT 1), focused on perfecting the CAA's action plan on supporting vocational training on supervision and updating related regulations and legal documents.
If the local aviation authority is qualified for CAT 1, Vietnamese air carriers will be able to transport goods and passengers directly between Việt Nam and the United States.
Việt Nam currently has no direct route to the United States. National carrier Vietnam Airlines last November asked the Ministry of Transport to allow it to open a direct route to the US by the end of 2018. However, a prerequisite for the United States to consider approval is that the country's aviation authority has reached CAT 1 rating.
According to reports, some 689,000 passengers traveled between Việt Nam and the US in 2016, marking an average growth rate of 8.4 per cent per year in the 2010-16 period. – VNS