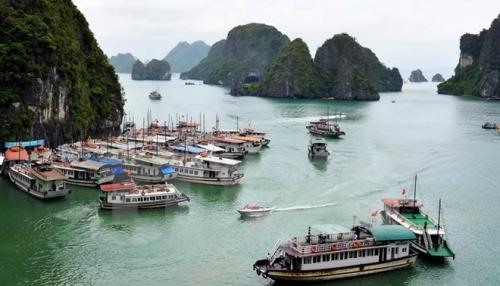 Viet Nam News
QUẢNG NINH – A tourist cruise boat burst into flames on Sunday midnight when docking at Tuần Châu Port in northern Quảng Ninh Province. Two people on board escaped just in time.
The flames reportedly originated in the cabin of the wooden boat named Huy Lộc QN 3883. The boat was built in 2008 with the capacity to carry 48 passengers. It was used to carry people for sightseeing in Hạ Long Bay.
As soon as the fire was reported, 22 firefighters and two boats were mobilised to extinguish the fire, Nguyễn Đức Long, chairman of Quảng Ninh Province People's Committee, said.
A pumping boat of the Long Hải Transport Services Ltd Company was asked to pump water from the boat to prevent it from sinking.
The case is under further investigation.
This is the third fire on wooden boats since the beginning of this year and the 14th boat fire in almost seven years on Hạ Long Bay. – VNS