ietNamNet Bridge – Held annually in February and September, New York Fashion Week is one of the most anticipated events in the industry and attracts hundreds of brands and famous designers across the world.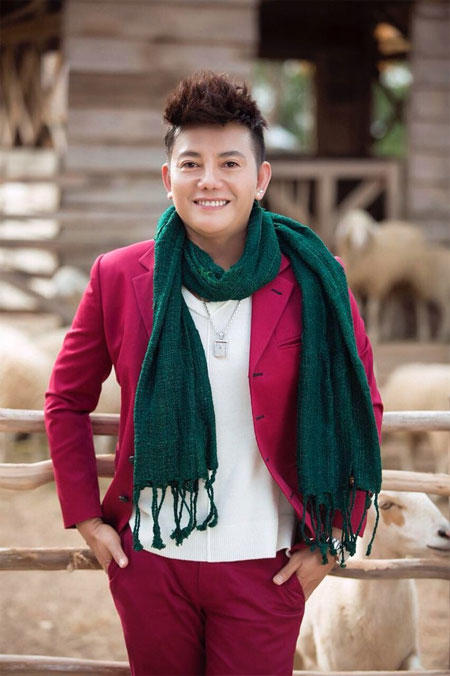 Fashion designer Luong Minh Son
Vietnamese designer Luong Minh Son is one of the designers involved, showcasing his fashion brand Son Collection of modern designs in traditional Vietnamese silk at the Nolcha Shows, an award-winning event held as part of New York Fashion Week, from February 13 to 16.
Son started his journey in the Viet Nam fashion industry in 1994 and has secured his position in the fashion design world with the Son Collection, which specialises in high-end bridal designs, extravagant cocktail and evening gowns, and couture traditional Vietnamese ao dai.
Son talks to Luong Thu Huong about his preparations to introduce Viet Nam's traditional silk to fashionistas from around the world.
How did you feel on receiving the invitation to New York Fashion Week?
It was such a great honour. It shows that Viet Nam's fashion has gained the attention of international friends. However, I also felt pretty nervous, having to prepare everything perfectly to showcase my collection.
What are the inspirations behind your designs, especially the ones planned for display at the Nolcha Shows?
My inspirations come from everywhere. Sometimes I was inspired by some passers-by I encountered on the streets of Sai Gon, or even in Bangkok or California. And sometimes the inspiration simply originated from talks with my customers, on seeing them trying new clothes or hearing them complaining about their bodies.
All of these observations have been integrated into my collection. Creating clothes with good aestheticism is one thing, but what's more important is providing the wearers with confidence.
How did you prepare for the trip?
My production team and I had to work extremely hard. The clothes had to be selected carefully in keeping with international trends.
I have had many chances to travel to the US and show my collections at musical shows for overseas Vietnamese, and therefore I had opportunities to observe and catch up with the latest modern trends. I have chosen the evening and cocktail gowns with unique designs and cut-out patterns to create the impression of both charm and elegance. Việt Nam's traditional silks have been fully exploited to bring out the best effects.
Besides, accessories like shoes and jewellery have been created by hand to highlight the clothes.
All the material for my collection is totally natural silk produced in Bao Loc City in the central province of Lam Dong by Vietnamese artisans, with the help of advanced techniques from Italy and Japan.
Why did you choose silk as the material for this collection?
On contacting other designers from other countries, I realise that most of them think about China, a country with a long tradition of silk production. I then thought that Viet Nam also possesses many kinds of traditional silks, which are hardly known in the world. So why not take advantage of this chance to introduce such beautiful material to the world?
Moreover, I frequently use silk in my collections as it creates a look of grace, elegance and subtlety for the wearers.
Is this a good opportunity for you to step into the world of fashion globally?
It is a pretty difficult question, because my expectation in attending the New York Fashion Week is to leave a good impression of Viet Nam's fashion, and to gradually confirm my position in international fashion. However, introducing a Vietnamese fashion brand to the world is still a long process that requires great effort and support by Viet Nam's fashion industry.
How impressive do you expect your collection to be at the Nolcha Shows?
I myself find that many Vietnamese designers and brands are of high quality. Their trend and status are equivalent to other famous names worldwide. I hope that via this event, Viet Nam's fashion will attract more attention globally and gradually acquire its own position in the international fashion world.
Your future plans?
I will continue to promote my fashion career and my brand in Viet Nam with professionalism, and at the same time establish myself in America's fashion market.
VNS