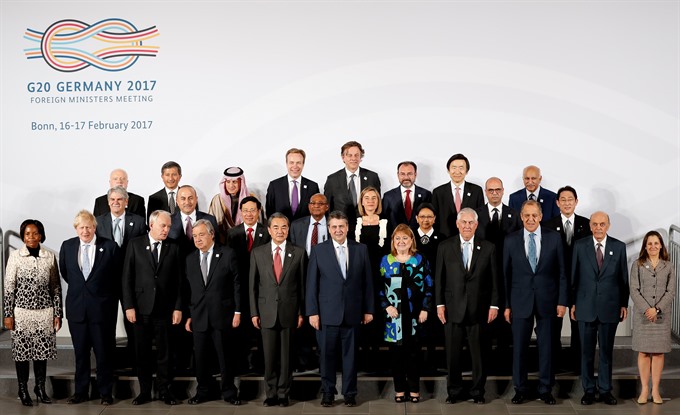 Viet Nam News
BERLIN – Global co-operation, including assistance for developing countries in key areas, is crucial for sustainable development, Deputy Prime Minister and Foreign Minister Phạm Bình Minh said on Thursday.
Speaking at a discussion on the 2030 Agenda for sustainable development during the (G20) Foreign Ministers' Meeting in Bonn, he also said global economic stability was a precondition for development.
Minh was participating in the meeting as Foreign Minister of the nation hosting the APEC 2017 summit.
He asked G20 members to increase their support to developing countries in infrastructure and human resource development, technology transfer and climate change response.
He praised the assistance G20 members had provided in encouraging sustainable use of water resources and climate change response efforts in the Mekong River basin.
The G20 economies had also done well to maintain macro-economic and global financial stability, Minh said.
Minh said countries should collaborate in creating a multilateral trade system that operates on the basis of law, saying trade drives economic growth and creates jobs.
As the host of APEC Year 2017, Việt Nam is working with other economies to strengthen sustainable, innovative and inclusive growth, Minh said.
Noting the similarities in priorities on the G20 and APEC agendas in 2017, he emphasised that Việt Nam hoped to foster co-ordination and connectivity between the two forums, thus strengthening global partnerships.
At the meeting, the foreign ministers agreed that sustainable growth and poverty eradication are most effective measures for preserving peace and stability.
Themed "Shaping the global order – foreign policy beyond crisis management", the G20 Foreign Ministers' Meeting focused on implementing the 2030 Agenda, maintaining peace in the "new context" and forging co-operation with and support for Africa.
Việt Nam's presence at the table was the first time a non-G20 member was invited to the two-day meeting.
The G20 groups the world's 19 largest economies (based on GDP) and the EU. Founded in 1999, the G20 now accounts for 85 per cent of the world economy. Its members include the US, Germany, Japan, France, the UK, Italy and Canada, a number of EU members, and Argentina, Australia, Brazil, China, India, Indonesia, Mexico, Russia, Arabia Saudi, South Africa, the Republic of Korea and Turkey.
– VNS