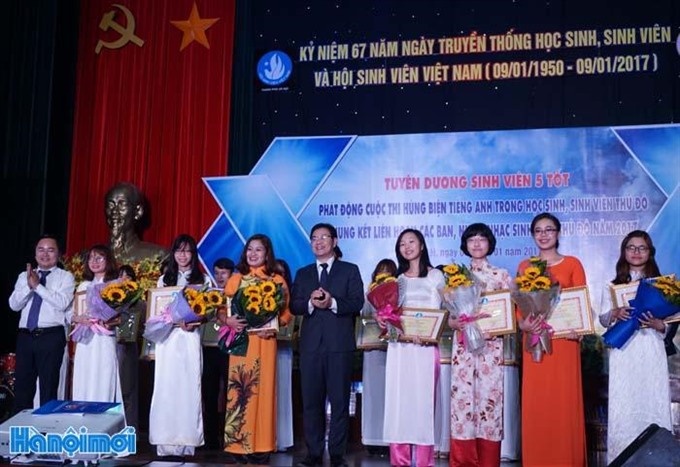 Viet Nam News
HÀ NỘI – The nation celebrated the 67th Vietnamese Students' Traditional Day (January 9) with several programmes and activities, including awards given to students with outstanding academic and extra-curricular records.
The special day marks a nationwide mass demonstration by Vietnamese students in 1950, protesting US intervention in support for the French during the first Indochina war
In Hà Nội, a commemoration ceremony was organised at the Banking Academy.
At the event, students, students' groups and youth union activists were honoured with the Sinh Viên 5 Tốt (Five-Virtues Student) and the Sao Tháng Giêng (January Star) awards.
These prestigious awards are granted annually by the Việt Nam's Students' Association. The five-virtues award are given to those who study well, display good morals, maintain good health and integration, and do good volunteering work; while the January Star awards are given to individual students, students' groups and youth union activists with excellent academic and work records.
Event organisers also launched an English proficiency contest for students of the capital city.
The same day, the Hà Nội Students' Association held the opening ceremony of the 4th Capital City Students Festival. The festival attracts thousands of students from 60 colleges, universities and academies within the city. It includes a variety of activities, including an exhibition presenting students' creativity, startups, seminars and a finale featuring a students' music band contest.
Since its establishment, the Việt Nam's Students' Association has grown into a bridge connecting generations of Vietnamese students. It has over 1.4 million members, both within and outside the country. – VNS