The colorful feathers give initial impressions of the "giant" roosters of the Brahma breed, which have, in recent years, been raised in a number of chicken farms in Ho Chi Minh City. They are called "the King of all chickens" and sold to many pet-chicken raisers, which will, as they conceive, bring luck to their families.
Visiting Le Ngoc Phuoc's Brahma chicken farm in Thanh Loc ward, District 12, Ho Chi Minh City, we could see this original kind of chicken and inquire about their characteristics. According to Phuoc, who used to raise different kinds of chickens, including Dong Tao chickens, he has acquired a lot of experience in caring for and understanding them. Four years ago, he learned that Brahma chickens yield a high economic efficiency, which can be used as pets, for eggs or meat production and decided to import six chickens from France at the price of nearly 15 million dong per pair for trial raising.
Brahma chickens are characterised by head feathers spreading widely on both cheeks and by feathered legs and human-like five-toed feet. Normal chickens have only three toes on each foot. Brahma chicken's feathers cover their entire body, down to their claws, thus making them "mannered" and generally like the kylin. Brahma chicken's feathers are grey or light grey, for females, and light yellow or banana yellow, for males.
Mature Brahma chickens weigh 7-8kg/ each.


Checking egg quality.


Brahma eggs being put into incubators.


Brahma chickens of French breeding.


The variety of porcupine-feather chicken from Japan.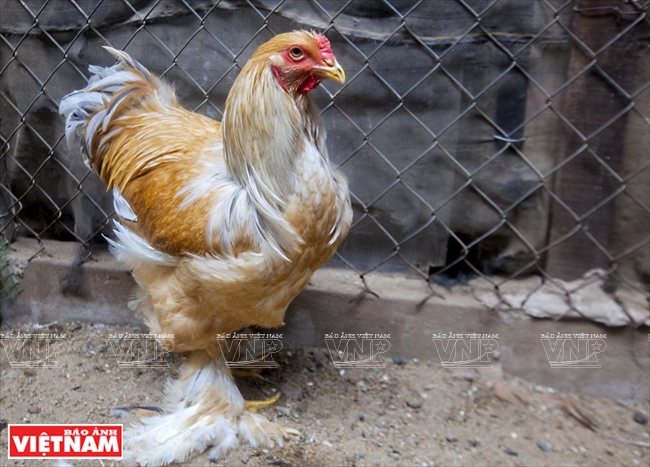 A Brahma chicken of the Netherlands.


Brahma chickens imported largely from Europe are resistant to changeable weather and common diseases.


Brahma chickens with a special appearance with feathers down to their feet.


A Brahma with eye-catching colours.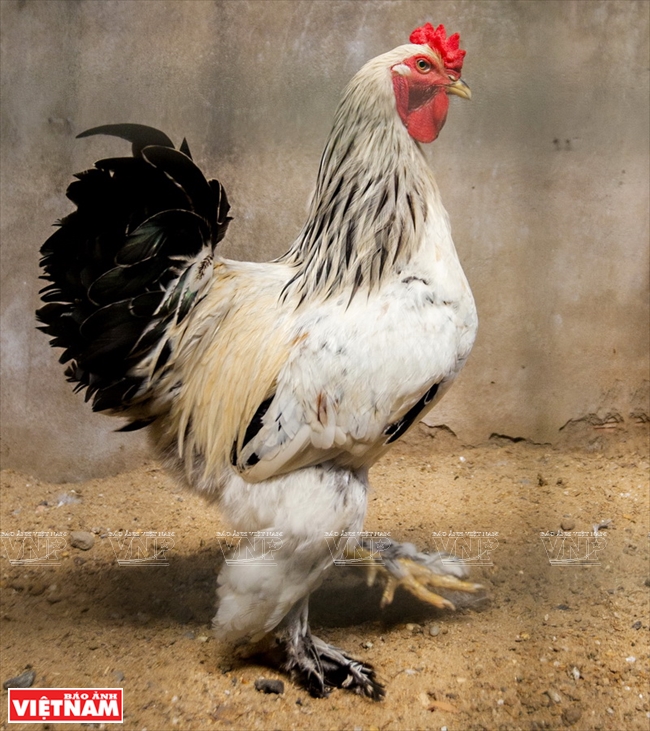 Though newly introduced into Vietnam, Brahma chickens are well liked in the domestic market.
Known as "the King of all chickens", Brahmas are known world wide for their feathered legs and some of them can weigh up to 18kg each. There have existed many debates on the origin of Brahma chickens as many countries claimed them as their national product. It is universally known that chickens of this species were developed in the United States during the 1850-1930 period, but imported from Chinese ports under the name of "Shanghai" chickens.
Brahma chickens weigh 7-8 kg/ each or up to 10kg/each for males. Being gentle and friendly as well as beautiful in appearance, they have been raised in many European countries, usually as domestic pets. Phuoc's Brahma chickens were imported from France, the Netherlands and Great Britain, which are, more or less different in colours and sizes though they share similarities. For instance. Brahma chickens from the Netherlands are colourful while those from France are less fanciful but bigger, while Brahma chickens from Great Britain are smaller and look more "graceful".
With their strong resistance to common diseases, the Brahma chickens imported from Europe are barely affected by changeable weather in Vietnam. Hence, the raising of them is fairly easy, with such simple food as paddy, corn and vegetables. When chickens are sick they will be vaccinated,
Phuoc owns two Brahma farms in District 12, one breeding farm and one young-chicken farm, which is larger. A Brahma chicken's price varies from several million Vietnam dong per one breeder of 1 to 3 months old to dozens of million Vietnam dong per mature chick, or even higher, depending on the beauty and fanciful colors, usually around 25 million dong/pair, weighing about 10kg each. Brahma buyers come from different provinces and cities nationwide, for use as food in family parties or domestic pets. Brahma pet raisers hold that the chickens will bring them good luck, good health, elegance, prosperity or power.
Story: Nguyen Vu Thanh Dat – Photos: Thong Hai