Playboy Enterprises Inc. said founder Hugh Hefner had died from natural causes, aged 91, passing away peacefully at his home on Wednesday night surrounded by family.
Hefner created Playboy magazine over six decades ago, riding the wave of the "sexual revolution" of the 1960s and 1970s with an approach that combined of pictures of nude women with feature articles and interviews. The Playboy brand would go on to bring sex into the mainstream conversation and help define sexual culture in the second half of the 20th century.
Hefner was also known for his hedonistic lifestyle. For decades, he hosted parties attended by celebrity guests at his elaborate Playboy mansions, first in Chicago and then in Los Angeles.
Even in his old age, he was characterized as an oversexed playboy dressed in silk pajamas and slippers who smoked a pipe and lived with an array of, generally blonde, women.
Stunted childhood
Hefner was born in Chicago on April 9, 1926. His devout Methodist parents never showed "love in a physical or emotional way."
"Part of the reason that I am who I am is my Puritan roots run deep," he told the Associated Press in 2011. "My folks are Puritan. My folks are prohibitionists. There was no drinking in my home. No discussion of sex. And I think I saw the hurtful and hypocritical side of that from very early on."
Hefner started publishing a neighborhood newspaper when he was nine years old for a cent per copy. He enjoyed drawing comic books and as a teenager began reading Esquire magazine, which would he would later use as inspiration.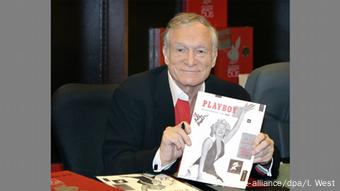 Hugh Hefner said his stunted childhood inspired him to create Playboy
He reinvented himself in high school when he was rejected by a girl he had a crush on. He began calling himself "Hef" instead of "Hugh" and began writing a comic book. Those comics evolved into a scrapbook that spanned more than 2,500 volumes in 2011, a Guinness Book of world record for a scrapbook collection.
"What I created came out of my own adolescent dreams of fantasies," he said in an interview with American broadcaster CNN in 2011. "I was trying to redefine what it meant to be a young, urban unattached male."
After writing for Esquire magazine, Hefner worked in the circulation magazine for Children's Activities magazine as he was gearing up to launch Playboy . He and Playboy cofounder Eldon Sellers launched playboy from Hefner's kitchen in Chicago. The first issue was released in December 1953 and featured naked photos of Marilyn Monroe – taken years earlier.
A sex empire
When Playboy was first published, American states could legally ban contraceptives. The word "pregnant" was banned from the famous 1950s American television series "I Love Lucy."
Playboy , published monthly, changed the idea of sex, fueling the "sexual revolution." The magazine's bunny silhouette became iconic, and circulation grew from 200,000 in 1954 to over 1 million in 1959. By the 1970s, the magazine had over 7 million readers and inspired such competitors as Penthouse and Hustler .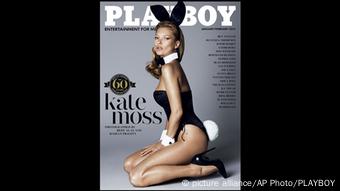 Kate Moss in the iconic Playboy bunny costume on the cover of the January/February 60th anniversary issue
Hefner's magazine received attacks from the right by those against the naked pictures and from the left by feminists who said it reduced women to objects. In 1963, he was acquitted of obscenity charges for circulating photos of disrobed celebrities.
Drew Barrymore, Farrah Fawcett and Linda Evans are just a few of the celebrities that have posed in Playboy . The magazine also had intellectual appeal as it featured fiction from Kurt Vonnegut, Joyce Carol Oates, Vladimir Nabokov, John Updike and Doris Lessing as well as in-depth interviews with Fidel Castro, Malcolm X, Martin Luther King Jr., President Jimmy Carter and John Lennon.
Hefner also ran a series of Playboy nightclubs, with "bunny" waitresses wearing uniforms with bow ties, puffy cotton tails and rabbit ears. He also hosted various television series, including "Playboy After Dark" from 1969-1970 and the reality series "The Girls Next Door" from 2005-2010.
He ran the magazine from his mansion in Chicago. He later bought another mansion in Los Angeles, commuting between the two in a private jet he called "The Big Bunny." Legions of male celebrities would gather at his mansions to mingle among the young Playboy models.
The playboy behind Playboy
Hefner's bunny obsession came began with figures that decorated a childhood blanket. He took part in the life he espoused, enjoying stag films, strip poker and group sex. By his own account, he had sex with over a thousand women, many of whom featured in his magazine.
He was married three times, to Mildred Williams from 1949 to 1959, to Kimberly Conrad from 1989 to 2010 and to Crystal Harris from 2012 until his death. He acknowledged, at 85, that "I never found my soulmate."
After a minor stroke in 1985, he made his daughter, Christie, chief executive officer, but retained 70 percent of Playboy stock and continued to choose every month's Playmate and cover shot. Christie Hefner gave the business a makeover before stepping down in 2009. Hefner's son, Cooper, assumed a major role at the company in 2014.
In a 1992 interview with The New York Times in 1992, Hefner was asked what he was proudest of and replied: "That I changed attitudes toward sex. That nice people can live together now. That I decontaminated the notion of premarital sex. That gives me great satisfaction."
How Hugh Hefner changed the magazine world

It all started with Marilyn Monroe

The launch of Playboy in 1953 included a demure cover of an old photograph of Marilyn Monroe that belied the nude imagery inside. Revolutionary for its time, the magazine has continually pushed boundaries and has been credited with lighting the fire that resulted in the sexual revolution in the US during the 1960s.

How Hugh Hefner changed the magazine world

New Journalism

While it's something of a joke to say that you read Playboy for the articles, the magazine earned its reputation for editing top-notch long-form articles. Bylines in the magazine have included Hunter S. Thompson (picture) and Truman Capote.

How Hugh Hefner changed the magazine world

Political 'Playboy'

The world-famous centerfolds, which included both no-name models and celebrities hoping for increased publicity, have appeared alongside heavy-hitting interviews, including one in which historian Alex Haley spoke to Martin Luther King, Jr. and later Malcolm X at the height of the American Civil Rights movement.

How Hugh Hefner changed the magazine world

Select authors' club

As stories by authors like Margaret Atwood and Haruki Murakami graced the glossy pages, "Playboy" became a publication every writer wanted in to. Chuck Palahniuk – best known for his dystopian novel, "Fight Club," adapted into a movie with Brad Pitt – also contributes new work occasionally.

How Hugh Hefner changed the magazine world

Ground-breaking photography

For 62 years, the magazine's major selling point were the images of naked women sprinkled throughout its pages. While Hugh Hefner created a unique lifestyle, dating and living with many of the young women to have posed for Playboy, photographers like Annie Leibovitz and Helmut Newton (above, one of his works) were brought on to shoot for the publication.

How Hugh Hefner changed the magazine world

Changing image processing

A cropped image of centerfold Lena Söderberg from the November 1972 edition became quite by accident a de facto standard image in electronic imaging. Used in an academic paper on image processing, "Lena" (often spelled the anglicized way, "Lenna") became one of the most used images in computer history.

How Hugh Hefner changed the magazine world

Influential artistry

Playboy pages have also been directed by a number of influential living artists, including Keith Haring and David LaChappelle. Salvador Dalí (pictured) also directed surrealist erotic artwork for the magazine in 1973.

How Hugh Hefner changed the magazine world

Guten Tag, Katarina!

With numerous foreign language editions already in print, Playboy finally arrived in Germany in 1972, though due to different mores concerning nudity in Germany, it hasn't gained the traction it held in the US. One of the country's darlings, figure skating world champion Katarina Witt, posed nude for the US version in 1998 at the age of 32. It was the second issue to ever sell out.

How Hugh Hefner changed the magazine world

The male gaze

The magazine has repeatedly come under fire for objectifying women, most notably criticized by Gloria Steinem. One answer to that criticism came with the creation of the publication's twin, Playgirl, in 1973. The magazine turned the tables by only featuring nude men and marked the start of a new era in erotic nudity, personified by the Chippendales dancers and later, the film "Magic Mike."

How Hugh Hefner changed the magazine world

Unwrapping an adults-only magazine

Despite all of the written coup d'etats that Hefner was able to achieve before handing over the editorial reigns to his daughter Christie in 1988, the magazine didn't come out of its literal shell (as in the US all adult magazines are required to be packaged, with nude covers hidden from the eyes of those under 18) until 2015.

How Hugh Hefner changed the magazine world

Phasing out the nudes

As of the October 2015 edition, the magazine stopped running full nudes. The decision was made as new owners shifted their focus to compete with text-heavy New York publications like Vanity Fair instead of internet pornography. Near the same time, Hefner put his famous $200 million Playboy mansion on the market, though he will keep living there. It served as the backdrop to many photo shootings.

How Hugh Hefner changed the magazine world

Old rabbit ears

Nowadays, the infamous bunny-eared logo earns the Playboy fortune more than the magazine and its associated website does. The risqué logo once associated with swinger's clubs now appears on everything, from T-shirts to phone covers to notebooks.

Author: Courtney Tenz
dv/sms (AP, Reuters)
Playboy magazine founder Hugh Hefner dies, aged 91 have 1663 words, post on www.dw.com at January 28, 2017. This is cached page on VietNam Breaking News. If you want remove this page, please contact us.