(VOVworld) – General Secretary of the Communist Party of Vietnam Nguyen Phu Trong says last year's achievements will create momentum for Vietnam to enter a new period of development despite numerous difficulties ahead.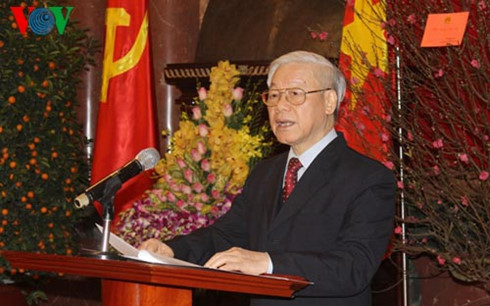 In an interview with Vietnam News Agency in the lead up to the Lunar New Year Festival 2017, Mr. Trong said major events of 2016 included the 12th National Party Congress and the elections of National Assembly deputies and People's Council representatives. According to the party leader, last year, Vietnam's GDP grew 6.21% with stable macro-economy, inflation under control, and record high foreign currency reserve.
National defense and security was strengthened, and national sovereignty is safeguarded. Foreign affairs and international integration were implemented comprehensively, enhancing Vietnam's position worldwide. Party leader Trong stressed the determination of the Party, people, and army to continue realizing the resolutions of the 12th National Party Congress to develop Vietnam.