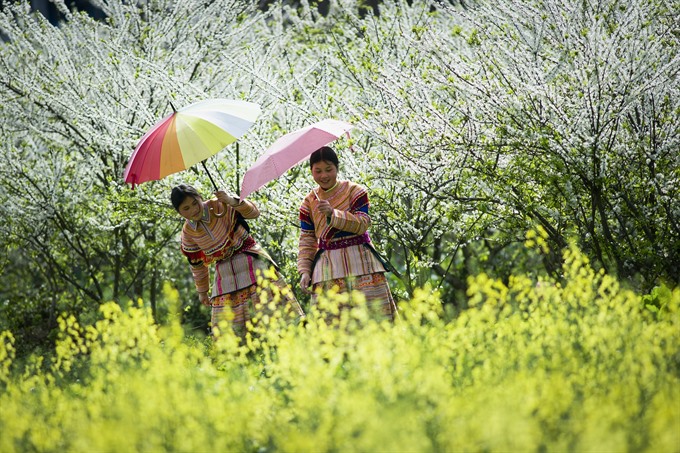 Viet Nam News
PHÚ THỌ – Tourism development cooperation among eight Vietnamese northwestern provinces yielded substantial results in 2016, according to a tourism review conference held in the northern province of Phú Thọ on Monday.
Hosted by the Phú Thọ Province People's Committee, the conference brought together provincial leaders from Phú Thọ, Lào Cai, Lai Châu, Điện Biên, Sơn La, Yên Bái, Hà Giang and Hòa Bình, as well as representatives from the Việt Nam National Administration of Tourism and local tourism enterprises.
The conference discussed the positive results of tourism cooperation in four fields: policies, development of typical tourism products, promotion and development of human resources.
In 2016, tourism activities were shown to be more effective than ever. The number of visitors to the region was estimated at nearly 18 million, 11.8 per cent more than 2015. In addition, the region hosted 6.4 million overnight visitors – including 1.2 million foreigners – an increase of 11 per cent.
Addressing the conference, Hà Văn Siêu, deputy director general of Việt Nam National Administration of Tourism, acknowledged the contribution of the provinces and tourism agencies. However, he suggested that the region's tourism industry, despite its high potential, has not been properly developed.
"The national tourism year 2017 in the northwest will wake up the region's potential and open up opportunities for the development of the northwestern tourism," he said.
At the conference, participants also discussed the main contents of the programme and its current problems. They suggested diversifying tourism products, tightening cooperation in promoting regional tourism potential in order to attract more tourists, and investment from tourism agencies.
They also agreed on the need for more human resources training, the most serious problem facing the eight provinces' tourism, as 60 per cent of local tourism workers have no professional training.
"The results of tourism development cooperation in the eight extended northwestern provinces have significantly contributed to national tourism development," Hà Kế San, vice chairman of Phú Thọ Province People's Committee, said at the conference.
"In 2017, the eight provinces will take turns organising local tourism fairs, jointly participating in international tourism fairs, building tourism marine routes in the Đà River, diversifying tourism products and regularly holding photo or video contests in efforts to promote regional tourism," he added.
In 2008, a tourism cooperation pact was signed between the eight northwestern provinces. – VNS