"Every ASEAN member can not develop if only relying on resources exploitation and simple labour, they need to promote renovation and creativeness, improve their competitiveness, and engage more in global supply in order to achieve higher added values," Prime Minister Nguyen Xuan Phuc stressed at the 3rd Bloomberg ASEAN Business Summit.
The summit for the first time brought together ASEAN leaders working in trade and finance, and representatives of government agencies from regional nations. It focused on measures to overcome challenges and define important opportunities for growth, cooperation and development in the region.
The summit focused on assessing policies in the ASEAN Economic Community (AEC), current policies in the region, the next development stage of Vietnam and ASEAN and cross-border trade and investment in the region. Specific panel discussions will also take place to focus on growth sectors such as consumer goods, infrastructure, commodities and energy, banking and finance, and media and technology.
Parry Ravindranathan, Managing Director of Bloomberg Media for Asia-Pacific, said: "Vietnam has one of the most potential economies in ASEAN. Cross border collaboration amongst companies and countries in ASEAN continues to be top of the agenda because it will accelerate growth and development".
Addressing the summit, Prime Minister Nguyen Xuan Phuc said that to realise the 2025 Vision, Vietnam and ASEAN nations were determined to continue fostering and further deepen the ASEAN linkage, building an ASEAN Community which operates under the law and is directed to people, ensure the best rights and benefits of people, have open relations with partners having increasing role and position in the region and the world.
The Prime Minister added that ASEAN is not only a large market with a total population of over 600 million people but also strongly developing economic region with a GDP reaching nearly 3,000 billion US dollars and a dynamic and creative ASEAN business community. The central role of ASEAN in the region, especially in economic, trade and investment cooperation, has received support and participation of the international business community, including the world's leading groups.
In regards to Vietnam, the Prime Minister said that Vietnam is a developing country of a total population of more than 90 million people. In 2016, the Gross Domestic Product (GDP) growth rate is expected to reach 6.3%, increasing to 6.5-7% in the 2016-2020 period and the total trade turnover is expected to reach 360 billion US dollars in 2016, 1.7 times the GDP.
At present, there are 22,000 FDI projects in Vietnam with a total capital of 300 billion U.S dollars. Vietnam has 600,000 enterprises operating in Vietnam and 3.5 million individual households. It targets to have more than one million enterprises by 2020.
Apart from being a member of the AEAN Economic Community, Vietnam signed 12 Free Trade Agreements (FTAs), ushering in a large space for cooperation and development with 55 nations and partners, including G7 and 15/20 countries of G20.
The 48th ASEAN Economic Ministers' Meeting in Laos. Photo: Pham Kien/VNA


Not only strengthening intra-bloc cooperation, ASEAN also boosts coordination with outside partners.
In the photo: Leaders of ASEAN member countries and Russia
attend the ASEAN – Russia Business Forum 2016 in Sochi. Photo: Thong Nhat/VNA


The embassies of Vietnam, Malaysia and Thailand in Germany
jointly organise a workshop to call for investment in ASEAN. Photo: Manh Hung/VNA
The Prime Minister said that the world and ASEAN are facing great challenges in security, economy, food, money, climate change and the risk of protectionism coming back. However, the 4th industrial revolution has also brought many opportunities to development.
In that context, ASEAN members need to promote economic connectivity, transport infrastructure development and soft linkage to facilitate cross-border trade and investment and build a united and effective ASEAN market. He urged closer cooperation in economic and transport infrastructure development, thus facilitating cross-border trade and investment.
The Prime Minister stressed: "The ASEAN enterprise community plays an important role in initiating creative start-up ideas, triggering trade and investment development".
Prime Minister Nguyen Xuan Phuc hoped that outside investors would seek cooperation opportunities with ASEAN partners. He affirmed the Vietnamese Government is working hard to improve the investment environment and business climate, and welcome all enterprises from ASEAN and other regions who select Vietnam as their reliable destination.

State President Tran Dai Quang receives a delegation of Bruneian enterprises led by Prince Pengiran Muda Abdul Qawi
who visit Vietnam to look for investment opportunities in Vietnam. Photo: Nhan Sang/VNA

The Ministry of Transport of Vietnam and the Cambodian Ministry of Public Works and Transport have a meeting topromote coordination
in linking traffic infrastructure to develop economy between the two countries. Photo: Danh Chanh Da/VNA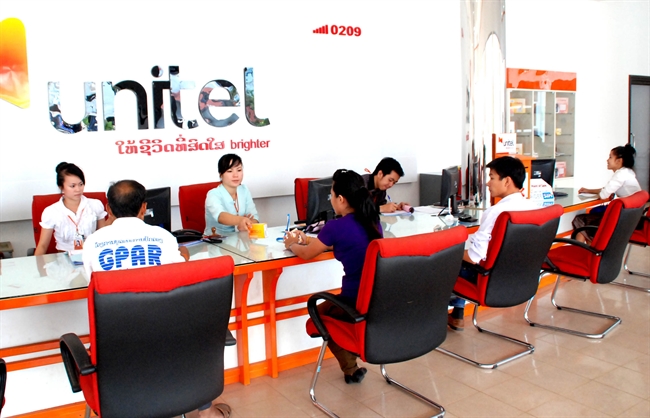 Unitel – a joint-venture of Vietnam and Laos in telecommunications. Photo: Hoang Chuong/VNA


Thai Hoa Group of Vietnam invests in growing coffee and rubber trees in Laos. Photo: Tran Viet/VNA

ASEAN enterprises participate in VIETFISH 2016. Photo: The Anh/VNA


Son Toa Vietnam Co.,Ltd, a 100% Thai owned enterprise in Vietnam. Photo: An Hieu/VNA
By VNA/VNP