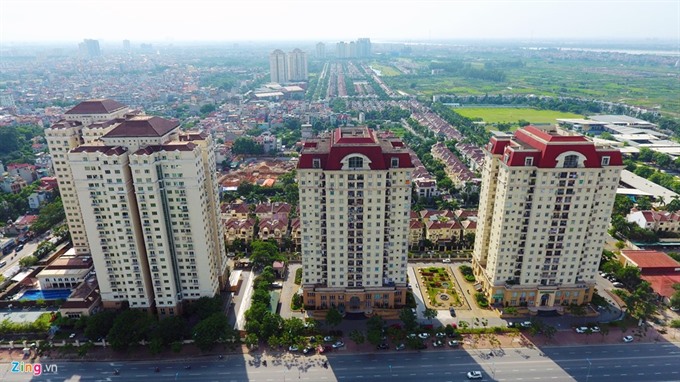 Viet Nam News
HÀ NỘI – The real estate market in Hà Nội saw strong development in condominium, villa and townhouse segments in the fourth quarter last year.
The positive situation will enable the market to grow further this year, experts said.
The year 2016 ended with a busy quarter for the condominium market, which was one of the segments that attracted several investors. Some 9,128 units were launched across 34 projects across the city in the fourth quarter, Nguyễn Hoài An, manager of professional services from CBRE Việt Nam Co Ltd said at the company's press conference on 2016's fourth quarterly report on Hà Nội's property market held in the city on Tuesday.
The fourth quarter peaked both in terms of number of launched units and launched projects, she said. The west continued to be the supply hub, with 37 per cent of the new launches located in this area, an increase in the share of total new launches compared with 2015 (30 per cent).
Regarding the market segment, a majority of new launches in 2016 were from the mid-end segment, which was at 56 per cent, following by the high-end segment (30 per cent) and the affordable segment (11 per cent).
It is worth mentioning that 2016 marked the return of the luxury segment with two projects located near the Westlake area. Meanwhile, fresh supply in the affordable segment significantly went down by 71 per cent year-on-year (y-o-y). However, more supply under this segment was expected to increase noticeably in the coming years as large developers started eyeing this segment, An said.
Overall, market sentiment remained positive last year, with an increase in sold units over the quarters. In the fourth quarter of last year, more than 6,600 units were recorded sold, adding to a total of 21,188 units sold in 2016. The mid-end segment continued to perform well with more than 10,100 units sold in last year, accounting for nearly half of the total units sold. By location, Hai Bà Trưng and Ba Đình districts recorded the highest sale rate of newly launched projects.
In terms of average asking primary price, price improvements were seen in almost all segments, though most notably in the high-end segment (up by 9 per cent y-o-y). The mid-end and affordable segments went up slightly by 2 per cent y-o-y and 1 per cent y-o-y, respectively.
In the secondary market, the average secondary prices went down slightly by 0.5 per cent y-o-y. By segment, while other segments' secondary prices experienced a decrease ranging from 0.7 per cent to 2.9 per cent, the affordable segment increased by 1.9 per cent.
An said supported by sound macroeconomic factors, including positive gross domestic product growth, a stable exchange rate and high inflow of foreign direct investment to Việt Nam, especially to real estate from South Korea, Japan and Singapore, the condominium market was expected to remain upbeat this year.
The west was forecast to continue dominating new launches; however, large-scale projects were expected to be scattered across different areas of the city. By segment, large developers may introduce large-scale projects in the affordable segment, which significantly boost the shares of new launches in this segment. In terms of pricing, the average primary asking price was forecast to increase 0.5 per cent to 4 per cent in the upcoming years.
Meanwhile, Savills Việt Nam Co Ltd reported its total stock was approximately 35,000 dwellings, up 4.9 per cent q-o-q and 12.8 per cent y-o-y in Hà Nội's villa and townhouse market, Đỗ Thu Hằng, Savills Hà Nội's associate director research, said at the company's press conference on Hà Nội's property market in the fourth quarter 2016 held on Tuesday.
Four new projects and the fresh launches of four existing projects supplied some 600 dwellings, of which villas accounted for 18 per cent. Từ Liêm, Hà Đông and Long Biên districts were the main suppliers, cumulatively accounting for a 50 per cent supply share.
Sales increased 129 per cent q-o-q to 766 units, of which 64 per cent were townhouses. Dominating in sales this quarter were Từ Liêm with 24 per cent and Hà Đông with 23 per cent. Villa and townhouse sales exceeded the record set prior to 2011.
In the first quarter of 2017, more than 2,300 dwellings are expected to enter the market, mainly from Vingroup.
Savills forecasts that Hà Nội property market in 2017 would continue the development trend of 2016 and sale price of a number of projects would reduce to more reasonable rates.
Meanwhile, the price of shophouses may rise faster than the price of villas due to lower supply and higher profitability.
Expert Đặng Hùng Võ said the property market this year would continue in a stable manner in all segments but would focus on mid-end and affordable segments. Foreign investment would continue to flow to the property market, creating more chances to increase housing supply, baoxaydung.com.vn reported.
Consumers would be able to avail benefits from the property market, including products with reasonable price, quality and convenient services, he said.
The HCM City Real Estate Association agreed to ensure stability in selling price and transactions. – VNS