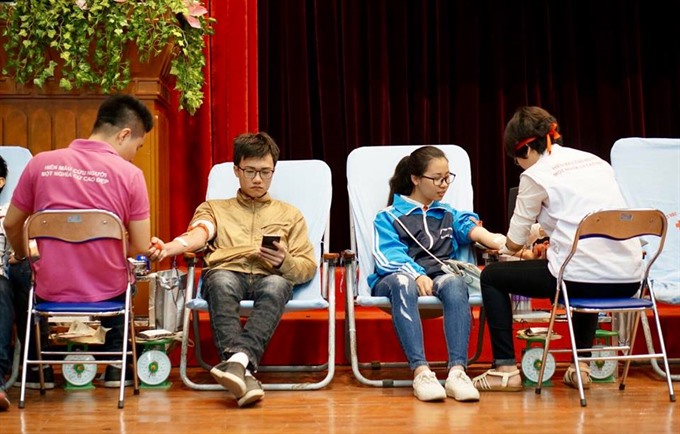 Viet Nam News
HÀ NỘI – Thousands of people, mainly students and volunteers, donated blood at the first blood donation festival in 2017, called "Ngày Chủ Nhật đỏ" (Red Sunday), at Hà Nội National University on Sunday.
The event was jointly organised by Tiền Phong (Vanguard) newspaper, the National Steering Committee on Traffic Safety (NSCTS) and the National Institute of Haematology and Blood Transfusions.
Speaking at the event, Permanent Deputy Prime Minister Trương Hòa Bình highlighted the outstanding achievement of the blood donation mobilisation movement in recent years in Việt Nam, while praising the initiative of Tiền Phong newspaper and the contribution of volunteers and donors.
"Blood donations from the Red Sunday festival would contribute to saving the lives of thousands of patients during the Tết (Lunar New Year) festival period, when most hospitals are expected to experience blood shortages due to the increase in traffic accidents and a decline in blood donors," said Bình.
"The good news is that no hospital reported blood shortages in 2016. The communication activities and organisation of large-scale blood donation festivals have created a new look and gained promising results in the country's voluntarily blood donation movement," stressed Bình.
"Ninety-eight per cent of the blood was collected from voluntary donors in 2016, compared to 14.5 per cent in 1994," noted Bình.
Alone in 2016, the country received more than 1.4 million units of blood, equivalent to 1.5 per cent of the country's population that donates blood. The collected blood has met 75 per cent of the country's emergency, treatment and preventive demands, according to the deputy PM.
However, Bình said, the country needs two million donations yearly for emergencies and treatment in hospitals nationwide, equivalent to 2 per cent of the population to donate blood.
The Deputy PM also asked ministries, sectors and localities to expand blood donation festivals, such as Red Sunday, Red Spring or Red Journey, to all provinces and cities nationwide, as well as to promote the voluntary blood donation movement in communities, along with strengthening communication activities and blood transfusion programmes, in efforts to improve people's health care and protection.
Tiền Phong newspaper editor-in-chief Lê Xuân Sơn said the event has set a target to collect at least 25,000 units of blood, an increase of 2,500 units compared to last year's festival.
The event was part of a series of more than 40 blood donation festivals taking place in 25 provinces and cities nationwide on Sunday.
Launched by the newspaper in 2009, the festival aims to ease the serious blood shortages in hospitals resulting from increases in traffic accidents and the declining number of blood donors prior to Tết. The event collected nearly 54,000 units of blood over the past eight years.
The health sector has set a goal to collect at least 1.7 million units of blood in 2017. – VNS