Da Nang hosts int'l accounting, finance conference
Experience, initiatives, and research outcomes in accounting and business administration were shared by over 200 experts from the UK, Japan and Vietnam during a conference in the central city of Da Nang on May 20.
The International Conference on Accounting and Finance (ICOAF 2016) was organised by the University of Economics at the University of Da Nang, Japan's Yokohama National University, and the Aston University and theAssociation Chartered Certified Accountants (ACCA) of the UK.
Participants heard 47 reports by experts, including six by those from Japan and the UK .
Participants discussed challenges facing the country in these fields and put forward measures and ideas for Vietnam's accounting sector to meet its international integration requirements.
The reports focused on topics relating to business finance, banking, stock market, auditing, internal auditing, and quality of financial statements.
Vietnam's accounting and auditing are underdeveloped in comparison with regional partners.
The country has focused on training human resources for the sector in a bid to meet international and regional standards.
ASEAN-Russia business forum held in Russia
The ASEAN-Russia business forum took place in Sochi, Russia on May 19 on the sidelines of the ASEAN-Russia Commemorative Summit marking the 20 th anniversary of their diplomatic ties.
The event consisted of three panel discussions titled "Towards new ASEAN – Russia economic partnership: essential tools, mechanisms and drivers of growth", "Russia's export potential: implementing strategic priorities of ASEAN member states" and "ASEAN-Russia partnership in the new integration architecture of the Asia-Pacific Region: opportunities for businesses".
The forum aimed to discuss barriers to bilateral trade, each other's requirements and seek the possibility of partnering with the Eurasian Economic Community, the Shanghai Cooperation Organisation and ASEAN to further boost bilateral trade and investment.
It provided a venue for business people, politicians and experts to speak about economic and investment matters as well as technological cooperation.
Tu Thanh Nghia, General Director of Vietsovpetro – a joint venture between Zarubezhneft of Russia and the Vietnam National Oil and Gas Group (PetroVietnam) also made a speech at the event which was graced by the presence of First Deputy Minister of Economic Development of Russia Aleksey Likhachev and Minister of East Development Aleksay Galuska.
Work starts on Yen Bai's largest shopping mall
The Hoa Sen Corporation began construction of the largest shopping mall in Yen Bai city, the northern mountainous province of Yen Bai on May 19.
The 1.2 trillion VND (54.5 million USD) mall sprawls over a site of 1.5ha, accommodating a 15-storey block on an area of 74,410 sq.m
From May 2016 to June 2017, a four-star hotel, a convention hall, a trading centre, restaurants, cafes and multi-functional parking area will be built.
During the second stage from June 2019 to June 2020, construction of another four-star hotel and apartments will be concluded.
Operational by 2020, the mall is expected to develop Yen Bai into a second-tier city by the same year and a first-tier one by 2050.
Over 70 German firms meet HCMC leaders
Representatives of over 70 German firms active in various fields have met leaders of HCMC to explore the city's plans for economic development and foreign direct investment attraction.
At the meeting on Monday, representatives of the German Business Association (GBA) and companies from the European country asked HCMC leaders about measures to turn the city into a center for finance, science and technology in Southeast Asia as announced by Dinh La Thang, secretary of the HCMC Party Committee.
The enterprises active in automobile, finance, information and communications, and other industries also raised queries about solutions to reduce traffic jams and environmental pollution, and develop green energy and quality human resources in the southern economic center of Vietnam.
The enterprises wanted to get better understanding of the city's development orientations before making business decisions.
HCMC vice chairman Le Thanh Liem emphasized that Germany is an important European Union (EU) partner of Vietnam. Therefore, HCMC and the country as a whole want to strengthen cooperation with Germany, especially in the fields of urban transportation, health and education.
Liem confirmed HCMC always welcomes and creates favorable conditions for foreign investors, including from Germany. The city focuses on attracting investment projects that use advanced technology, add value, and embrace sustainable development.
German enterprises are reliable partners of HCMC in particular and Vietnam in general, and German investments will benefit both sides, German consul general in HCMC Hans-Dieter Stell and GBA chairman Jens Ruebbert said at the meeting.
Ruebbert said Vietnam is a destination for many companies from different parts of the world, including Germany. Meanwhile, Stell stressed German firms are investing in Vietnam based on a mutual-benefit basis, instead of taking advantage of available resources in the country only.
Le Thi Huynh Mai, deputy director of the HCMC Department of Planning and Investment, said by end-April the city had had over 6,000 valid foreign direct investment (FDI) projects with total registered capital of over US$40 billion. Of the total, Germany had 114 projects with total capital pledges of over US$200 million and ranked 17th out of 75 countries and territories investing in the city.
Most German companies are involved in projects in the distribution, processing, manufacturing and service sectors, Mai told the meeting about HCMC's economic performance in 2016-2017 and business and cooperation opportunities for German firms in the city.
Novaland offers promotions at new exhibition
Real estate developer Novaland on May 20 opened an exhibition displaying information about its 30 projects at Sunrise City – Central Towers in HCM City's District 7.
Projects displayed at the exhibitions include apartments, office-tel, houses, and villas from the standard to luxury level. The projects include Madison in District 1, Lakeview City in District 2, Harbor City in District 8, The Sun Avenue in District 2, the Sunrise Riverside in Nha Be District and Sunrise Riverview in District 7.
Joining the exhibition, visitors and buyers will receive lucky vouchers winning vouchers discounted by 1 per cent and many other prizes, including a BMW 320i and Honda Shi.
The exhibition ends on Sunday.
Novaland is a leading real estate developer in the country. It has developed many projects all in HCM City. Last year, the exhibition was organised in both HCM City and Ha Noi and was strongly welcomed by investors.
Over 60 Vietnamese firms supply components to Samsung
A total of 63 Vietnamese businesses are supplying spare-parts and components to Samsung, the world largest electronic producer, said Samsung Electronics Vietnam on May 19.
The number of Vietnamese firms joining the production chain of Samsung has increased sharply in recent years. Currently, 11 local businesses are Samsung's direct suppliers or vendors level 1 and 52 others are of level 2.
On May 19, Samsung Vietnam made a survey of Ngoc Khanh Wire and Cable Company and Goldsun Packaging & Printing JSC to assess their supply capacity.
It is part of a Samsung program to help Vietnamese businesses improve their supply capacity. Accordingly, Samsung's technical consultants have come and stayed in Vietnam in 3 months to help the two companies improve their production process and complete supply standards and procedures.
Up to now, Samsung has been the biggest foreign investor in Vietnam with two plants in Bac Ninh (Samsung Electronics Vietnam) and Thai Nguyen (Samsung Electronics Vietnam Thai Nguyen), which supply 33% of its total mobile phones globally.
Samsung Electronics Ho Chi Minh City Complex (SEHC), put into operation in the second quarter of this year, is expected to develop Vietnam into a key TV and electronics producer globally and open more opportunities for Vietnamese businesses to join Samsung supply chain.
Vietnam keen on Japanese investment in auto manufacturing
Vietnam wants Japanese firms to invest in its automobile manufacturing, with a focus on spare parts and support industry, Deputy Prime Minister Trinh Dinh Dung told Chief Executive Officer of Toyota Japan Fukui Hiroyuki during a reception in Hanoi on May 19.
Dung said Vietnam appreciates economic and trade ties with Japan and continually provides all possible support for Japanese investors.
He also pledged to direct ministries and agencies to consider Toyota's proposals and issue policies conducive to businesses, including Toyota, contributing to developing the automobile industry.
Hiroyuki, for his part, said his visit is to learn about the Vietnamese auto market.
Via its business activities, Toyota wants to further contribute to Vietnam's socio-economic development, he said.
He also suggested the government effectuate stable tax policies and build a roadmap for developing the market.
Petrol prices up more than 200 VND per litre
The retail prices of RON 92 petrol and E5 bio-fuel increased by 243 VND and 239 VND per litre, respectively, from 3:00pm on May 20.
Following a joint decision issued by the Ministries of Industry and Trade and Finance, diesel 0.05S price rose by 277 VND per litre while that of kerosene gained 192 VND per litre.
This was the fourth hike in fuel prices this year with a total increase of more than 2,000 VND per litre.
Accordingly, the ceiling prices of RON 92 and E5 bio-fuel are 15,829 VND per litre and 15,315 VND per litre while the maximum prices of diesel and kerosene are kept at 11,300 VND per litre and 9,647 VND per litre.
The average global price of RON 92 from May 5 to May 19 was 54.873 USD per barrel, up 1.2 USD while that of diesel 0.05S was 53.734 USD per barrel, up 1.7 USD, the ministries said.
Banks urged to renovate
Finance markets will become more sophisticated and powerful in the near future, and this will pose a challenge if banks do not focus on renovating existing technology, financial experts warn.
Banks that invest in new technology would see benefits of between 15-17 per cent profit, Can Van Luc, a finance expert told participants at Banking Vietnam 2016 yesterday, co-held by the State Bank of Viet Nam and International Data Group (IDG).
In response to current challenges and competition, Banking Vietnam 2016 features the theme: Innovation and transformation– key factors for banks improving operational efficiency and competitive advantage in the new context of integration.
The conference covers key initiatives and innovative IT solutions through a schedule of discussions and presentations from leading national and regional banking experts, and world-leading technology providers.
At the conference, Luc also outlined factors that will affect banking performance between 2016 and 2020. Namely that the legal environment has seen a tightening of regulations that will raise costs and reduce profits for the banking sector.
In addition, changes in demographics, an aging population and rising incomes will all lead to increased demands on banks. Customers are becoming more knowledgeable and often use information technology to stay regularly informed about banking news, he said.
Luc said that competition among banks and banking systems is becoming fiercer. A series of non-banking institutes have been established to offer convenient and rapid services, however, they often lack the risk management expertise of established institutions. Therefore, commercial banks have an advantage in being able to promote the protection of customers. In addition, Viet Nam also needs to foster strong participate in the international market with the adoption of new international standards.
According to the Deputy Director of the Banking Strategy Institute Pham Xuan Hoe, one of the challenges for investment in science and technology in banking was that it required a lot of starting capital, however, revenue from banking services and banking products remains low after failing to recover their investment costs.
Hoe offered an example of when he was working for a commercial bank, and being asked why ATM users had to pay a fee. He explained that users should share the burden with commercial banks to help them reinvest in better technology.
Luc also noted that the potential for financial markets remained huge in Viet Nam. The size of the country's financial market was still small while banking products and services remained modest and still, access to financial services remains limited for many people. The banking system remains thin and is unevenly allocated.
Banking Vietnam is known as the largest and most influential annual ICT banking conference and expo in Viet Nam. The past 13 years of ongoing success has earned Banking Vietnam the reputation as a required event for leading bankers, technology professionals, and financial experts.
Real estate transactions slow down in first quarter: HoREA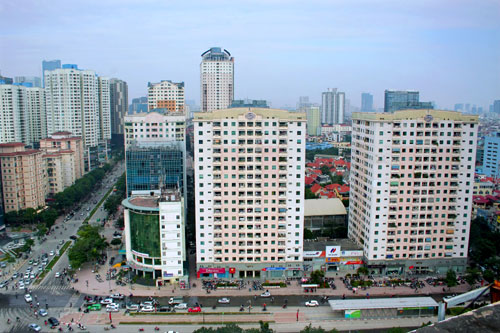 Statistics from the Ho Chi Minh City Real Estate Association (HoREA) show that the number of real estate transactions in the city showed sign of slowdown in the first quarter this year over last year.
In addition, the property market has seen the supernumerary supply of high class products but shortage of popular products for low income people.
Explaining the slowdown, HoREA said the main cause is from the State Bank of Vietnam (SBV)'s announcement on a draft circular to revise Circular 36 to limit credit flow into the real estate market and risks in property trading. The circular's revision signals that banks and investors must restructure their investments to ensure the market's healthy development.
Previously, the Government officially required SBV to amend the circular to suit practical conditions.
According to HoREA, the circular's revision is necessary because it is time to implement credit policies carefully and tighten management over the real estate market. These include cut of short term capital use for medium and long term loans and increase of the risk coefficient of real estate loans.
However, chairman of HoREA Le Hoang Chau proposed that the revised circular should take effect in 2017 for related sides to adjust and rationalize operation and prevent a shock to the market.
Deputy Prime Minister Vu Van Ninh on July 7, last year also instructed to implement the policy in a suitable direction and route in accordance with international practice to ensure the safety for credit institutions, Mr. Chau said.
HoREA also proposed to keep the risk coefficient of real estate loans unchanged at 150 percent as present instead of increasing to 250 percent as per the draft circular. The use ratio of short term capital for medium and long term loans should be lowered to 50 percent instead of 40 percent.
Talking about other reasons for the slowdown, the association said that SBV issued a document to stop receiving loan applications to the housing credit package of VND30 trillion (US$1.34 billion) on March 31.
In addition, many commercial banks have raised deposit rate to 8 percent a year for term of over 12 months, leading to the possibility that loan interest rate hike of 1-2 percent this year.
Meantime, "health" of real estate businesses has been week and they still depend on bank loans and capital mobilization from customers, HoREA said.
Dong Thap helps local enterprises enhance sales capabilities
Business Research & Enterprises Support Center (BSA) said the Mekong Delta province of Dong Thap is one of the first provinces to invite experts whose will help local enterprises enhance the competitive capacity & improve the capability of sales.
As planned, on May 14 over 100 local enterprises will take part in the training course titled "Solutions to improve distribution system; enhance the capability of sales staff".
The course is organized by Dong Thap Enterprise Association in coordination with BSA. Many oustanding experts will have talks to the provincial enterprises about the above mentioned topics.
Jollibee unveils plans for 20 more outlets in Vietnam
Philippines-based fast food chain Jollibee has revealed plans to open an additional 20 franchises across Vietnam by 2020 as part of a robust expansion strategy serving the Vietnamese market.
The announcement came at the grand opening for its latest store on Hang Dieu Street in Hanoi.
"It is indeed an honour for us to continue our growth in Vietnam so that we can share Jollibee with more people and create new experiences for them," said Tran Thi Lan Anh, general manager of Jollibee Vietnam.
"We are excited to bring such a well-loved brand to where many of its loyal customers reside, as well as introduce it to many new customers who may have never heard of it yet."
The brand opened its first Vietnam store in Ho Chi Minh City in October 1996 and has expanded aggressively ever since. It is part of the Jollibee Foods Corporation which includes brands such as Greenwich, Chowking, Red Ribbon, Yonghe King, Hong Zhuang Yuan and San Pin Wang.
Japfa Vietnam builds animal feed factory in Binh Dinh
Central Binh Dinh provincial People's Committee has agreed to let Japfa Comfeed Vietnam build an animal and poultry feed plant with an investment of VND135 billion in the province.
The plant will be built on an area of 69,000sq.m at Nhon Hoa Industrial Zone in An Nhon town with a monthly capacity of 15,000 tons. It is expected to be put into operation in the third quarter of next year.
Japfa Vietnam is one of leading animal feed companies in Vietnam. Curently, it runs five animal feed plants, and dozens of pig and chicken breeding farms.
The Ducth Japfa Group invested in Vietnam in 1996. It set up a joint venture with the Vietnam Livestock Corporation to become the whole foreign invested company named Japfa Comfeed Vietnam.
In 2005, Japfa Vietnam further expanded investment in Vietnam and build more factories and farms in Thai Binh, Hoa Binh, Phu Tho, Binh Thuan, Binh Phuoc, Dong Nai, Binh Duong and Long An provinces.
Laos enjoys trade surplus with Vietnam
Laos enjoyed a trade surplus of US$6.5 million with Vietnam in the first four months of this year, according to the Vietnam General Department of Customs.
In the period, Lao exports to Vietnam reached US$158.5 million.
Major exports from Laos to Vietnam included wood and wooden products worth US$65.2 million in value, fertiliser worth US$12 million, and mineral ores worth US$11 million.
Meanwhile, Vietnam 's main exports to Laos were iron and steel with a turnover of US$27.8 million; petrol, US$18.3 million; and transportation means,US$15.7 million.
Bilateral trade between the two nations totalled US$1.3 billion in 2014, up 14.2% from the previous year.
The figure is expected to hit US$2 billion by 2020, an increase of 40% against 2014.
Central bank launches science-technology portal
The State Bank of Vietnam (SBV) on May 17 launched a website on the banking sector's scientific and technological activities.
The launch of the site, www.khoahocnganhang.org.vn , forms part of activities marking the 65 th founding anniversary of the sector and National Science-Technology Day (May 18).
The SBV has assigned the Banking Strategy Institute to coordinate with the Banking Academy to operate the portal on a trial basis.
SBV Deputy Governor Nguyen Kim Anh said after a four-month test run, the website has accommodated thousands of pieces of scientific data and welcomed tens of thousands of visitors.
The same day, the SBV held a press briefing on Banking Vietnam 2016, an annual event organised by the bank and the International Data Group.
It aims to help banks update cutting-edge technology and IT applications to create new products and services while improving their administration and business activities.
This year's event, which will focus on innovations and creations, will take place in Hanoi on May 18-19 with an array of exhibitions and seminars.
Production of construction materials remains stable
The production and sale of construction materials from the beginning of this year are quite favourable with stable prices, the Construction Materials Department under the Ministry of Construction evaluated.
Non-baked building materials have been used more than previous years. Currently, 5.5 billion unbaked bricks are produced, making up 24 percent of the total construction materials, meeting the 2015 target of 20-25 percent.
To increase the usage of non-baked materials in construction projects, the Government issued Decision 567 approving the development of non-baked building materials towards 2020.
From March to present, businesses have maintained normal production of construction materials.
Non-baked brick is made from industrial waste such as ash and cinder from thermal power stations and metallurgy factories, stone quarry fine waste and red mud from bauxite factories. Statistics show that from 2015 to 2020, 50-60 million tonnes of waste matter is discharged, which can cause serious harm to the environment. However, with this amount of waste matter, 40 billion bricks could be produced.
In addition, non-baked building materials are much slighter than other kinds of materials that can help reduce base expenditure. Therefore, they are very suitable for construction works in weak land areas.
Local car-maker wins Kia Motors' Best Global Partner
Local car-maker Truong Hai Automobile JSC (Thaco) was awarded the Best Global Partner title by Kia Motors at a ceremony in Hawaii in the United States last week.
The deputy general director of Thaco, Bui Kim Kha, said the Vietnamese market had contributed to Kia's global market growth in recent years.
More than 100,000 Kia models have been sold in the Vietnamese market since Kia Motors and Thaco signed a co-operation agreement in 2007.
In the first year, only 600 Kia cars were sold in Viet Nam, but the figure jumped to 21,000 Kia cars in 2015.
According to the Viet Nam Automobile Manufacturers' Association (VAMA), Kia car models were reportedly the second best selling car in the Vietnamese market, allowing Thaco to claim 38.6 per cent of VAMA's market share.
According to Kia Motors, Viet Nam was always its primary market in the Southeast Asian region and Asia in general. The company has introduced its latest car models here under its global brand development strategy, featuring luxury designs, hi-tech equipment and safety and protection protocols.
Kia Motors and Thaco have manufactured eight car models since 2007.
As scheduled, Kia Optima, one of the company's latest models, will be manufactured at the Thaco Kia plant in Quang Nam Province this October.
Kia has already achieved 60 per cent growth in sales, with 9,000 cars sold in the first four months of this year in Viet Nam.
The Quang Nam-based automobile manufacturer has produced and distributed vehicles for several car manufacturers, including Kia from South Korea, Mazda from Japan and the French giant Peugeot.
Thaco plans to produce more than 112,000 cars in 2016, with expected revenue of US$3 billion.
Thaco produces and assembles cars, trucks and buses in Viet Nam, with a localisation ratio that has risen from 16 per cent to 46 per cent.
Last month, the local car maker started construction for the expansion of the Truong Hai-Chu Lai Mechanical Automobile Industrial Zone, covering 210ha, with an investment of $35.3 million.
A controversial project
Negative impact of small hydropower projects have been felt in different parts of the country. They have led to forest destruction, flash floods and lack of water for irrigation.
Over the years, the Government and local authorities have scrapped many projects due to low economic efficiency but high social and environmental costs.
A major waterway and hydropower project in the Red River which the Ministry of Planning and Investment has recently presented to the Prime Minister has drawn fire from the public. Experts have voiced strong opposition to the project as it would impact millions of residents along the river.
The VND24.5 trillion (US$1.1 billion) project in the north-central province of Ninh Binh, proposed by Xuan Thien Co Ltd, is unprecedented in terms of scale and complexity.
According to the investor's latest proposal, the project is aimed at upgrading the waterway along the Red River by connecting two major routes – Haiphong-Viet Tri and Hanoi-Lach Giang, and generating 0.91 billion kWh of electricity a year.
To achieve these goals, the investor plans to build six dams, dredge a 288-kilometer channel along the Red River stretch from Viet Tri City to the northern upland province of Lao Cai, construct six hydropower plants with a total capacity of 228MW, or 38MW each, and construct seven river ports along the route from Hanoi to Lao Cai.
However, many experts have expressed concern that combining waterway and dam construction would affect traffic in the river, water supply and livelihoods of 20 million people in the Red River Delta. The Mekong Delta is now struggling with drought and salination while more than 100 tons of dead fish has been washed ashore in four central provinces.
The Red River is now playing a crucial part in balancing the country's ecological system. Therefore, damming on the river is certainly associated with high risks.
Tran Dinh Long, deputy chairman of the Vietnam Power Association, said on Vietnamnet news site that Lao and Chinese hydropower dams in the upper reaches of the Mekong River have affected millions of people in the Mekong Delta, Vietnam's key rice growing area. Low levels of rivers in the delta have paved the way for saltwater to make its way into paddy fields. This lesson should be learned.
Damming would send silt in the Red River falling, affect water flows and lead to saltwater intrusion. "The Red River Delta is one of Vietnam's most important rice granaries and the river has thousands of years of cultural value. I think that five to seven hydropower stations with capacity of several hundred MW each will not contribute significantly to the national grid. Our solar and wind power potential is huge, so I don't see why we should develop such small hydropower plants," Long said.
Xuan Thien would be able to cover only 30% of the estimated cost of the project, so the rest would have to come from bank loans. This means the company would charge high port fees on ship owners to have money to repay loans.
What is more, it proposes the build-operate-own (BOO) format for the project, thus allowing it to tap Red River potential indefinitely.
"A BOO project is too dangerous. It would have huge impact on our future," Long notes.
Nguy Thi Khanh, a member of the Vietnam Rivers Network Advisory Board, said in Tuoi Tre newspaper that river dredging would damage sediment that has settled over a period of thousands of years. Damming would change water flows in the river, hurt fish migration, and bring less silt and water to paddy fields and other crops in downstream areas.
Tran Viet Ngai, chairman of the Vietnam Energy Association, said many questions need to be answered before the project could get the go-ahead. "Is it really urgent? What would happen if we do not build dams there? Is this project meant to develop a canal or hydropower plants?"
Damming has led forest land in the country to shrink drastically over the years, so the Government should know where the six dams would be built if it approves the project.
Investors involved in small and medium hydropower projects often pledge to minimize tree felling but vast areas of forest have disappeared since hydropower facilities took shape. Therefore, authorities should consider this project carefully, he added.
The Vietnam Rivers Network (VRN) on May 11 called for the Government to kill the project. The project might help step up economic and trade cooperation between local provinces and neighboring countries.
However, Chinese firms could take advantage of the project to boost sales in the Mekong Sub-region and Africa via the East Sea, the Gulf of Thailand and the Indian Ocean while shipping raw materials from Africa to China. As a result, Vietnamese logistics service providers would miss this business opportunity, it explains.
The National Assembly has recently abolished 400 small hydropower projects, so there is no reason for approving the six 38MW hydropower plants because they would not make great contritutions to the power industry but their impacts on local communities along the socially and economically important Red River would be tremendous.
Doosan Vina turns back to core business lines
Doosan Vina, a Vietnam-based subsidiary of the Republic of Korea's Doosan Engineering & Construction, said it would concentrate on its core businesses as well as turn attention to the renewable energy sector.
The move came after the win-win divestiture of its mother group's Heat Recovery Steam Generators (HRSG) to GE Power.
Yeon In Jung, CEO and general director of Doosan Vina, shared with VIR right after GE Power announced the purchase agreement for US$250 million that, "The divestiture of the Doosan Engineering & Construction's HRSG business will allow us to concentrate on our core businesses of turnkey biomass, gas, coal or nuclear power plants, renewable energy, power boilers, material handling equipment, and desalination plants."
Jung added that the transfer of the HRSG business to GE Power would have little impact on Doosan Vina because the business only accounted for 5.6% of its turnover last year.
"This deal is considered a win-win situation for Doosan, GE Power, and certainly Quang Ngai province. as the HRSG market is a very narrow band dominated by a few companies, one of which is GE Power. The purchase of Doosan Engineering & Construction's HRSG business consolidates the supply chain, which in turn means more market share for the buyer," he said.
"The real big plus we see for the community and Doosan Vina is that we will soon have a neighbour that is a major player in the power sector. This opens an opportunity to cooperate in production, quality, and training, and much, much more: it is exciting to think of all that may come with this change," he added.
Vietnam reports 48% drop in oil revenue in Jan-April
A recovery in prices in April was not enough to prevent a sharp fall in Vietnam's oil revenues.
The Ministry of Finance's new data showed a year-on-year drop of 48.1% to VND13 trillion (US$576.71 million) in the first four months. That was equivalent to less than 24% of the target.
The decline happened even as the average price of Vietnam's crude oil increased 18% month-on-month to around US$39 per barrel in April, according to the ministry.
Export and import tariff revenues, another main income source of the state budget, also declined 15.9% to VND38.9 trillion in January-April, it said.
However, the state's revenue still posted a slight increase of 1.2% to VND317 trillion in the first four months, as other sources such as corporate and luxury taxes grew 9.6% compared to the same period last year.
Spending increased 4.7% to more than VND370.6 trillion, the ministry reported.
More than 70% of the spending was for funding the government's administrative system, while public projects such as transport infrastructure and schools accounted for just around 15%.
Vietnam's debt servicing costs grew 4.4% to VND51.9 trillion in January-April, or 15% of the state spending.
Latest figures released by the government in March showed Vietnam's public debt was equivalent to 62.2% of GDP, and foreign debt 43.1%.
Vietnam's legislature capped the state budget deficit 4.95% of gross domestic product this year.
Last year the budget deficit was originally expected to be around 5% of GDP, but in the end it was equivalent to 6.1%.
Hanoi retail is going 'open air' by 2020
Shoppers in Hanoi can expect to see more open-air lifestyle centres than closed-in, windowless malls, if a proposed redevelopment plan for the capital city is approved, says the Hanoi Department of Industry and Commerce.
The ambitious plans for the revamp includes demolishing and renovating many of the existing buildings and constructing an expansive network of open air walkable retail plaza centres by 2020, said Tran Thi Phuong Lan, vice director of the Department.
Currently, the city has roughly 133 supercentres, 27 large malls, with hundreds of convenience stores and traditional open air markets scattered throughout the metropolitan area, said Mr Lan.
In the last five years, eight new modern shopping malls anchored by international foreign brands such as Lotte and AEON out of Japan and the Republic of Korea have sprung up in the city suburbs.
However, according to the results of a recent study commissioned by the Department most respondents think the shopping centres are too widely distributed and want them more highly concentrated.
They also think shopping at the newer shopping centres is much too expensive, they provide low quality services, create innumerable traffic problems and result in an inordinate amount of air pollution, said Mr Lan.
Particularly, customers are dissatisfied with the underground parking areas at many of the shopping centres, where they are exposed to dangerously high levels of air pollution.
The respondents said they wanted the centres repositioned as open-air, walkable retail plazas that are more pedestrian-friendly shopping areas offering more a 'open air main street' experience.
Most importantly, however, said the Mr Lan, respondents said they want the city to build shopping centres more along the lines of traditional markets, where vendors can both buy and sell their wares.
They believe open air markets are not only less expensive, but provide vegetables and other produce that is much fresher and tastier than that provided in the larger centres that is often overpriced and of dubious quality and origin.
The markets also provide for a much more diverse selection of goods, said Mr Lan, and the active streetscapes are inviting to shoppers and engage the community with street-entry stores and restaurants.
The plans for the new open air infrastructure have yet to be formally finalized, but could go up for approval in the near future. Developers would then need to be found with the aim of work starting by the end of the year.
Mr Lan told the media the plan was to build something with a 'Hanoi flavour' rather than just copying developments in other cities.
The large empty supermarkets in shopping malls and supercentres with their poorly planned underground parking could be a thing of the past in Hanoi if redevelopment plans come to fruition.
Mr Lan said: "The regeneration of the capital city of Hanoi is a key priority not just for the Department but for the people of Vietnam as a whole."
"A new, vibrant Hanoi is of benefit not just to the residents and businesses of the capital city, but to people across Vietnam."
"We want to develop a thriving, vibrant and viable city. We don't want to copy from elsewhere but we do want to learn from other successful developments."
"Our new city centre needs to be unique and retain a special Hanoi identity and character that cannot be found anywhere else around the globe."
Credit policies enable sustainable coffee development
Credits provided by banks have generally met the capital demand of businesses, cooperatives and farm households to produce, sell, process and export coffee, heard a conference in the Central Highlands province of Dak Lak on May 13.
The event aims to review the implementation of credit policies for sustainable coffee development in the Central Highlands and Southeastern region.
Deputy Minister of Agriculture and Rural Development Le Quoc Doanh called for close coordination among localities to weather difficulties for farm households and quickly disburse capital resources for coffee replantation.
Deputy Director of the Vietnam Coffee Company Dong Van Quy proposed the State Bank of Vietnam (SBV) reduce the loan interest rate for coffee replanting by 6 percent while the Government needs credit policies specifically designed for coffee development.
The banking sector is expected to continue prioritising credit investment capital to develop the sector in a sustainable manner from growing and caring process to selling and processing for exports.
The Vietnam Bank for Agriculture and Rural Development (Agribank) is proposed to promptly meet demand of locals and businesses to replant the old and diseased coffee trees.
Credit organisations are hoped to facilitate the development of models linking businesses and farm households to apply high technology in the production, processing and consumption chain and enhance intensive processing capacity to realise effectively the agricultural restructuring project.
They are also committed to offering loans to build logistics systems and invest in coffee production equipment according to the State's preferential policies.
Localities also suggested the Ministry of Agriculture and Rural Development work with relevant ministries and sectors to study and promulgate planning and management policies for sustainable coffee development.
They proposed the ministry soon revise coffee replanting plan in line with the small-scale farming land and reality of each locality while supporting farmers with varieties selection and growing, caring, harvesting and processing techniques, providing information on the market and promoting Vietnamese coffee.
According to the SBV, non-performing loans for coffee nationwide by the end of the first quarter of 2016 reached VND48.1 trillion (US$2.1 billion), a yearly rise of 6.15%, with more than 340,000 farmers getting involved, mainly from four Central Highlands key coffee production provinces, namely Dak Lak, Lam Dong, Gia Lai and Dak Nong
Nearly US$3.5 billion poured into industrial, economic parks
Nearly US$3.5 billion of foreign direct investment (FDI) was pumped into industrial and economic parks nationwide in the first four months of 2016, with the number expected to increase to US$11 billion by year's end.
The country granted investment licenses to over 230 FDI projects with a total registered capital of more than US$2.79 billion and allowed 165 projects to increase capital by nearly US$700 million, according to the Ministry of Planning and Investment.
Along with FDI projects, industrial and economic parks also attracted nearly 350 domestic ones worth VND8.5 trillion (US$382.5 million), mainly in high-quality apparel products and support industries for mechanics and textiles.
The ministry's Department for Economic Zones Management anticipates industrial parks will lure about US$9 billion in FDI and VND50 trillion (US$2.25 billion) in domestic investment in industrial parks, raising the total amount of foreign and domestic investment to around US$109 billion and VND600 trillion (US$27 billion) by the end of 2016.
Economic zones are expected to draw about US$2 billion in FDI and VND35 trillion (US$1.57 billion) in domestic investment, increasing the total foreign and domestic investment in economic zones to US$44 billion and VND600 trillion by the year's end.
FDI continues to pour into industrial and economic parks, accounting for nearly 70% of the country's total foreign investment, the department said.
However, to achieve the goals, it is necessary to speed up the implementation of technical infrastructure projects and revise some regulations regarding corporate income tax, land lease prices, and businesses' financial obligations.
Evaluating environmental impacts is equally important before granting investment licenses to businesses, the department said, proposing the building of a large-scale and internationally-competitive special economic zone.
As of April 2016, the country had 310 industrial parks, 217 of which came into operation, spanning over 58,000 hectares with nearly 70 percent of filled land sites. Sixteen economic zones were set up on an area of 814,792 hectares.
Vietnam rubber output to dip to six-year low for 2016
Natural rubber exports for 2016 could drop 12% compared to last year to a six-year low at around 1 million metric tons, according to an official at the Vietnam Rubber Association.
The projected export volume would be the lowest since 2011, when Vietnam shipped 817,000 metric tons overseas to foreign markets.
The reduction comes about as part of a national strategy to curb the global market supply in an effort to buttress higher sales prices, said the official.
In addition, the ongoing drought has delayed the rubber latex process and reduced output, he said.
Vietnam was last year the third-largest natural rubber producer in the world, trailing Thailand and Indonesia, according to official figures from the General Statistics Office (GSO).
China, India and Malaysia were the top three export markets in descending order of magnitude.
The GSO figures for the four months leading up to May this year show Vietnam has exported an estimated 312,000 metric tons of rubber, which is up 26.7% from a year ago.
However, despite the apparent uptick in the January-April period, natural rubber demand and prices are expected to remain weak throughout the remainder of 2016, said the GSO, and increase only marginally in 2017.
Earlier this year in February, the International Tripartite Rubber Council (ITRC) said members Thailand, Malaysia and Indonesia, the world top three rubber exporters, would cut exports for 2016 by 615,000 metric tons.
The World Bank released a commodity report on April 26 that said thanks in large part to the ITRC export quota scheme that went into effect in March, natural rubber prices rose 4% in the early months of 2016
Over the longer term, the Freedonia Group projects the Asia/Pacific region to post the fastest growth in rubber consumption through 2019 and will account for nearly two-thirds of global demand in that year.
Through 2019, six of the seven fastest growing national rubber markets worldwide will be located in the Asia/Pacific region. Indonesia, India, and Thailand are expected to post the fastest growth.
Demand for rubber in China, Malaysia, and Vietnam will also advance rapidly, benefiting from gains in manufacturing activity.
China will remain by far the world largest rubber market, representing over half of the Asia/Pacific total in 2019. Demand for rubber in Central and South America and the Africa/Mideast region will rise at solid rates also, benefiting from growth in their tyre industries.
Demand for rubber will advance at below average rates in North America and Europe through 2019, said the Freedonia Group.
Dung Quat oil storage terminal planned for 2020
PetroVietnam Oil Stockpile Company, a member unit under state-run oil and gas group PetroVietnam, recently affirmed its commitment to building a $250-million underground oil storage terminal in the central province of Quang Ngai's Dung Quat economic zone.
The company (PVOS) proposed that the authorised management agencies add the project to Vietnam's crude oil and petroleum product storage system development plan for 2015, with a vision to 2025.
The project will have a total storage capacity of one million cubic metres. 90 per cent of this will be used for crude oil, while the remaining 10 per cent will be used for the storage of petroleum products.
The first phase of development consists of building two underground storage facilities with a combined capacity of 600,000 cubic metres, which will be put into use from 2020 onwards. Another underground storage facility with a capacity of 400,000 cubic metres will be built in the second phase.
The underground oil storage terminals are to be operated via a bonded warehouse model. Construction is expected to start within this year, while operations are scheduled to commence in 2020. To expedite the project, PVOS has sought incentives relating to land, water area, and port usage in conditions conducive to the commercial and national storage of crude oil.
Of the project's proposed investment of $250 million, 40 per cent will come from PVOS equity and the remaining 60 per cent ($150 million) will be sourced via commercial loans from the Korea Development Bank (KDB).
PVOS stated that they had worked with KDB and the Industrial Bank of Korea on arranging capital for the project. Korea National Oil Corporation also pledged a capital contribution for the project.
PVOS has also signed a memorandum of understanding (MoU) with Socar Trading Singapore, Sebrina Holding Pte. Ltd, and PVOil Singapore. The foreign partners have committed to using most of the underground oil terminal for crude oil storage, serving international transactions and supply to local oil refineries such as Dung Quat.
PVOS' project was first licensed in 2010 with the total investment capital of VND6 trillion ($275 million) and a storage capacity of 1.6 million cubic metres over a 180-hectare construction area. The first phase was slated to start operation in early 2014, with the whole project due to be fully commissioned by 2015. The total investment capital was set at $340 million at that time. However, this has been delayed so far.
In April 2013, the prime minister approved a national crude oil storage terminal project in Dung Quat economic zone with a scale of one million cubic metres. PetroVietnam was assigned as the self-investor in the project.
Although the two underground oil storage terminal facilities have a similar capacity and position, the Ministry of Industry and Trade has officially proposed that the government add PVOS' commercially-oriented project to Vietnam' oil storage system.
Customer needs steer bank trends
To encourage foreign investment in its banking sector, Vietnam will need to clear up the remaining challenges and let bank customers drive direction and future banking demand.
During the 17th Asian Banker Summit held in Hanoi last week, Prime Minister Nguyen Xuan Phuc noted that the local banking sector has always been vital for the country's growth, and that the sector itself has undergone massive reforms in recent years in a bid to meet the demand of a rapidly growing economy.
"Vietnam warmly welcomes and fully supports the theme of the conference – The New Breakthrough, which truly reflects a long-term vision and commitment for innovative changes, moving towards an effective and dynamic banking and financial market within the nation," said Phuc.
The local banking sector, according to State Bank of Vietnam (SBV) Governor Le Minh Hung, will continue adapting and addressing challenges to integrate into the regional and global financial system.
"We yearn to see participation from foreign investors in our banking restructuring process and I believe such a process will benefit us all," said the newly-appointed governor.
Before foreign investors can flock to the sector, the Vietnamese banking industry needs to identify the key pressures being faced and determine what will in fact drive the industry forward.
According to experts, the sector is facing significant pressure from both the government and customers, and in the future, it could well be the bank's customers who decide the industry's fate and where local banks will be.
From a macro-economic view, Vietnam is in a rather stable development phase, with a good economic growth achievement of 6.68 per cent last year and possibly the same for 2016.
Nevertheless, while a number of favours that are working towards the local financial market's advantages, such as reasonable asset quality and reliable liquidity, according to Alex Kwiatkowski, senior marketing strategist for Banking & Digital Channels at Misys, challenges remain within the financial market, particularly in the banking sector.
"Things that are perhaps the challenges, yet to be overcome, at the macro level, which are around the capital levels and the provisioning for loan losses, which I think still causing some concerns among the rating agencies," said Kwiatkowski, in an interview at the Asian Banker Summit held in Hanoi last week.
Kwiatkowski went on to say that the SBV currently has "so-called" control over how the system needs to operate, relative to how the economy needs to grow. SBV thus leaves it to competent banks to "decide on how they would respond to market opportunities, how they are going to reduce the loan loss provisions, and how they will engage with customers through a range of challenges".
Local banks will have to juggle cost reductions, expansion into new areas, and figure out how to protect themselves from existing institutions. Competition could come from banks outside of Vietnam, through mergers and acquisitions, or start-ups. "Financial services aren't exclusively preserved for banking, and they can also come through other forces or agencies, for example, the telco operation offering mobile money," added the London-based senior strategist.
Meanwhile, according to Brian Edmondson, global head of Trade and Working Capital Finance at Misys, the pressure on the banking industry could be coming from bank customers.
"It would be driven by their customers Misys. As the [local] economy travels from being domestic orientated customers requirements will become more sophisticated," said Edmondson.
"I think where we are in Vietnam now is Vietnam-based companies are taking the first one or two steps to set up operations and business abroad. It would be a natural place for them to look to the banks who serve them domestically to provide support as they expend internationally," he noted.
According to Edmondson, as the market expands internationally, Vietnamese bank customers will expect different kind of supports from local banks, in terms of advice, cash and liquidity and treasury services (due to currency volatility). Banks, as a result, will depend on what their customers demand and that will be shaping future of the banking industry in the years to come.
Local regulators, meanwhile, can give a hand in shaping the future of the banking sector, via enhancing transparency within the system and let bank customers have a say on what they really want with their banks.
"Some regulators have taken the step of issuing new banking licenses to start-up banks to foster accelerated delivery of digital financial services to consumers," said Rick Woodham, chief technology officer for Asia Pacific at provider of banking and payments technologies FIS.
VEF/VNA/VNS/VOV/SGT/SGGP/Dantri/VET/VIR
BUSINESS IN BRIEF 21/5 have 8130 words, post on at May 20, 2016. This is cached page on VietNam Breaking News. If you want remove this page, please contact us.