Two killed in truck-motorbike collision
A collision between a truck and a motorbike killed two people on National Highway 1A, Ky Anh District, in the central Ha Tinh Province.
Police said a motorbike, driven by Nguyen Minh Nhat, 24, along with Nguyen Thi Hoa, 18, sitting behind the driver, crashed into a truck heading in the opposite direction in Ky Trinh Commune, Ky Anh District.
Both passengers on the motorbike were killed. The motorbike was seriously damaged.
The initial cause of the accident indicated that the truck driver drove the vehicle into the wrong traffic lane. Officials said the identity of the truck driver remains unknown.
The case remains under investigation.
Temperature across country becomes warmer
Current weather in the Northern provinces becomes warmer because cold air has gradually weakened, announced by the National Hydro Meteorological Forecasting Center.
Likewise, the air temperature in the central and southern provinces also become warmer compared with the last days.
Particularly, the weather in the Northern provinces will be sunny in the afternoon, meanwhile, a thin blanket of fog and cloud will cover the area in early morning and night with the northeasterly wind at level 2-3 on January 1-2.
According to weather forecast, the daily temperature in flat country will be at 19-31 degrees Celsius.
Cold spell only happens in some places of mountainous regions, meanwhile, the weather in the Southern provinces will be sunny and warm in the upcoming days, with daily temperature at 28- 31 degrees Celsius.
Central Highlands and Southern provinces will be dry with no rain, shrouding in a thin blanket of fog and cloudy in early morning.
Unsafe medicine seized in Ha Noi
Ha Noi Police confiscated a large amount of medicine from five local drugstores which did not contain certificates of origin.
The drugstores, under Hapulico Pharmaceutical Distribution Centre at 1 Nguyen Huy Tuong in the city's Thanh Xuan District, were found to have sold expired products, as well as not having properly posted prices, and labels of medicines, after being checked the previous day, according to the police.
The case is under further investigation.
Fishermen rescued off central coast
Border guards in central Quang Nam Province rescued six fishermen from a vessel stranded off the coast yesterday morning.
The vessel, captained by Do Thanh Binh of the province's Thang Binh District, broke down while fishing for cuttles 45 nautical miles off the Son Tra Peninsula near central Da Nang City on Tuesday.
It took border guards 12 hours to locate and return the vessel and fishermen to shore at Da Nang Port.
Thanh Hoa police make drug arrests
On December 31, police arrested four suspects, along with more than 100,000 methamphetamine pills in a motel in Dong Son District's Rung Thong Town.
The suspects were identified as two couples, including Nguyen Ngoc Hung, 45, and his wife Thoan Thi Vy, 44, from Thanh Hoa Province and Nguyen Huu Bang, 35, and his wife Le Thi At, 39, from neighbouring Ha Tinh Province.
According to Tuoi Tre (Youth) newspaper, the four suspects confessed to having co-ordinated with others in Laos to purchase the drugs and bring them to sell in Viet Nam. They were said to have transported the drugs in a pick-up car carrying bonsai from Laos' Houaphanh province to Thanh Hoa.
Further, the suspects from Laos were reported to have escaped when the police arrested the four Vietnamese suspects.
During yesterday's search at Hung's house in Dong Tan Commune, police seized VND90 million (US$4,300), five passports and other evidence. The investigation is ongoing.
HCM City-Dau Giay Highway section opens to traffic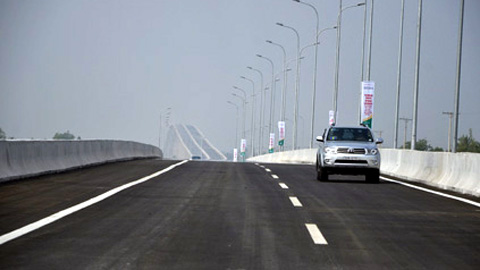 A section of the HCM City-Long Thanh-Dau Giay Highway, linking HCM City's District No9 to Highway 51 in Dong Nai province's Long Thanh district opened to traffic on January 2.
The 20km-long and four-lane section permits a maximum speed of 100km/h and a minimum speed of 60km/h. The minimum safe distance is 80m.
Authorities hope the newly opened section will help meet upcoming Lunar New Year Festival (Tet) travel demands. It shortens travel time between HCM City and Long Thanh to a mere 20 minutes and from HCM City to Vung Tau to 80 minutes.
Subsequent reductions in transport costs promote trade between HCM City and its surrounds, fuelling socio-economic development in the southeast region.
Vietnam Expressway Corporation (VEC) General Director Mai Tuan Anh explained the Ministry of Transport decided opening the highway section prior to Tet would best serve local residents.
At the launch ceremony, Deputy Minister of Transport Nguyen Ngoc Dong asked investors and contractors to hasten the work to open the rest of the highway to public traffic in 2015.
Construction of the 55km long highway began in October 2009 with a total cost of VND20,630 billion sourced from the Asian Development Bank (ADB), the Japan Intenraitonal Cooperation Agency (JICA) and Vietnam.
Cold snap hospitalises Ninh Binh children
As many as 70 children in northern Ninh Binh Province have been hospitalised at the province's Obstetrics-Paediatrics Hospital daily due to a prolonged cold spell.
This rate is twice as high as the usual number of children hospitalised at this time of year.
At its peak, the hospital's Paediatrics Ward received 200 patients, though only having 160 sick-beds.
Most of the children have been suffering from diarrhea and respiratory diseases, such as coughs, sore throats and pneumonia, according to Doctor Pham Hong Kieu, director of the department.
Doctors advise parents that if their children have a fever or breathing problems, they should be brought to hospital for examination.
Thanh Hoa medical staff prosecuted
Two medical staff members at Thieu Hoa General Hospital in central Thanh Hoa Province were prosecuted on Tuesday following the death of a pregnant woman and her fetus.
The personnel were charged with violating rules of professional conduct, according to Tran Van Thuc, Chief of the provincial police office.
Dr. Le Xuan Dung, 46, and nurse Hoang Thi Tam, 39, were prosecuted after unintentionally killing a pregnant woman and her nine-month old fetus, said officials.
The victim, Nguyen Thi Xuan, 40, of the district's Thieu Phuc Commune, was hospitalised at the hospital after she went into labour on October 18. Yet, the woman and her child in the womb died on the same day from unknown causes after having a Caesarean Section delivery.
Health sector comes under spotlight at online forum
Eleven guests sat down on Tuesday – the last day of 2013 – for the longest online forum ever held in Viet Nam to answer more than 2,000 questions from people all over the country.
The 10 hour forum, which was hosted by Tuoi Tre (Youth) newspaper, saw the participation of guests from all aspects of life, including a Government official, a National Assembly deputy, a lawyer, an entrepreneur, educators, researchers, artists and athletes.
Minister of Health Nguyen Thi Kim Tien was in the hot seat and received more than 400 questions regarding her ministry's policies and plans to reduce problems in the healthcare sector, including bribery and medical work ethics.
Tien herself doubled her one-hour session to answer more questions from the public.
"There are three issues that matter to me the most: Patient hardships, staff attitudes and financial issues," Tien told a reporter on the sideline of the forum.
To educator Van Nhu Cuong, who is a famous textbook compiler and math expert, most of the questions were about the resolution on the fundamental and comprehensive reform of education and training adopted by the Communist Party of Viet Nam's Central Committee last year.
"The reason for the slowdown of Viet Nam's education is not because we lack of talented people," Cuong said. "The problem is that the education and training sector is hesitant to reform, does not want to reform and does not know how to reform."
Members of the public were reported to have visited the newspaper's offices to direct their questions in person to the guests.
Foreign NGOs grant US$250 million in 2013
Foreign non-governmental organisations (NGOs) have committed a total of US$250 million in aid to Vietnam's development projects in 2013.
The figure was unveiled at a get-together for representatives of 250 foreign NGOs, and bilateral and multilateral development cooperation agencies operating in Vietnam.
The aid was funnelled into socio-economic development projects, including those on social welfare, education-training, natural resources and the environment, in all 63 provinces and cities.
At a recent conference in Hanoi in November 2013, foreign NGOs pledged to seek additional financial and technical assistance to support Vietnam's development projects, especially in poverty reduction and sustainable development.
Although Vietnam made significant socio-economic development achievements and transformation into a middle-income nation, it still needs international support to address development challenges, overcome war aftermath, adjust to climate change, prevent epidemics, and protect the environment.
Rescuing passengers trapped inside deformed car
Rescue workers managed to rescue all passengers aboard a severely deformed coach following an accident in Dong Nai province on December 31.
At around 12.00am the 29-seater coach en route from Vung Tau to HCM City rammed into the rear of a truck carrying construction material in the same direction.
The collision was so hard that the front of the coach was badly mangled. The driver died on the spot.
Many passengers in the front were severely injured and they started screaming for help.
Dozens of police and rescue workers were deployed to rescue the panicked passengers trapped inside the wreckage.
The injured were admitted to hospitals nearby.
Dong Nai provincial General Hospital doctors said their emergency unit received six patients suffering from multiple injuries and broken limbs, while Dong Nai-based Thong Nhat hospital received 7 emergencies.
Three Vietnamese rescued from Malaysia massage parlours
Malaysian police raided three massage parlours in Setapak on the outskirts of Kuala Lumpur late last week, rescuing 35 foreign women, comprising 10 Chinese, 10 Philippine, 12 Thai and three Vietna­mese.
The women were forced into sexual slavery and made to live in poor, unsanitary conditions for six months, according to The Star/Asia News Network.
They had been offered jobs as professional masseurs but were forced by their employers to "service" customers. Their passports and other important personal documents were being held by the employers.
"Some women were even imposed with a bondage debt of between RM5,000 -13,000 (US$1,600-4,000) and would only be allowed to leave once they had paid it all off," said Bukit Aman D7 chief Senior Asst Comm Roslee Chik.
Raiding the parlours, the 20-member Bukit Aman D7 team also arrested five men – four locals and one Myanmar national – as well as a Philippine, believed to operate the massage parlours, without proper licences.
Authorities seize drug precursors to Australia
Ho Chi Minh City Customs seized 4.8kg of drug precursors following a goods inspection on December 26.
The precursors, estimated at VND5 billion, were being sent to Australia via DHL Services in an 11kg package with coffee, dried prawns, and shower gel.
Officials discovered the concealed substances after two bottles of shower gel tested positive for ephedrine – a stimulant used to make drugs
The Customs Department submitted all evidence to the Police Department for Drug-Related Crime Investigations to conduct further inquiries.
Vietnam, Israel cooperate in personnel training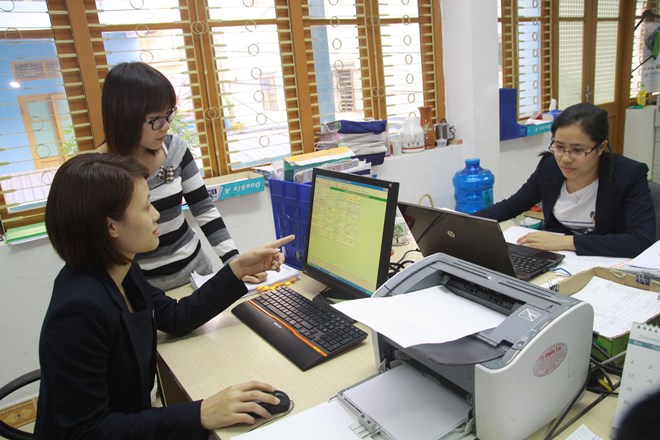 Vietnamese delegation led by Deputy Minister of Home Affairs Tran Anh Tuan signed a cooperation agreement on personnel training with Israel's Interdisciplinary Centre (IDC) Herzliya during its working trip to Israel from December 28-31.
The agreement is part of a cooperation programme proposed by the Israeli President Shimon Peres during his 2011 visit to Vietnam at the invitation of his Vietnamese counterpart Truong Tan Sang.
President Peres' initiatives aim to boost bilateral cooperation between the two governments by sharing their knowledge and experience of business and technology.
At a reception for the Vietnamese delegation, the Israeli leader reaffirmed his support for Vietnam to develop science and technology.
He pledged to help Vietnam implement its human resource training programme and strengthen relations with the Southeast Asian country.
Deputy Minister Tran Anh Tuan highlighted the excellent development in bilateral ties, especially in the fields of agriculture, education, and science and technology.
He said he hoped to learn from Israel's experience in science and technology, finance, e-government, and state employees' operational efficiency.
Earlier, Vietnamese officials joined the first leadership and management skill course under the framework of the Israeli President's initiative.
IDC Herzliya Rector, Prof. Rafi Melnick said he hopes more similar courses will be held with the involvement of Israeli experts and researchers working in public policy reform, e-Government and cyber security.
Hanoi strives to cut fires by 5-10 percent in 2014
In 2014, Hanoi will focus on taking various measures to raise the efficiency of fire prevention and fighting and rescue work in a bid to reduce the total number of fires by 5 – 10 percent against last year's figure.
Emphasis will be placed on boosting the effectiveness of popularisation work and mobilising people's involvement in fire prevention and fighting, in addition to stepping up collaboration between relevant units to get fires under control in the fastest possible way.
To limit fires and serious human and property losses, the municipal Fire Prevention and Fighting Police Department will continue to enhance the effectiveness and professionalism of the work, said Department Vice Director Hoang Quoc Dinh.
In 2013, a combined number of 161 fires and explosions occurred in the city, claiming 12 lives, injuring 21 people, and causing US$2.1 million in damage, which was mainly attributed to electrical short circuits.
Vietnamese language to be taught in Lao schools
The Vietnamese language will be added to curricula at Lao schools and other education facilities built by the overseas Vietnamese (OV) community in the country next year.
Under a freshly-signed agreement between the Vietnamese Ministry of Education and Training and the Lao Ministry of Education and Sports, the Vietnamese side will welcome and provide training for 405 Lao officials, students, postgraduates and members of the OV community.
Both sides also agreed to assign Vietnamese lecturers to Lao public and private schools where they will teach the Vietnamese language.
Ben Tre province celebrates Cuba's National Day
The southern province of Ben Treheld a ceremony to mark the 55th anniversary of Cuba's National Day (January 1) in LuongHoa commune, GiongTrom district, on January 1.
Secretary of the Giong Trom Party Committee Vo Van Phe recalled 30 years of twin relationship between LuongHoa commune and Cuba's Moncada village, where the Cuban Revolution against the dictatorship of Batista began.
The Hinba Bonita cow farm in Moncada was named "Ben Tre village", while Luong Hoa also has another name as "Moncada".
Every year, people in Cuba's Ben Tre village celebrate Lunar New Year and other traditional festivals of Vietnam as well as the General Uprising Day (January 17, 1960) of Ben Tre province, he said.
The secretary wished the two villages' relations will continue to flourish with more cultural exchanges to educate the revolutionary tradition for Vietnamese and Cuban young generations.
Cuban Consul General in Ho Chi Minh City Bernabe Garcia Validothanked the province for organizing the ceremony and expressed his hope that the two countries' ties will be tightened and Luong Hoa commune will reap numerous achievements in the future.
Hanoi businesses announce Tet bonuses
A survey conducted by the Hanoi Department of Labour, War Invalids and Social Affairs shows that more than 160 units and businesses in the capital will maintain Lunar New Year (Tet) bonuses for their employees despite economic difficulties.
Le Toan Khang, the department's Deputy Director, said on December 31 that wholly foreign-invested companies have taken the lead in the festive bonuses, with the highest standing at VND65 million and the lowest, over VND3 million.
Private companies will pay between VND40 million and VND500,000 VND on this occasion. In general, each worker in the sector will receive an average of more than VND3.7 million.
The highest and lowest Tet bonuses at partially State-owned companies would be VND30 million and VND200,000.
Workers at State-owned companies will get VND3 million on average, he said.
PM asks for more from local agriculture sector
Prime Minister Nguyen Tan Dung said that the agriculture sector needed to restructure with a focus on improving added value and sustainable development.
"Restructuring agriculture can only succeed when technological advances are applied in production," Dung told a conference in Ha Noi on Tuesday.
Farmers should be at the centre of the process, he stressed as the participants were working to set farming tasks for this year.
He said mechanisms and policies should be conducive to rural investment, particularly in cultivation, industry and services, while more attention being paid to agricultural processing and labour-intensive fields to generate jobs for rural workers.
The leader also pressed for more investment in rural infrastructure and vocational training.
At the event, Minister of Agriculture and Rural Development Cao Duc Phat reported that the sector grew 2.67 per cent last year, closely matching the 2.68 per cent rise seen in 2012.
This year, growth is targeted at 2.6-3 per cent, with a 3.1-3.5 per cent rise in production value. Agro-forestry-fishery exports are expected to hit US$28.5 billion, while the rate of forest coverage must reach 41.5 per cent.
To achieve these targets, the sector should adopt new plans to develop technology transfers and provide vocational training for farmers, Phat said.
Social resources would be raised to build new-style rural areas, improve irrigation and raise resilience to climate change and natural disasters, he added.
Delta province eyes economic progress
Deputy Prime Minister Nguyen Xuan Phuc urged the Cuu Long (Mekong) Delta Province of Hau Giang to boost industrialisation and modernisation for continued development of the province.
He also asked officials to focus on additional training for workers to assure a skilled workforce is available for businesses and industries operating in the locality.
Speaking to local residents at a meeting yesterday to mark the province's 10th anniversary, Phuc said Hau Giang should have in place an economic development programme, while investing more in infrastructure, applying advanced technologies in production, as well as continuing programmes to reduce poverty and eliminate hunger.
During the meeting, Hau Giang Province was presented with the President's Independence Order, second class.
Also yesterday, the province renamed its largest street, Hau Giang Avenue, to Vo Nguyen Giap Avenue after the legendary General, who passed away in late September, 2013.
In celebrating its many achievements during the past 10 years, the province also unveiled several measures to speed up economic development in the coming years.
Huynh Minh Chac, the provincial Party Committee Secretary, said efforts would continue to change the structure of the agricultural economy in rural areas and accelerate construction of rural infrastructure.
The province would fully tap the potential available in agriculture, industry, handicrafts, and services to exploit land effectively and create jobs and incomes, he said.
It would focus on improving infrastructure and services in industrial parks and clusters and in urban areas, he said.
Besides improving its investment environment and speeding up administrative reform, the province would also set up mechanisms to encourage domestic and foreign investment in industry to advance industrialisation and modernisation, he promised.
Investment would be stepped up in education and training and science and technology to gradually improve the quality of human resources, he said.
Its action plan also includes greater attention on harmonising economic development with environmental protection and improving the social welfare and healthcare systems, he said.
The province was created in 2004 by dividing the former Can Tho Province into Can Tho City and Hau Giang Province.
Despite facing many challenges, the province achieved average economic growth of 12.39 per cent a year in 2004-13.
Foreign trade went up by 10.26 per cent a year in the last decade to US$350.4 million last year.
It has 26 foreign invested projects with a combined investment of $727.6 million.
In 2009, the province moved up 11 places to the 13th position among the country's 63 cities and provinces in the Provincial Competitiveness Index.
In 2012, it moved further up to the 11th place.
The province has convenient land and water transport systems, and can fully meet investors' electricity, water, and telecom needs.
The province has earmarked around 14.9ha of land in 10 places to build low-income housing.
Dak Nong encouraged to work to its strengths
Dak Nong Province has to make the best use of its potential and strengths while accelerating scientific and technological application for higher and sustainable economic development.
The advice was given by President Truong Tan Sang at a ceremony to mark the Central Highlands province's 10th anniversary in Gia Nghia on Tuesday.
Apart from speeding up economic restructuring, especially in agriculture, Sang also asked Dak Nong to improve conditions for mining activities and mineral processing projects with proper regards to environmental protection and socio-economic effectiveness.
Drawing the provincial leaders' attention to education and training, healthcare, culture, social affairs and poverty reduction, he urged them to place more importance on national defence and security, and the fight against crime and social evils.
He also underlined the need for the province to concentrate on building the political system and implementing the 11th Party Congress Resolution, and to roll out a concrete plan and mobilise resources to tackle issues relating to rapid migration.
Along with the significant achievements Dak Nong made during the past decade, more efforts should be exerted to address unsustainable economic development, low productivity, slow economic restructuring, wasteful use of natural resources and a high rate of poor households, Sang said.
The province was also asked to co-ordinate with ministries to accelerate the implementation of forestry projects and handle deforestation, which is widespread across the locality.
During his stay in Dak Nong, the leader visited farmers in Duc Minh commune who have contributed significantly to production and business.
He also presented gifts to M'Nong ethnic people in the province, and met with officers and soldiers of the Dak Nong border guard, asking them to contribute more to local economic development and poverty reduction as part of their duties.
Source: VNA/VOV/VNS
Social Headlines January 3 have 3715 words, post on at January 2, 2014. This is cached page on VietNam Breaking News. If you want remove this page, please contact us.