Cold spell continues in northern areas
The northern and north central region will continue to suffer from a cold snap in the next three days, according to the National Hydro-Meteorological Forecast Centre.
The Centre warned that local people should be prepared for more hoarfrost.
Due to the impact of the cold weather, there will be strong winds and rough seas in the Tonkin Gulf and the East Sea on December 23 as well as thunderstorms and downpours in the Truong Sa archipelago area.
Man killed in road accident
A man was killed instantly while five persons were injured when a coach and acollided at 2 a.m. today on National Highway 1A.
The truck.
The two vehicles, coming from opposite directions, collided head-on on the highway that goes past Thanh Hai Commune in Phan Rang – Thap Cham City in central Ninh Thuan Province. The drivers of both vehicles were seriously injured, while three passengers sustained minor injuries. They were taken to the Ninh Thuan Province General Hospital later.
The provincial authorities are investigating the accident.
Two miners die at stone mine rockslide
A sudden rockslide yesterday at Trai Son Stone Mine in the northern city of Hai Phong's Thuy Nguyen District killed two drillers on the spot.
According to the Trai Son Stone Mining Co-operative, the rockslide was caused by long rains in a couple of days before so when the two drillers passed through, they were hit by rocks and soils from 20 metres above.
The two victims, both from the neibouring Hai Duong Provice, were reported to start their working at the mine two days ago. They had legal contract and were trained on labour safety.
Former taxi drivers put in jail for fraud
The municipal People's Court sentenced two former taxi drivers to jail on Thursday on fraud charges.
On July 11, Vu Van Khoa and Vu Van Chuyen, both 24, charged 53-year-old Kano Matsuyuki of Japan over VND7 million (US$330) for a taxi running from Noi Bai Airport to his hotel in Dong Da District – over 20 times the regulated fair.
Khoa turned himself in after Kano reported the incident to the police, but Chuyen managed to evade capture until the end of July.
Khoa received an eight-month term, while Chuyen was sent down for 10 months.—
Health Ministry cracks down on food safety
The Ministry of Health's Food Safety Department intends to examine food hygiene and safety in 24 major cities and provinces nationwide.
The inspections will start this month and run until next February, said Tran Quang Trung, the department's director. Nine teams will carry out inspections at businesses that have allegedly failed to meet food safety regulations, especially in Ha Noi, HCM City and bordering provinces.
The inspectors will focus on products with unknown origins and illegally imported poultry.
Ha Noi launches new online bus map
The Ha Noi Transport Corporation launched a new website yesterday to help passengers access information about bus routes online, rather than relying on the limited information available at the city's bus stops.
A corporation representative said that timbus.vn would provide passengers details of all the capital's bus routes and relevant services in the city such as ticket prices, bus-stops and directions.
Loudspeakers have been installed on the corporation's buses to keep passengers informed, while a hotline has been operational since 2010.
Drug trafficking ring to spend 411 years in jail
Members of a drug trafficking ring were given seven life sentences and a combined 411 years in prison by the People's Court in northern Phu Tho Province on Thursday.
On July 5 last year, Vu Van Son, 47, Truong Minh Biet, 51, and Dang Thi Bay, 38, all from the northern province of Vinh Phuc, were caught red-handed while trading three packs of heroin.
Further investigations revealed a huge drug trafficking ring headed by Dang Minh Diu, 49, from Vinh Phuc's Vinh Tuong District.
Diu and his gang admitted to trading more than 200 packs of heroin since 2006.
Diu and seven other ring leaders were given life sentences, 14 gang members received 20 years in jail, and terms of between 5 to 16 years were handed down to the other 13 on trial.
Half tonne of animal intestines seized
Half a tonne of animal intestines were seized on Saturday by authorities in a truck travelling from Dong Anh District in Ha Noi to Hai Phong.
The animal intestines were packaged into 20 boxes and appeared to be decomposing.
According to the driver, the animal intestines were intended to be consumed in Hai Phong.
Authorities are looking further into the case.
Ministry warns of bird flu recurrence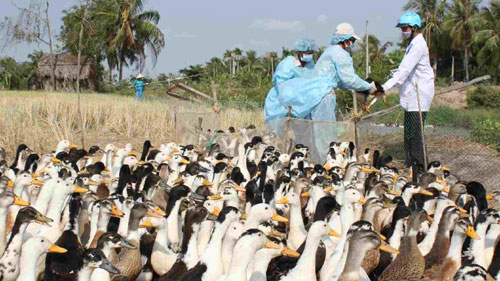 The Ministry of Agriculture and Rural Development (MARD) has issued an urgent telegram, asking localities and relevant agencies to take urgent measures against deadly virulent strains A/H5N1, H7N9 and H10N8.
In the telegram, the ministry said since the beginning of this year strain A/H5N1 of bird flu has already recurred in several provinces and cities, with nearly 123,400 waterfowl infected and 141,700 culled.
Earlier this year, incidences of bird flu were also found on pheasant and quail flocks in Tien Giang province and salaganes in Ninh Thuan province.
MARD warned of a high risk of a bird flu epidemic in the coming months as northern provinces are forecast to be hit by long cold spells that could potentially reduce the immunity of waterfowl.
The trading, transportation, slaughtering, and smuggling of poultry and related products is expected to increase considerably over the next couple of months to meet local consumers' demand during the upcoming Lunar New Year festival (Tet).
MARD also reminded northern border provinces of the possible outbreaks of A/H7N9 and H10N8 – the two new mutated virulent strains that have already claimed several lives in China.
The ministry proposed that localities send working groups to high-risk areas to monitor prevention work and reduce the likelihood of any possible future outbreaks. Temporary checkpoints should be established to prevent the transportation of poultry coming in and out of affected areas.
It asked border provinces to keep a tight grip on quarantine work to prevent the transportation of poultry of unknown origin into Vietnam from China.
The ministry also requested designated agencies and localities implement vaccination plans for poultry in high-risk areas.
Vietnam Maritime Pilots Association debuts
The newly-formed Vietnam Maritime Pilots Association made its debut at a ceremony held in the southern province of Ba Ria-Vung Tau on December 20.
The association is tasked to make proposals on building and perfecting policies for the sector.
It will serve as a bridge for dialogues between the sector, companies operating in the field and regional and international pilot organisations.
The association will represent the sector to join in forums and the International Maritime Pilots' Association to collect information and help its members access advanced technologies.
The establishment of VMPA is expected to improve the quality of the services supplied by the sector and further promote the development of seaports in the country.
In its first tenure from 2014-2019, the association will operate with 300 members and a 15-member executive board.
Deputy PM extends Christmas greetings
Deputy Prime Minister Nguyen Xuan Phuc on December 21 visited the Ho Chi Minh City Archdiocese and the General Confederation of the Evangelical Churches of Vietnam (South) on the occasion of Christmas.
At the meetings, he wished Catholic and Protestant dignitaries and followers a merry and happy Christmas and briefed them on the country's socio-economic situation.
Praising Catholic and Protestant followers for their contributions to such achievements, he voiced his hope that they will do more for the country's national construction and defence.
Talking with Cardinal Pham Minh Man, Archbishop of the Ho Chi Minh City Archdiocese, the Deputy PM expressed his wish that the archbishop will continue setting a bright example in line with the maxim of leading a good secular and religious life and respecting God and loving the country.
He applauded cooperation between the archdiocese and the municipal authorities in relevant activities, saying the reaped fruits mirror the State's reform efforts towards the freedom of belief and religions.
The Party and State will give more importance to the freedom of belief and religions, thus building a democratic, civilised and united country, he affirmed.
The archbishop made a brief on the Ho Chi Minh City Archdiocese's operation over the past time, saying the archdiocese has always actively coordinated with the local authorities to support people living in difficulties.
At the General Confederation of the Evangelical Churches of Vietnam (South), Deputy PM Phuc congratulated it on the successful organisation of the 4th General Assembly.
Pastor PhanVinh Cu, head of the general confederation, thanked the Party and State for its assistance to the general confederation's operations.
Earlier, on December 20, the Quang Nam provincial People's Committee visited and extended Christmas greetings to Christian dignitaries and followers.
At the meeting, Chairman of the provincial People's Committee Le Phuoc Thanh briefed Catholics and Protestants on the province's political, socio-economic, national defence and security situation in 2013.
He hailed the dignitaries' contributions to encourage Catholic and Protestant followers to take part in patriotic emulation movements, raise the spirit of solidarity and engage in the locality's economic development, especially their efforts to overcome the consequences of devastating natural disasters this year.
Hai Phong's biggest transport project begins
A transport development project- the largest of its kind in the northern port city of Hai Phong was launched on December 20.
The US$276.6 million World Bank-funded project includes three sections covering the construction of a main road for the city's East-West transport corridor that connects Bac Son commune in An Duong district and An Hai district.
Linking Hai Phong port and National Highway 10, the 50.5 metre wide road includes the construction of two bridges, Dong Khe and Niem 2.
Vice Chairman of the municipal People's Committee Dan Duc Hiep said the project is designed to facilitate the inner-city transportation system and commodity transport between Hai Phong and neighbouring localities.
Once completed, Hai Phong city will operate high-quality buses to improve the local public transport service.
Source: VNA/VNS/VOV/SGGP