VietNamNet Bridge – Two men riding a motorbike on the street suddenly heard the gunshot. The one sitting behind received a rubber bullet to his left eye. Shortly after that, the driver had a shot in his shoulder.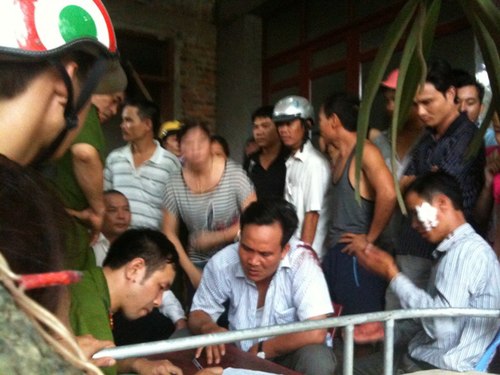 At nearly 5 pm on July 16, Quang Trung Street in Dong Ve Ward, Thanh Hoa City got traffic congestion after two men riding a motorbike were allegedly shot by the police.
According to the report of Mr. Le Van Ngoc, 36 years old, teacher of the politic training center of Quang Xuong district, Thanh Hoa province, at about 4.30pm, he carried Mr. To The Ky, 47, on his motorcycle from Nguyen Trai Street to Quang Xuong district.
In front of the market of Nam Thanh in Dong Ve Ward, a gunshot suddenly sounded, Ky painful screamed: "Oh Ngoc, I was shot in the eye."
Ngoc looked back and saw his friend's face covered in blood so he drove toward the hospital. Suddenly, a traffic policeman riding a motorcycle approached the two men and opened fire. The bullet hit Ngoc's left shoulder, tearing his T-shirt and he began bleeding.
When he drove the motorbike to the house No.454 on Quang Trung Street, the traffic policeman named Nguyen Ngoc Hoang stopped Ngoc and said: "I was wrong. Let me take you to the hospital."
But Ngoc and Ky disagreed. They asked people to act as witnesses and asked Dong Ve ward police to make a record.
Ngoc said he obeyed the traffic rules on the road and both of them wore helmets.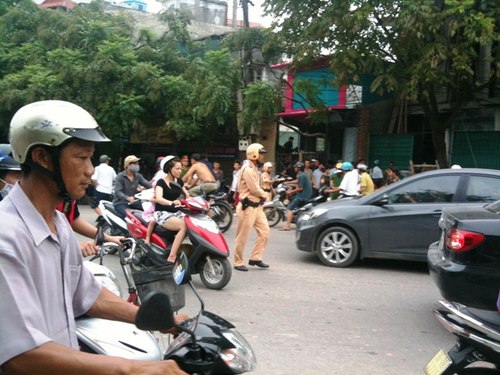 Colonel Le Van Nghiem, head of Thanh Hoa City Police and many traffic police officers were present to restore order. Several specialized cars were also sent to the scene to prevent bad situations. Hundreds of curious people flocked to observe the incident, making congestion on the Highway 1A, the section crossing Dong Ve Ward for nearly an hour.
At nearly 6pm, the police completed the procedures for taking testimony and took the victim to hospital. Colonel Nghiem said traffic policeman Nguyen Ngoc Hoang was temporarily suspended for investigation.
Le Ha