Minh Hanh, a native from Hue, is one of the most famous fashion designers in Vietnam. Recently, the designer showed the public both at home and abroad a unique brocade fashion collection.
After the success at the International Festival of Extraordinary Textiles (FITE) held in the Bargoin Museum in France from September 12-16, 2012, Minh Hanh continues showing her passion and creativeness on brocade, a distinctive material made by ethnic groups in mountainous areas in Vietnam.
Inspired by wonderful architectural works in Italy, designer Minh Hanh created a brocade collection with patterns imbued with the famous European architectural styles, such as Gothic and Baroque. The harmonious combination between the Oriental and Occidental cultural styles, particularly between Vietnam's brocade and Italian architectural and painting features created lively pictures on designs.

Some brocade designs of Designer Minh Hanh: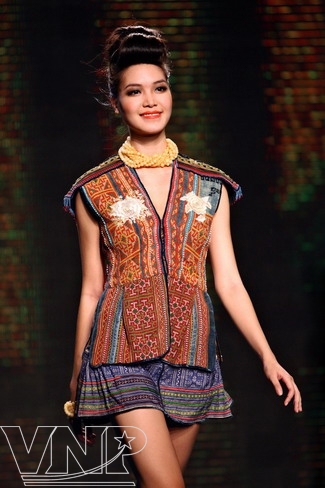 Designer Minh Hanh said: "The biggest difficulty in designing these outfits is how to combine harmoniously the ideas of the designer with the thousand-year old architectural works of Italy. It is not a copy and it must show the cultural exchanges between Vietnamese and Italian fashion industries."
For this reason, at the fashion show entitled "Italian Architectural Style" held at the Sofitel Metropole in Hanoi, her collection fascinated both domestic and foreign audiences. Italian Ambassador to Vietnam Lorenzo Angeloni said: "I really like the brocade designs by Minh Hanh. Hopefully, the brocade material will help Vietnam's fashion sector affirm its position in the world fashion in the near future."
Story: Ngan Ha – Photo: Cong Dat
Brocade Fashion Collection have 344 words, post on at June 20, 2013. This is cached page on VietNam Breaking News. If you want remove this page, please contact us.