VietNamNet Bridge – A family in Ca Mau province in southern Vietnam, has received the Vietnamese record as the family with the most members who can float on water.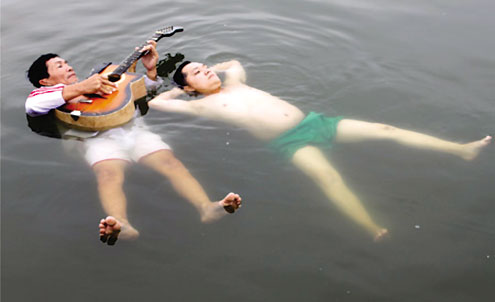 In early April 2010, Mr. Hua Van Bach from Tan Thoi B village in Ta An Khuong Dong commune, Dam Doi district was taking a bath in a local river when a boat passed. The boat created a big wave that pushed Bach to the middle of the river. Bach was very surprised to discover that he didn't sink but floated on the surface of the water.
On June 23, Bach's son, Hua Tay Ha, 29, discovered that he had a similar ability to his father. The father and son performed their special skills to many locals. They jumped down to the river. The father lied on the water to play guitar while the son lied on the water to sing for nearly four hours.
Bach's sixth younger brother, Hua Hoang Cuong, 47, has the same skill.
Many people went to Dam Doi district to witness the performance of these men.
Le Tran Truong An, general director of the Vietnam Record Book Center (Vietkings) said Vietkings expert verified the special skill of the three men and the center decided to present the Vietnamese record to this family.
The three floating men will participate in the 20th Meeting of Vietnamese Record Holders in HCM City on December 18.
At the meeting, Vietkings will announce 30 Vietnamese records, including the largest testament by President Ho Chi Minh written on palm leaves, the eldest musician who teaches traditional music through the Internet, the man who can play music by spoons, etc.
On this occasion, brothers Bui Ngoc Vinh and Bui Ngoc Khanh from Thua Thien-Hue province will perform their odd ability – each man will eat one kilo of chilli within ten minutes.
The latest Vietnamese records will be recognized at the 20th meeting of Vietnamese record holders on December 18 in HCM City:
will be recognized as the person who had made the most paintings from palm leaves.
Tang began producing paintings by palm leaves in 1999. He opened a palm-leaf
painting enterprise in 2003. To date, he has made more than 10,000 palm-leaf paintings.
with mother-of-pearl in Vietnam. It is owned by Mr. Tran Quang Khai in Phu Minh town,
Phu Xuyen district, Hanoi. The bed (1.6m x 2m) is inlaid with paintings featuring
a family of three generations. Craftsmen spent two years (1998-2000) making this bed.
the paintings inlaid on this bed featuring a hundred birds flanking a phoenix.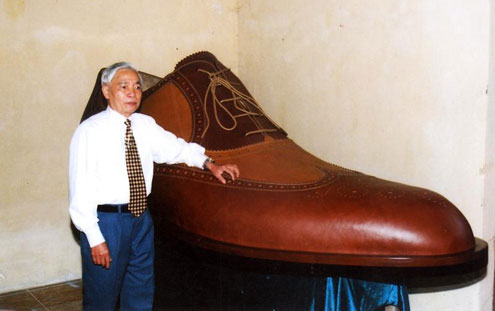 The biggest men's shoe, 70 kg in weight, 1.3 m high, was made by
20 artisans from 40 square meters of leather in 20 days.
15 m wide, 54 kg in weight. It was made by the Saigon Kite club. The kite
reached the height of 70m in a kite flying contest in Hoi An (Quang Nam province) in
June 2010 and won first place..
the manager of Hai Thien Restaurant at 16 Bui Vien, District 1, HCM City, used vegetables to dye rice noodle.
cloth (3.95 m x 2 m) from December 15 2008 to March 30 2009.
by the Lang Tre Charity Center in the southern province of Dong Nai.
The statue is made from thousands of pieces of bamboo. It is 1.94m high,
2.12m long, 55cm wide and 300kg in weight.
from the Saigon University's Environmental Sciences Faculty. Students collect
101,010 bottle lids with 101,010 signatures of students and
Saigonese within ten days (October 1-10, 2010) to make this painting (30m x 4.7m).
Thua Thien-Hue province is recognized as the one who restored the trade of making paper lotuses.
the HCM City University for Foreign Languages and Information Technology.
They recycled used papers and color papers to fold 35,000 small stars.
The student volunteers spent 16 days to make this painting from 35,000 stars.
The painting is 5m long and 3.58m wide.
is Dang Ai Viet, former lecturer of the HCM City Art University. She has portrayed
343 Heroic Mothers whose sons sacrificed their lives for the country in past wars.
is Mr. Nguyen Huu Thuan. Thuan has donated his blood for 65 times,
totaling 28.75 liters of blood in the last 16 years.
leaves is made by artisan Vo Van Tang from An Giang province. The work is
1.18m wide, 2.5m long. One side contains the text of President Ho's testament
and the other side has five portraits of President Ho.
is Mr. Luu Thanh Hai. From 2003 to 2010, Hai has made over 150,000
calligraphic works on timber, stone, bamboo screens, etc.
scientific creation organizations is Mr. Hoang Duc Thao. Thao has received prizes from the World
Intellectual Property Organization, the Korea Invention Promotion Association
and the Federation of Korean Industries.
PV
Family of floating people receives Vietnam record have 874 words, post on at December 18, 2010. This is cached page on VietNam Breaking News. If you want remove this page, please contact us.