Danish Deputy Prime Minister begins 5-day visit to Viet Nam
(12-09-2006)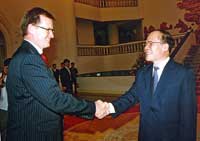 Deputy Prime Minister Nguyen Sinh Hung welcomes Danish Deputy Prime Minister Bendt Bendtsen. — VNA/VNS Photo Thong Nhat
HA NOI — Danish Deputy Prime Minister Bendt Bendtsen began a five-day visit to Viet Nam in Ha Noi yesterday and was greeted by Vietnamese Deputy Prime Minister Nguyen Sinh Hung.
Hung updated Bendtsen on the milestones of 20 years of doi moi (renewal) in Viet Nam and reaffirmed Viet Nam's determination to enhance the process, integrate into the region and the world, and continue on the course of industrialisation and modernisation.
Hung thanked the Danish government and people for support in areas of fisheries, environmental protection, administrative reform, transportation, and agriculture and rural development, which have helped Viet Nam develop socio-economically, enhancing the material and spiritual life of the Vietnamese people.
He urged the enhancement of bilateral ties in all fields, especially in commerce, trade and investment, targeting a turnover in trade and investment capital from Denmark to Viet Nam of more than US$1 billion.
Bendtsen, who is accompanied by representatives of 21 enterprises in Denmark, responded that Viet Nam was an important trading partner of Denmark in Asia.
He said that Denmark supported Viet Nam in its bid to join the World Trade Organisation and its candidacy for non-permanent membership of the UN Security Council in 2008-09.
He suggested enhancing the friendly relationship and co-operation between Viet Nam and Denmark in the coming years. He said that the Danish government would continue supporting Viet Nam during 2006-10, with priorities in trade, investment, agriculture, fisheries, and environment in rural and remote areas, as well as administrative reform.
Danish enterprises in Bendtsen's delegation were considering investment opportunities in such areas as infrastructure, ports, cement, construction materials and food processing. — VNS
Danish Deputy Prime Minister begins 5-day visit to Viet Nam have 439 words, post on vietnamnews.vn at September 12, 2006. This is cached page on VietNam Breaking News. If you want remove this page, please contact us.