Traditional villages prepare for Tet
(21-01-2006)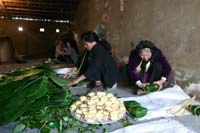 Duyen Ha villagers in Ha Noi's Thanh Tri District make banh chung cakes for Tet. — VNS Photo Truong Vi
HA NOI — Traditional handicraft villages have learned from experience that the Tet (lunar new year) holiday period presents a boom time for business and many local artists have been busy for months getting their goods ready to make the most of the weeks of frenetic shopping before the holiday.
In the days leading up to Tet, the normally quiet town of Dong Ho in Bac Ninh Province is a buzzing hive of activity. At almost all the brick houses in the traditional painting village, adults and children are busy making paintings by cutting and glueing papers. All along the narrow roads in the village, bicycles carry masses of votive articles to surrounding markets.
Nguyen Thanh Trung, a village trader, said the number of Dong Ho painting producers has fallen compared to previous years, because most villagers are now making votive articles.
"Earnings derived from votive articles are higher and more stable than from making paintings," he said.
Dong Ho village's votive articles are marketed in neighbouring provinces and mainly in Ha Noi.
Two months before the lunar new year, Dong Ho villagers started purchasing raw materials to prepare for the huge Tet market.
Trung said that he could earn from VND70,000 to VND150,000 (nearly US$10) every day during the Tet period, a very decent income compared to the proceeds from farming.
Craftsman Nguyen Dang Che is one of the small-painting producers in the village. Before Tet, customers rush to Che's shop to buy paintings. The craftsman said customers nowadays more and more display the tendency to select sophisticated paintings. Customers from Ha Noi preferred large-frame painting sets of tu quy (four seasons) or tu binh (four panels) framed in bamboo, he said.
The price of a black-and-white painting set ranges from VND100,000 to VND350,000, while that of a wood-engraving set is between VND500,000 and VND4 million. Many customers preferred black-and-white painting sets because they liked the simplicity of the paintings and their comparatively reasonable price, the craftsman said.
This year, Dong Ho villagers have marketed many sets of calendars made from giay do (poonah paper) and printed with traditional painting patterns.
Craftsman Nguyen Dang Che said although Dong Ho villagers have been marketing paintings at many Tet fairs in recent years, their efforts help people remember certain categories of traditional painting that have not been produced regularly for many years.
"In fact, we could not restore the dying trend of Dong Ho painting-collecting among the people by ourselves," he said.
The craftsman expected a defunct Dong Ho painting fair that has been defunct for 60 years to re-open at a newly upgraded communal house in the village in the near future.
The fair used to feature specialities of the local Kinh Bac (today Bac Ninh Province) culture, and opened in the twelfth lunar month to sell Tet paintings, he said.
"Attending the fair, people used to be bathed in the warm light of colourful traditional paintings, an indispensable cultural characteristic during Tet," he said.
In recent years, Ha Noi's Bat Trang villagers have earned money throughout the year from selling their pottery products at local markets and thus their preparation for Tet was an ordinary affair.
However, Nguyen Thanh Huong, owner of a shop at the Bat Trang Pottery Market, said that some commodities including tea-sets, flower vases, dishes and pottery paintings sold well during Tet.
"This year, customers have been fond of green products printed with traditional designs," she said.
A set of four pottery paintings, at a cost of between VND1 million and VND3.5 million, is a favourite among many Tet customers because of the belief that a house decorated with such a set would become luxurious, warm and friendly. More importantly, the paintings that feature Vietnamese traditional characters proved that the owner was a discerning lover of local culture.
Deputy chairman of the Bat Trang People's Committee, Le Huy, said that the number of customers coming to the village has increased rapidly since the pottery market and the Ha Noi-Bat Trang bus route have been opened.
Cot villagers in Ha Noi's Cau Giay District, who have a proud tradition spanning hundreds of years making votive articles, have also been busy working to provide goods at Tet. However, the number of artists has been much reduced because of stiff competition from others communities.
A Cot village woman, Nguyen Thi Anh, said most goods were ordered in advance because customers wanted to make sure they buy good-quality votive articles made in the village.
"Cot villagers are well-off during Tet thanks to the excellent consumption of their products." she said. — VNS
Traditional villages prepare for Tet have 924 words, post on at January 20, 2006. This is cached page on VietNam Breaking News. If you want remove this page, please contact us.