VN, Germany celebrate 30th anniversary
(03-10-2005)

Ambassador Christian-Ludwig Weber-Lortsch. — VNS Photo Hong Minh
On the occasion of Germany's National Day today, the nation's Ambassador to Viet Nam, Christian-Ludwig Weber-Lortsch, spoke to Viet Nam News.
Viet Nam and Germany celebrate the 30th anniversary of diplomatic relations this year. What's your assessment of the course of bilateral relations over the past three decades?
When assessing the development of bilateral relations, we have to look back to where we started. In 1975, Germany was still a divided country, a situation which changed only in 1990. Viet Nam was reunited at this time but faced the consequences of war. The German government helped to rebuild the country, however. Our ODA contributions between 1990 and 2004 amounted to US$900 million.
Over time, more German companies came to Viet Nam. Trade increased to an extent that we became the No 1 trading partner of Viet Nam within the EU. As Viet Nam sells much more goods to Germany and the EU than the other way around, this trade creates an increasing amount of wealth and jobs in your country. At the same time, we developed cultural exchanges between our two countries. The Goethe Institute and the German Academic Exchange Service fostered cultural and academic co-operation.
When Chancellor Schroeder came to Ha Noi in October 2004, he met President Tran Duc Luong, Prime Minister Phan Van Khai and Party General Secretary Nong Duc Manh. They all agreed that bilateral relations were excellent. We considered this a success but also a challenge, as we wanted to continue to enlarge and improve our co-operation.
Germany at a glance
Area: 356,733sq.km
Population: 82,431,390
Language: German
Capital: Berlin
Currency: euro
National Flag: Horizontals bars of black, red and gold.
One important factor which contributed to these results is the almost 100,000 Vietnamese who had earlier studied or received training in East Germany. They supported our activities. Without them, it would have been impossible to establish such close relations.
As Germany plays a key role in the EU and the Asia-Europe partnership, how do you expect this relationship to evolve in near future?
Within the EU, Germany has always been active in supporting the development of Europe-Asia relations. Chancellor Schroeder participated in all major meetings personally and tried to bring the co-operation to a higher level. You may recall his presence in Ha Noi during the ASEM summit in 2004.
We see the potential for co-operation between the two regions as huge. Economy and trade are important factors but politics and culture are important as well. Asia emerges as the economic powerhouse of the 21st century. The EU is one of the world's leading markets and most powerful economic regions. Exchange will help and strengthen us both.
With respect to politics, the EU might be considerated as a model for regional integration and co-operation beyond economic necessities. ASEAN is one important example here in which Viet Nam plays an important role.
I am confident that we will see more interaction in the future. Government officials, scientists, students and tourists will travel in increasing numbers from Europe to Asia and vice versa to exchange information and learn from each other. Viet Nam's recently published EU Master Plan will open a new chapter to enhance this strategic co-operation.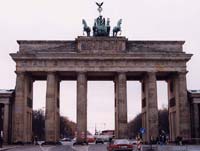 The Brandenburg Gate in Berlin. — VNA/VNS file Photo
You have mentioned Germany as Viet Nam's number one trading partner within the EU. Why is Germany not in the list of top foreign investors in Viet Nam? How can Vietnamese enterprises enter the Germany market?
German companies have established close contacts with their Vietnamese counterparts. I am sure that more companies will come here and invest when the economy of Viet Nam develops further.
An important aspect are the conditions under which companies work and invest in Viet Nam. We have been discussing certain shortcomings which still prevail with representatives of your government.
Viet Nam is competing with other countries, in particular those in your neighbourhood, for attracting FDI. The National Assembly is currently deliberating on a number of laws which are necessary to prepare the country for entry into the WTO. We expect that this will help to make Viet Nam more competitive and lead to an increase in FDI for your country.
To facilitate matchmaking between business communities in our countries, we will organise a special forum for small- and medium-sized enterprises in Viet Nam next year.
We have seen a rising number of Vietnamese students in Germany. Does this indicate a greater emphasis on exchanges in the area of education and training?
The German government has always fostered academic exchanges between our two countries. Knowledge and information are the two keys to successful development in the 21st century. The German university and research system has a good reputation worldwide and in Viet Nam. Many Vietnamese who received their education in the former East Germany – among them about 7,000 university graduates – keep close relations with their German alma mater and have established numerous university ties.
This kind of exchange received a boost with the establishment of the Goethe Institute in Ha Noi in 1997 and the office of the German Academic Exchange Service in 2003.
I am happy to say that we have seen an increased interest in learning German. Today, we count about 2,000 Vietnamese students in Germany. Vocational training has also always been a major part of our ODA.
The Goethe Institute has been a pioneer in bringing German culture and ideas to Viet Nam. How can Vietnamese culture and traditions make inroads into Germany?
The Goethe Institute has been successful in attracting the attention of people in Ha Noi and beyond. It organises cultural events, which present German culture, but also invites Vietnamese artists to perform. Furthermore, many young Vietnamese attend language classes to prepare themselves for studies in Germany.
As for Vietnamese culture in Germany, a similar approach is feasible. In any event, Vietnamese culture and traditions are already present in Germany. There are about 100,000 Vietnamese living in Germany. Among them are artists who follow traditional styles or invent new ones. One example is Khai Doan, a Vietnamese from Germany who showed his works in HCM City a couple of months ago. He will do so again at the Goethe Institute on October 28. — VNS
VN, Germany celebrate 30th anniversary have 1188 words, post on at October 3, 2005. This is cached page on VietNam Breaking News. If you want remove this page, please contact us.